1. The most aristocratic of pheasants
For my first priority on my bucket list I don't have to look beyond the borders of my adopted Wiltshire homeland. The pheasant is such a populous bird in the UK it would be easy to overlook in a list of the exciting and exotic, yet the humble pheasant is the cornerstone of some of our finest shoots. While eking one out of the hedgerow is tremendous sport, just once I want to stand in the polished shoes of George V and shoot at our nation's favourite game birds as they soar in their droves over an ancient and aristocratic English estate.
——————————————————————————
2. A British boar
Ever since boar returned to our shores in numbers I have been on the look out for an opportunity to hunt one. On a primal level, I find such a throwback to a wilder Britain deeply romantic; to me the chance of a wild British boar weaves yet more richness into the fabric of our fieldsports culture. From the south west of England to the Scottish Borders an increasing number of professionals are offering the chance of a shot at a British boar, an opportunity denied to our sporting forefathers for the past four centuries. There is even one shoot in Dorset, the Old Moon Shoot, on which one can hope for a boar, a red stag and a snipe "if you're quick enough" in one weekend; now that would be crossing the boar off the bucket list in style.
——————————————————————————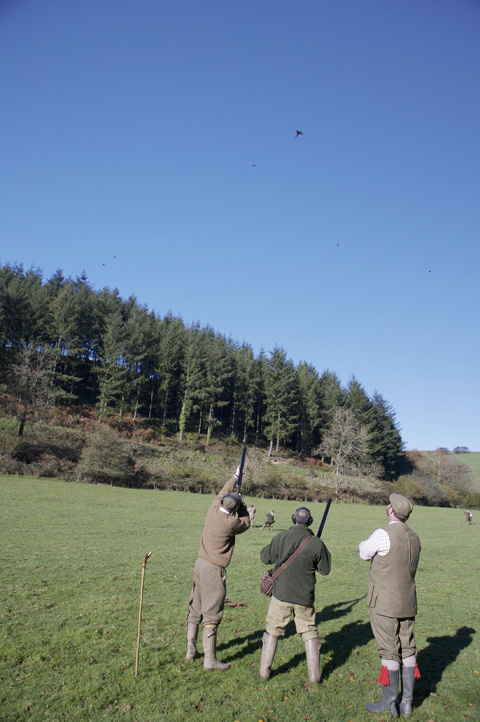 ——————————————————————————

Who doesn't crave the challenge of pheasants on our best estates?

——————————————————————————
3. Partridge in Norfolk
On the Lackham Shoot we release a small number of partridge alongside all our pheasants. We spend an inordinate amount of time trying to convince them to stick around and even more time scheming to drive them over the guns. Our returns are rarely spectacular, but when they fly just right, when those ethereal little sprites erupt into a starburst in front of the pegs, there is no greater feeling in keepering. When this happens at Lackham 30 birds might pass over the guns – while stalking in Norfolk I have seen coveys lift off the stubbles in their hundreds. I'm sure the same is true elsewhere, the shoots of North Yorkshire come to mind, but I've seen the birds in Norfolk, and that's where I'll be heading for my partridge.
——————————————————————————
4. A goose on the foreshore
Surely some of the most impassioned advocates in game shooting, wildfowling evangelists describe tales of digging man and dog sized holes in frozen mud as highlights of their sport. In their videos it always seems to be snowing. This is game shooting at the coalface, and part of me just wants to prove I'm tough enough to do it. Another part of me recognises that being all alone on a windswept foreshore means joining a proud tradition of hardy souls with incomparable fieldcraft, while supporting the too-often unsung efforts of our wonderful wildfowling clubs.
——————————————————————————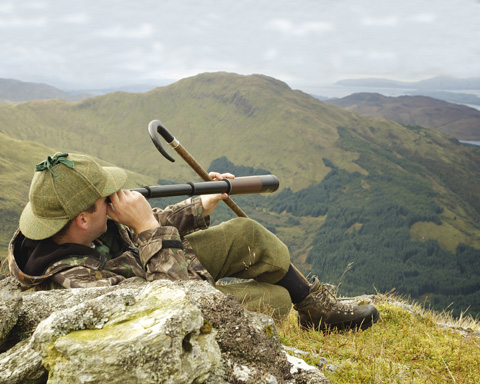 ——————————————————————————

The Highland stalker often overcomes tests of endurance and instinct before gettting close to pulling the trigger.

——————————————————————————
5. All six UK deer
We are blessed on this little island of ours with a wonderful diversity of deer. Thank the Normans, the Victorians and whoever kept leaving the gate open at Whipsnade Zoo and Woburn Abbey. A roe buck stalked across the gentle farmland of Wiltshire (I'm biased), a Chinese water deer in the Cambridgeshire fens, a red stag in the lonely beauty of the Highlands, a fallow buck from the south east's baronial hunting forests, a fleetingly glimpsed muntjac buck in Bedfordshire and a sika stag in the pine woodlands of Scotland; a quest to pursue all six species would take a stalker on a journey through the natural history of the British Isles.
——————————————————————————
6. A red-letter day on the pigeons
There is something brilliantly democratic about pigeon shooting. As long as there is agriculture in Britain we are never going to run out of pigeons, and as long as there is agriculture pigeons are going to need controlling. Now the days of free pigeon shooting may be numbered, but it is still very affordable sport, and what sport! The pigeons of the countryside are aerial acrobats, the Red Arrows to the city pigeon's Boeing 777. A red-letter day on the pigeons depends not on the depths of your pockets but on the line of your decoys, the plot of your hide and the luck of the draw.
——————————————————————————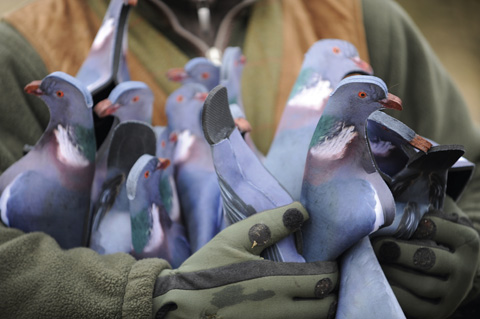 ——————————————————————————

Pigeon shooting may be free and plentiful but it is still challenging sport and requires effort and a pinch of luck for success.

——————————————————————————
7. Woodcock over pointers
The king of the game birds? Many of our beloved species have a claim to that particular crown. Certainly the grouse would have its share of supporters and the pheasant might be able to mount a somewhat populist campaign, but for

me the title belongs to the woodcock. The way it careers through the trees like a Spitfire engaged in a dogfight, its almost mythical arrival on the woodcock moon, the ghostly manner in which it rises from the grass when disturbed on a winter's night, the woodcock holds an unassailable place in my heart. To my mind such a whimsical bird deserves to be hunted in a suitably arcane fashion, and little is more arcane than the symbiosis of man and dog. I have had the privilege of watching pointers work on the grouse moors, but never on woodcock. To do so strikes me as the perfect melding of method and quarry.
——————————————————————————
8. Traditional driven hunting in Europe
When thinking about the sporting richness of the UK it does occasionally become hard to think of a reason to look abroad. There are however certain things our European neighbours do a little differently (dare I say better) than we do. One example is tradition. The pomp and ceremony that accompanies the end of a hunt in many European countries shows great respect to the game and speaks of a rich cultural attachment to hunting that we should all experience at some point in our lives. Of course, the thrill of shooting driven moose or boar may well be worth the trip, but I for one will be travelling to hear the tones of the jagdhorn rumble through the Schwarzwald.
——————————————————————————




——————————————————————————

A day on grouse provides an adrenaline rush the like of which cannot be explained.

——————————————————————————
9. Driven grouse
I have spent a good deal of time working on grouse moors. I have trapped on them, I have carried tonnes of grit across them, I have worked on shoot days but I have never shot on one. A grouse butt was and is consecrated ground to me. A tiny stone fortress from which rarefied gents and ladies did battle with the red bullets zipping through the air. It always looked a daunting test of skill with a shotgun, an impression I have only ever tested on "driven grouse" clays. It is time I took my place in the butts and tested my abilities against the real thing.
——————————————————————————
10. Africa
There is no getting away from it. The Dark Continent calls like a siren to the British sportsman and has done since the dawn of the Empire. Every boy who reads the adventures of Peter Hathaway Capstick, or hears stories of Theodore Roosevelt and his .405 Winchester longs to drink in the sights and smells of Africa, to carve their own trail into the forbidding bushveld. I'm no longer a little boy but I'm still reading Capstick, and Teddy Roosevelt's biography sits by my bedside. That part of the soul that drives us to leave civilisation behind to hunt, to shoot and to fish will not rest until I have followed their footsteps. I rather suspect that, even once I've done so, it will only rest for a short while – there is a whole world of experiences out there.
——————————————————————————
For more features from Shooting Gazette click here