Rolls-Royce Silver Ghost Croall & Croall Shooting Brake
Need a car to impress Americans on your shoot? Then come over all Downton Abbey on them with this spectacular 1910 Rolls-Royce. With gun boxes sitting above the rear mudguards, a roof rack to carry the game and, uniquely, a stag's head as a radiator mascot (the famous 'Spirit of Ecstasy' was introduced a year later) this symphony of panelled wood is undoubtedly one of the world's finest shooting brakes.
The landowner John Charles Montagu-Douglas-Scott, seventh Duke of Buccleuch and ninth Duke of Queensberry, descendent of four British monarchs, commissioned this particular Rolls-Royce.
The glorious wood-panelled bodywork was made by Scottish coachbuilders to HRH The King, Croall & Croall in Kelso, making this vehicle the epitome of Edwardian pre-war aristocratic motoring.
Range Rover
The Range Rover is about to be replaced by a new bigger, more luxurious model that comes with seven seats and slinky little dials that are no longer designed to be used by people wearing gloves. In other words, it's going to be a bit more townie and a bit less country. Shame.
The current version, with its workmanlike heritage and veneer of luxury, is still in a class of its own, thanks to the perfect blend of comfort, practicality and ability. Since the latest model was launched 10 years ago, it has been updated with more powerful, more refined diesel engines and even got Jaguar's fancy rolling gear selector in the last couple of years.
The new one will no doubt perform off-road, because it would be an anathema for any Land Rover not to, but for now the current Rangie is the ultimate shoot vehicle. The next one has a lot to live up to.
Land Rover Defender
It might be on its last legs thanks to the European crash and emissions legislation, but the dear old Landie is still the king of off-roaders. The design was first penned in the sand on a north Wales beach in 1947 by designer Maurice Wilkes as a British competitor to the Willys Jeep that had shown such tremendous off-road capability during the war.
Launched in 1948 as the Series I, it went through various iterations with more than four million built until the current version – which has been completely re-engineered with a new, more powerful, lower emission turbocharged engine. In fact, so refined – relatively speaking – is the new Defender that Land Rover has had to take the extreme step of upgrading the radio and speakers, because occupants can actually hear it now.
The off-road prowess of the Defender is second to none: its basic four-wheel drive mechanicals, lightweight aluminium body and skinny tyres are a perfect combination and simplicity means hardiness: well over half the Landies ever built are still on the road, or so it is estimated.
Ferrari FF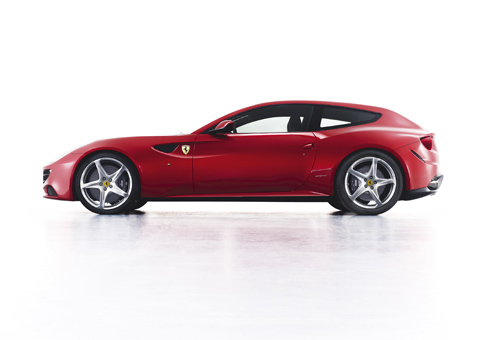 How many labradors can you get in a Ferrari? It's an age-old question many have pondered over a pint at the bar. The answer is two, thanks to the new £230,000 Ferrari FF, the legendary Italian supercar maker's new hatchback. But being Ferrari, it's no Ford Focus.
The firm is keen to promote it to the shooting market, thanks to its useful boot and unique four-wheel drive system, which means it will tentatively tiptoe into a field.
But you may not need beaters: the glorious, howling 650bhp V12 will signal your arrival and set the birds a-flutter, no matter how slowly you're going. You'll have to keep the dogs in mind too, because they won't appreciate the 0-62mph acceleration in 3.7 seconds, or the 208mph top speed.
Bentley Flying Star
If you've seen the recent EXP 9 F concept SUV, launched to gasps of horror to the Geneva Motor Show audience, then you might well be crossing Bentley off your 'car to go shooting in' list. But hold fire: Italian coachbuilder Touring Superleggera will fashion you a shooting brake from a Bentley Continental GTC convertible.
After chopping off the fabric roof, skilled craftsmen work for no less than four thousand hours in Touring's workshop near Milano to coachbuild your personal Flying Star. The specification is entirely up to you: the company says it can do anything, from installing gun cases to champagne fridges, and even trim the car in your ancestral tweed.
Helpfully it's four-wheel drive, and this W12, 560bhp estate will accelerate from 0-60mph in less than five seconds, but it should still be able to handle some gentle fieldwork. The price? Well, chopping up big Bentleys and rebuilding them isn't a cheap job: about £600,000 will get you a standard one.
Audi A6 Allroad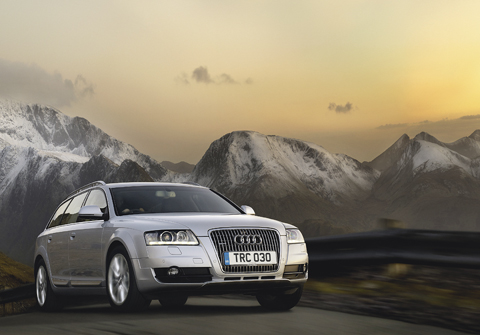 The stylish new Audi A6 Allroad is a master of all trades: corporate motorway slogger, chugging horsebox puller, practical dog/family swallower, luxurious weekend tripper and, of course, shooting brake. Less showy than an SUV, the permanent quattro four-wheel drive distributes drive to whichever axle can use it best, while it perches 60 millimetres higher than the standard A6 Avant, with stainless steel guards to protect the undersides.
Other off-road aids include hill-descent control and a system that tells you how steep a slope is, although if you have to ask, you perhaps ought not be there in the first place.
Being an Audi, it also comes with more technology than an Apple store, with Wi-Fi, Google Earth satnav and night vision. There's also an incredible new 300bhp-plus bi-turbo diesel, which somehow sounds like a sporty petrol engine.
Mercedes-Benz G-Class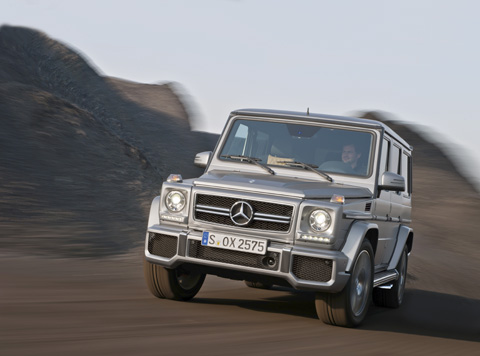 The Mercedes-Benz G-Class is effectively a tank with leather seats and climate control. Developed as a military vehicle after a suggestion by the Shah of Iran in the late 1970s, it is still rolling today in various armies around the world, but can also be bought in more luxurious road-going form, without machine guns and armour plating.
Dubbed the Geländewagen, or 'cross country vehicle', it's a massive, two-and-a-half tonne metal box perched on a chassis that could happily tackle the moon, with diff locks front, middle and rear allowing it to cross almost any off-road terrain.
Despite its vast dimensions, it's actually relatively poky inside, but comfortable to live with, thanks to heated seats, TVs, cruise control and expensive sound system. And if you pick the AMG version, it comes with a 5.5-litre V8 and a £110,000-plus price tag. But fuel economy is 15mpg, if you're lucky.
Lada Niva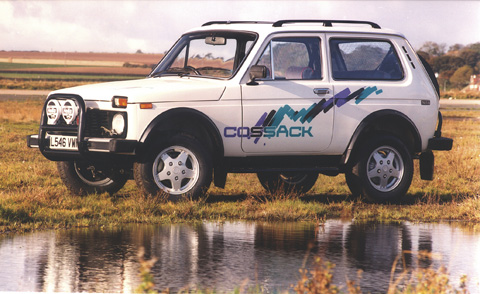 Looking for a cheap off-roader with a hint of cold war nostalgia? Then the Lada Niva could do the job. Described by its designers as a 'Renault 5 put on a Land Rover chassis', this ageing old wreck is amazingly capable off road, like that old beater who just keeps ploughing through the woods, year after year.
Featuring luxuries including some seats, a steering wheel, low-range gearbox and a 1.7-litre engine that even boasts fuel injection, the Niva adheres to the basic tenets of a fine shoot vehicle: it will go anywhere, dogs can leap in and out with abandon, and if it goes wrong, judicious use of a hammer and a Swiss army knife will get you on your way.
All for £11,000 from the UK importer. Comrades! Who needs a capitalist pig dog lickspittle Range Rover? This will do the job just as well.
Mazda CX-5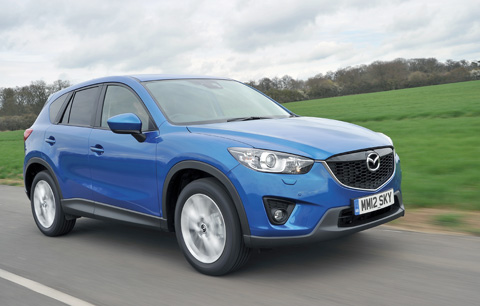 If you're looking for a mid-size, mid-priced SUV to do a job on shoot day, the new Mazda CX-5 is the current leader of the pack, providing the space of a Volvo XC60, but at the price of a Ford Kuga. It's as big as a BMW X3 too, but nearly £10,000 cheaper, plus some incredibly clever Formula 1-style engine technology makes it powerful yet efficient.
The CX-5 is also well specced with leather seats standard in most models. It drives impressively too, with a slotty little manual gearbox that feels like it's come straight out of an MX-5 sportscar. Just make sure you specify the four-wheel drive version – there are emission-saving front-wheel drive versions that will be as much use as a chocolate teapot.
Aston Martin DBS Shooting Brake
If you have an old shooting brake rusting away in a barn, it might be time to get it out and dust it off. At Aston Martin's recent sale of classic cars in Newport Pagnell, this 1971 DBS Estate – built specially for a Scottish laird to go shooting and fishing in – fetched a Caviar-topped £345,000 – having been estimated to achieve a more neeps-and-tatties £50,000.
The fact the DBS is James Bond's least famous Aston (poor old George Lazenby drove one in On Her Majesty's Secret Service) didn't hinder the desirability of this 4.0 straight six sports car, which produces nearly 300bhp. Most Aston Martin shooting brake conversions were done by coachbuilder Harold Radford.
But this unique model, with split rear seats that could fold to create a flat floor, was built by Battersea-based FLM Panelcraft, which started with the tailgate of a Hillman Hunter, and built bespoke windows and roof.