Gun reviews: Perazzi MX8 SC3 shotgun
Those with more than a passing interest in shooting will doubtless have heard of Armi Perazzi.
Taking its name from founder Daniele Perazzi who died in 2012, the company has long been a supplier of shotguns to sporting champions.
In fact, of the 15 medals available in the shooting disciplines involving shotguns at the 2012 London Olympic Games a remarkable 12 were won with a Perazzi.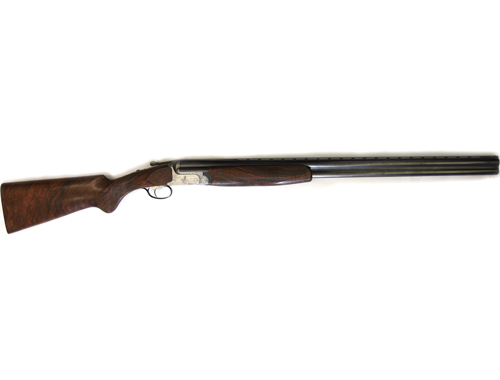 The MX8 on test here was originally designed for competitors at the 1968 Mexico Olympics and is among the most successful guns in the history of competitive trap shooting.
Don't let all this talk of clay bashing put you off though; there are no raised ribs and cartoonish adjustable combs to worry about here.
This is a serious gun which will be adored by those committed to high driven birds. Underlying all that incredible sporting success is a very clever design based around a trigger plate action.
All the lockwork and trigger mechanisms are built onto a removable plate which is released from the stock by pushing the safety catch past the forward position.
Not only a great topic of conversation amongst your fellow guns, the action is famously strong and reliable as well as being excellent for security.
There's no need to worry about the action dropping out in the field; removing the trigger plate requires a very strong thumb and would be nigh on impossible to do accidentally.
When the temptation to remove the action for another furtive look becomes too much, as it inevitably will, just try your hardest to remember to put it back where you found it.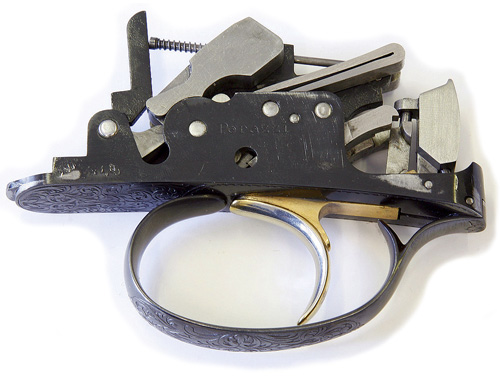 This clever design does, however, have a direct effect on the shape of the gun.
The action on the MX8 is broad in comparison to many over-under guns thanks to the trigger plate design, but this also makes it quite shallow.
This has aesthetic benefits, giving plenty of room for showing off the beautifully carved and engraved fences, and also keeps the forces from firing in straighter lines across the length of the gun, reducing felt recoil and muzzle flip.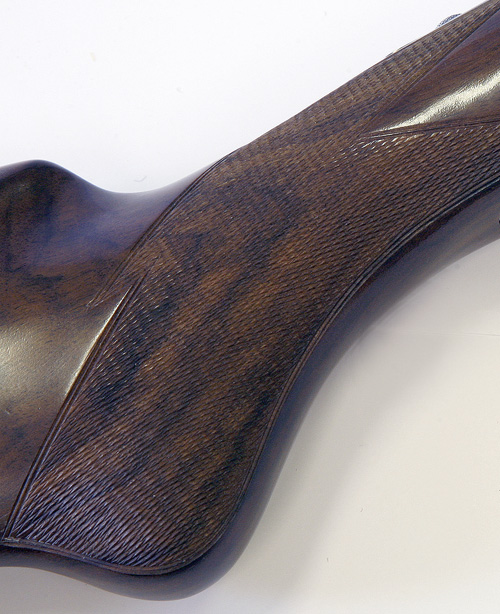 A shallower action also helps to improve the balance of the gun, keeping the muzzle stable and swings linear.
However, having the action built on the trigger plate does mean a lot of wood has to be left in the stock to keep the gun strong.
While this was not a problem for me over an hour's clay shooting at Grange Farm Shooting School, those with smaller hands might struggle to remain comfortable when using the gun for a whole day.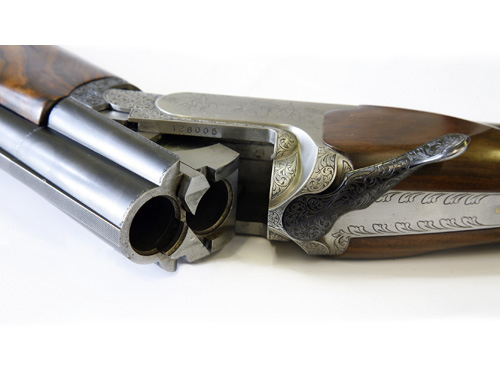 When buying a second-hand gun, you should be careful to check for cracking in the stock, particularly close to where the wood meets the metal of the action.
Though this is extremely rare it is nevertheless an expensive repair job.
Engraving on these guns can be chosen from a number of patterns when buying new, with a selection of game scenes available for the bottom and each side of the action.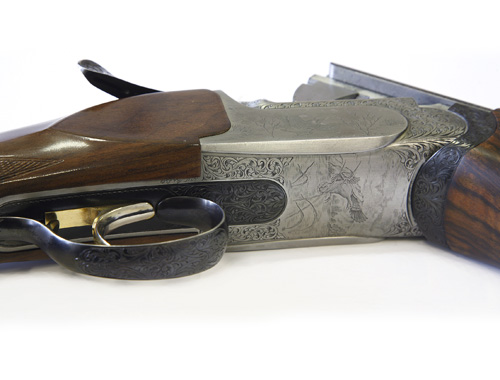 The engraving is carried out by hand.
To my eye the foliate scroll engraving seen on our test gun was more appealing than the game scenes which, while attractive, outside of the birds seemed sparse and comparatively shallow.
The wood on this second-hand example was obviously chosen carefully when new, as it has plenty of attractive figuring and has been finished with oil.
A new Perazzi is probably the cheapest mode of entry into the world of bespoke guns.
A two-day visit to the Perazzi factory can be organised when ordering a new gun.
Once there, a team of experts will fit the gun to exactly your dimensions and help you choose a stock blank.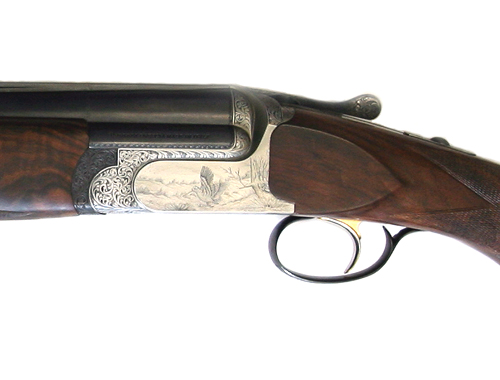 At the same time you may choose from a myriad of options, including 12 different barrel lengths, eight styles of fore-end and six different ribs.
You may also choose the pattern of engraving, style and density of chequering and whether the wood should be lacquered or oil finished.
By the end of second day of the trip the gun will be ready to shoot at a pattern plate before final adjustments.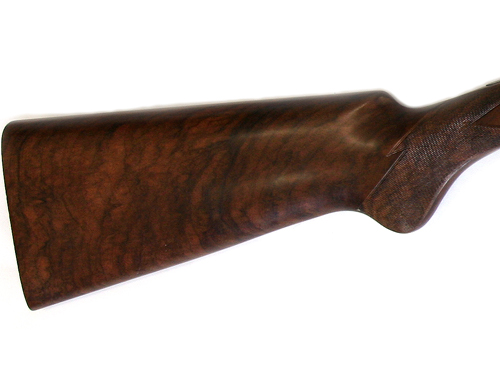 This personal approach and attention to detail, together with Perazzi's increasing popularity, means it currently takes up to six months to have the finished and fitted gun delivered.
This level of service is as close as you will get to the experience of buying a new gun from a London maker, but at a fraction of the cost.
IN THE FIELD

The game gun we tested had 29.1/2" barrels with fixed quarter and half chokes. The apparent weight was not a problem, with the gun being far more manoeuvrable than it's heft would suggest, mounting well and swinging with ease.
The balance of the gun is certainly biased towards the front hand, however, and I would imagine longer barrels would exacerbate this.
Checkering is very fine and very comfortable in the hand.
The rounded pistol grip felt very natural with no problems such as a loss of grip or slipping fingers.
The gun opens and closes in a positive manner, with strong ejectors and plenty of gape at the breech for easy loading of the bottom barrel.
The gun was a pleasure to shoot with, controlling recoil well and allowing for fast and smooth shooting.
The extra weight in the front hand made for a positive mount and it rewarded confident swings.
BILL ELDERKIN'S ALTERNATIVE OPTIONS

At this sort of price point serious competition comes from the Beretta Jubilee at £13,995 and a hand-made Belgian Browning B2G.
The Beretta struggles under heavier loads and has a rather unusual shape to its rounded pistol grip which, unlike the Perazzi, caused quite a few problems when shooting.
It is, however, a very attractive gun with superb wood and wonderful engraving.
Doubtless it would be satisfying to be able to produce it out of its leather bound case on shoot day, but it won't be anywhere near as satisfying to shoot.
The Browning is an exceptional shooting gun; it is not by coincidence that it has been built consistently since the 1930s.
At £12,250, these are wonderful guns with a superb level of finishing, though not quite up to the standards of the highest quality Italian guns.
They are astonishing to shoot, however, being very nimble and feeling much lighter in the hand than they truly are.
The Hesketh sidelock over-under from Longthorne Gunmakers is designed and built in Britain and is available for £10,639.
Although lacking the history of the major brands they are nevertheless an intriguing and exciting company.
VIEW FROM THE GUN SHOP

Bill Elderkin casts his expert eye over the Perazzi MX8 SC3.

Perazzi guns have the best trigger pulls in the business.
This gun uses 'V' springs in the action rather than coil springs, though a choice between the two is available when ordering a new gun.
V springs would always be my preference, as, aside from the quality of trigger action, they are easier to repair. New guns will come with a pack of new springs and strikers.
This gun has fixed chokes at quarter and half.
I find Perazzi's fixed chokes can be rather on the tight side. You should consider having Teague multichokes fitted as a factory option as this will allow greater flexibility whether shooting clays or game and more familiar shot patterns.
The gun comes in a very nice ABS case from Italian specialists Negrini, with a black velour interior and lovely leather trim.
The wood on the gun is good quality, nicely figured and well finished.
Though you can find guns in the white or ready to be bought off the shelf in the UK, I would say that choosing your own particular specification is all part of the experience of buying a Perazzi, and is one not to be missed.
This gun is an SC3, which indicates the level of finish.
Above this you may have sideplates fitted, as well as having extra embellishment in the engraving, including gold inlays or even totally customised designs.
This level of personalisation does mean a new gun will lose a big chunk of its value when you walk out of the shop.
As such, there are some good second-hand bargains to be had, if the gun fits you properly.
For example, a 10-year-old gun in good order would likely cost around £6,995 today.
SCORES

Engineering:

A very strong design in a superbly well constructed gun. 9/10
Handling:

As over-unders go, the MX8 is rather heavy. Balance is slightly forward of the hinge pin. Could become wearying over a whole day of shooting. 7/10
Looks & Finishing:

Very well executed engraving and checkering. Some may find the gun looks a little too broad around the action. 8/10
Reliability:

Perazzis are famously reliable guns. Should the worst happen any good gunsmith will be able to repair it. 9/10
Value for money:

As a lower cost entry into the world of bespoke guns, a Perazzi is hard to beat. There are some secondhand bargains to be had, if you fit the bill. 8/10
Overall: 41/50

Perazzi MX8 SC3 shotgun
From £12,400

Gun reviews: Perazzi MX8 SC3 shotgun