Owned by the husband and wife team of Alison and Fabrice Bouteloup, Barley Bree, this 'restaurant with rooms' in the heart of the village of Muthill near Crieff offers a blend of French culinary flair and warm Scottish atmosphere. They have been extremely busy since taking over what was a rather sad and unloved building almost six years ago, slowly transforming it into an awarding-winning establishment which benefits hugely from their creativity.
Alison has a keen eye for decor and the inside of the hotel couldn't be more welcoming; an intimately-lit restaurant with a fireplace at its centre sits under a beamed ceiling. While over in the lounge a roaring fire illuminates red wooden panels that envelop the circle of leather armchairs in its centre. The Bouteloups have searched far and wide for the tasteful trinkets that make Barley Bree so pleasing to the eye. The walls of the lower floors are adorned with subtle traditional and contemporary decorations, hanging every few feet. Those from marine wildlife sculptor Sam MacDonald in particular catch the eye and will appeal to the fishing fraternity.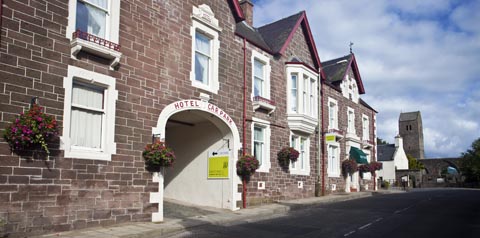 Barley Bree sits within the village of Muthill, home to almost 100 listed buildings.
Guests will enjoy the same standard of quality and creativity upstairs, each of the six en-suite bedrooms being littered with contemporary furnishings. Smaller, but equally welcoming, touches include a miniature sample of the hotel's own label whisky.
Fabrice, who has worked under the likes of Anthony Demetre since coming to the UK in the early 1990s, treated us to a game masterclass. And wine expert Alison's list of reds seduced us enough to seriously entertain the possibility of staying a few days longer.
The bedrooms are decorated in keeping with the history and charm of the building.
Barley Bree has shooting parties in its sights and with sizable bedrooms, a well-stocked bar, drying room and gun cabinet on site you would think that would be all the boxes ticked, that is until the offer of a packed lunch and even the chance to have your catch or bag made up for dinner is suggested.
Location of Barley Bree: Muthill, around seven-and-a-half miles from Gleneagles.
What we ate at Barley Bree: Spiced breast and confit leg of partridge and slow cooked duck egg with radish salad; poached breast of pheasant with a walnut and crispy pork fat crumb. Everything was washed down with a bottle (or two) of cabernet sauvignon by Deer Point.
Barley Bree plus points: The dishes Fabrice creates truly are works of art. The rich character of this 19th century property has been reinvigorated and it is now on par with many others in a village home to almost 100 listed buildings.
Barley Bree drawbacks: As the hotel only has six rooms it is unlikely to be able to cater for large parties wanting to stay overnight. There are currently no facilities for dogs.
Shoots close to Barley Bree: The Logie estate shoot is within a 25-minute drive. To read the Logie shoot feature click here
Barley Bree cost: From £110 (offers available).
Barley Bree contact: barleybree.com or 01764 681451.
For more sporting hotel reviews from Shooting Gazette click here