Founded in 1989, Treetops Sporting Ground lies hidden within a wooded valley that once formed part of the estate shoot owned by the Tredegar family. The topography of Treetops Sporting Ground, which for the last two years has been operated as a limited company by Steve Kilby and Andrew Groombridge, is easily its best asset. It affords them the opportunity to show guns a variety of driven and quartering game targets across its horseshoe shaped layout – including a 130 footer from a cherry picker. Treetops Sporting Ground tries to position the traps so that the gun is shooting at targets passing between or going through the tress and this results in a much more realistic experience.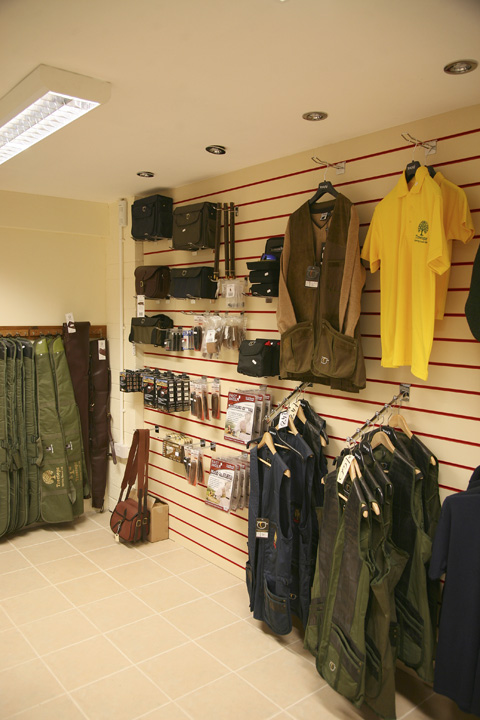 The expanding shop sells a variety of clothing and accessories.
Equally of value to Treetops Sporting Ground is the vision the duo has for it. A great deal of work is going in to bringing the facilities right up to the highest standard for guns and corporate guests alike, especially inside the shooting lodge which, despite being almost 25 years old, looks brand new. Work on covered shooting facilities, which Treetops Sporting Ground hopes will be of benefit to wheelchair users, is due to begin in 2013, as is work to improve the driveway and paths leading to the stands.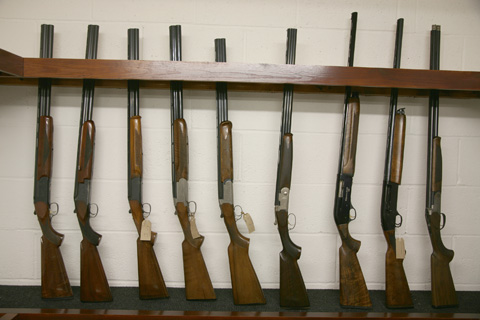 A small selection of the increasing number of new and second-hand shotguns Treetops Sporting Ground has to offer.
Having recently been granted RFD status Treetops Sporting Ground is building up a fine selection of new and second-hand shotguns. And with Andrew able to advise on gunfitting the fact Treetops Sporting Ground also has contacts with a local gunsmith is one less problem to worry about. Treetops Sporting Ground has a close relationship with the Celtic Manor Hotel, with corporate guests from Cardiff and Swansea – plus the odd Welsh rugby player (past and present) – being regular visitors. Treetops Sporting Ground is also a second home to a number of locals who often come to practice in small groups.
Location of Treetops Sporting Ground: Coedkernew, a two-minute drive from Junction 28 (Tredegar Park Interchange) on the M4.
Facilities at Treetops Sporting Ground: The shooting lodge comprises a shop selling game and clay shooting clothing and equipment, new and second-hand shotguns, gun cleaning equipment and gun cabinets. Aside from the traps (at which guns use the Promatic Claymate system when shooting alone) there is also a pistol and airgun range on site. There are three full-time staff but self-employed instructors can be drafted in as required. Corporate guests are entertained on the new patio outside the lodge or a temporary marquee opposite.
Plus points of Treetops Sporting Ground: This is a relaxed shooting ground and Andrew's understated style of instruction will especially be appreciated by those lacking confidence. Andrew and Steve run a very tight ship and their ambition will only be tempered by the amount they can invest into the ground.
Drawbacks of Treetops Sporting Ground: As with so many grounds undergoing redevelopments, Treetops was something of a building site on the day of our visit.
Costs at Treetops Sporting Ground: Lessons for non-members start from £36. Various offers are available and memberships are also now being offered.
To contact Treetops Sporting Ground: Telephone 01633 681197 or click here
For more shooting ground reviews and other features click here