The new Jeep Compass is the smallest of the American manufacturer's current European model line-up, which also includes the tough Wrangler and the excellent, luxurious Grand Cherokee, which I reviewed earlier this year (Shooting Times, 11 January).

I found the Compass to be a worthy holder of the Jeep name, and a much smoother-looking successor to the slightly awkward-looking Patriot.

The Compass 2.2 CRD Limited on test performed well and, like all Jeeps, its versatility is enhanced by above-average off-road ability — especially for a crossover.

Despite lacking a low-ratio gearbox and electronic aids, it coped impressively well on a partridge shoot on the Marlborough Downs, which had several steep slopes, lots of deep ruts, and plenty of mud and greasy surfaces.




Not once did it lose its footing, and I was pleased to find that it even had a proper mechanical handbrake, though it required a mighty pull to be effective — so much so, I left it in gear just to be sure.

Powered by a lusty but not overly vocal 2.2-litre, four-cylinder turbo-diesel engine, mated to a clunky but short-throw six-speed manual gearbox, the Compass has plenty of get-up-and-go, developing 161bhp and 236lb/ft of torque.
It accelerates from 0–62mph in 9.8 seconds and powers on to a maximum speed of 125mph.

More importantly, the Compass cruises comfortably, and reasonably quietly, at 70mph and 2,400rpm, though interior noise can be intrusive, varying considerably according to different road surfaces.

The Compass's wide torque band gives it strong pulling power from 1,500rpm, and it can tow up to 2,000kg.

For towing, driving off-road or in slow traffic, the combination of torque and well-chosen ratios means you always have a gear in which it feels comfortable.

The instruments are clear and easily readable, and minor controls are fine once you get used to them.

Cruise control is a useful feature, but the optional satnav refused to let me enter where I wanted to get to, so I had to resort to using a map, which turned out to be much quicker and easier.

The fuel consumption over 425 mixed miles averaged around 35mpg. In terms of ride, handling, capacity and comfort, I found that the Compass ticked all the boxes.

The ride irons out even the worst bumps and undulations without jarring or juddering, yet remains firm but commendably smooth.

The handling is good, too, with light steering and a quick turn in, and the Compass can be cornered at respectable speeds without excessive roll or protest from the tyres — even with four large adults aboard and a fully laden boot.




The front seats proved comfortable over a couple of three-hour journeys, while shorter runs failed to elicit any adverse comments (or praise, for that matter) from the back, and the rear legroom is excellent.

The 60/40-split rear seats fold flat easily, providing 1,259 litres of space, whereas the boot in isolation provides just 458 litres.

This was enough room for two big holdalls, two bootbags, a soft bag with a full slab of 28g No.6, plus a full 100-cartridge bag, three sets of ear defenders and a cap, but that only left enough room for the guncase and slip when laid diagonally across the top of the luggage.

Still, I could easily live with a Compass, and owning one won't break the bank.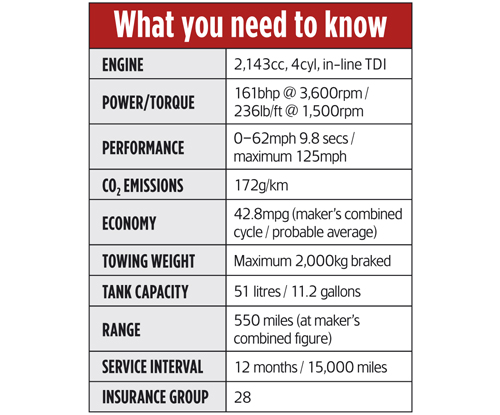 THE FINAL WORD
The competent and versatile Jeep Compass is priced at £24,205, with the option of metallic paint for £600, and a touch-screen satnav and 368W Boston sound system for £1,615.

Its main competitors are the Chevrolet Captiva (£30,995), the Citroen C-Crosser (£28,185), the Kia Sportage (£25,620), the Peugeot 3008 (£28,495), the Mitsubishi Outlander (£31,529) and the Vauxhall Antara (£24,410).

Those prices are for the top-end 4WD versions; entry level and 2WD models cost less.

Out of this list, I have only reviewed the Peugeot and the Jeep, and the latter comes out on top.



4×4 reviews: Jeep Compass