4×4 reviews: Land Rover Freelander 2
Seven years after the Freelander 2's launch, Land Rover has announced a discreet facelift for this versatile and successful mid-size SUV.

I was loaned the latest SD4 HSE model for review recently, and it proved to be a comfortable and well-equipped companion for the depths of an endless winter.

It was good to drive too, with strong on-road performance and a remarkably smooth, unruffled ride, while off-road the Freelander 2 remains top of its class for capability.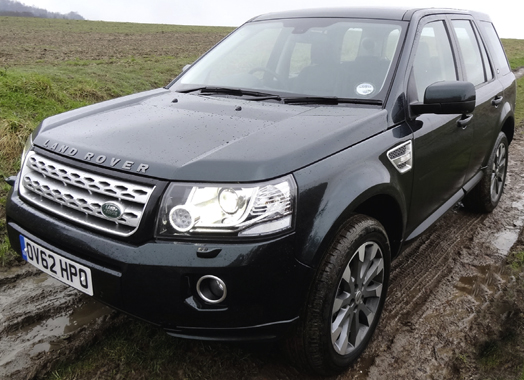 With the same engine options as before, the SD4 variant of Land Rover's reliable four cylinder 2.2L turbo-diesel develops 188bhp at 4,000rpm, and a full-on 310lb/ft of torque from 1,500rpm.

This provides a 0–60mph time of 8.7 seconds, strong mid-range acceleration, relaxed motorway cruising (with just more than 2,000rpm at 70mph), and a shed-load of torque for driving off-road or towing.

The SD4 is not the quietest engine, especially when cold, but once warmed up and under way it is not so intrusive.

Road noise is well muted, so the Freelander's smartly laid-out cabin, with a commanding driving position and comfortable seating, is a desirable place to be.

There's a price to pay for choosing the 188bhp SD4 engine, however, because its smooth, six-speed automatic gearbox, fitted as standard, effectively adds £1,505 to the price, puts the vehicle in a higher taxation band and increases CO2 emissions to 185g/km.

In comparison, the 148bhp TD4 with manual gearbox has CO2 emissions of 165g/km (though a slower 0–60mph time of 10.9 seconds).

Fuel consumption also suffers in the automatic — the SD4 claiming 40.4mpg for the combined cycle, against the TD4 manual's 45.6mpg.

Under typical family use, I reckon the automatic could return 30-35mpg and the manual 35-40mpg.

Were I a potential buyer, I'd look long and hard at the comparative prices and running costs of the manual TD4 versus the automatic SD4.

SELLING WELL
According to reports, Land Rover has been pleasantly surprised by how well the Freelander 2 has continued to sell in the UK following last year's launch of its trendier, more urban Range Rover Evoque, but family buyers tend to favour the Freelander because of its extra space and, arguably, better value.

The boot load volume of the Evoque is 559 litres, against 495 litres for the Freelander, but with the rear seats folded the Evoque offers 1,350 litres compared with the Freelander's 1,670 litres.

A five-door Evoque SD4 Dynamic costs £38,295; the Freelander 2 SD4 HSE, as tested, is £36,995.

With 4WD, five doors and TD4 engines, manual Freelanders start at £23,510, and Evoques at £29,445.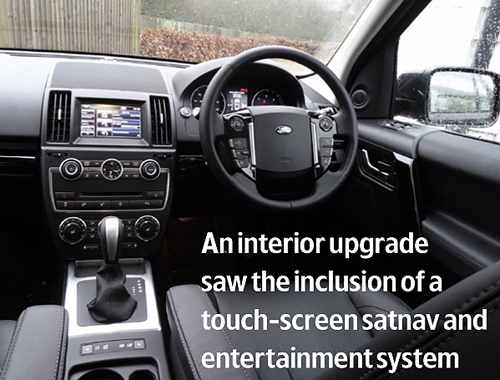 The Freelander's upgrade has mainly been focused on its interior, so apart from a modified grille surround and xenon headlights, there's not much difference externally.

Inside, the most obvious changes are to the centre dash, with a 7in touch-screen satnav and radio with CD, DVD, iPod, USB and Bluetooth facilities.

Three choices of audio system offer eight, 11 or 17 speakers.

You also get keyless entry, push-button engine start and stop, All-Terrain Response controls (for general driving, gravel, snow, mud or sand) and, much to my annoyance, an electronic handbrake.

CONCLUSION
The Freelander 2 is one of the best mid-size SUVs around, especially off-road. It is not the cheapest — either to buy or to run — but it will hold its value better than most.

It is also well-engineered, capable, comfortable, practical and desirable.

The only drawbacks are that the engine is a little noisy, and the boot could do with being wider and longer.

More expensive alternatives are the Audi Q5, BMW X3 and Range Rover Evoque, while cheaper options include the Honda CR-V, Jeep Compass, Kia Sportage, Mazda CX-5 and Volkswagen Tiguan.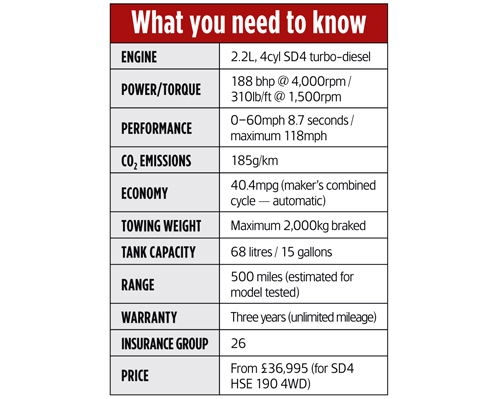 4×4 reviews: Land Rover Freelander 2