4×4 Reviews: Passat Alltrack
It comes with a choice of 139bhp or 168bhp two-litre turbo-diesels, and a six-speed manual or direct-shift gearbox (DSG) automatic.

The test car had the 168bhp, 258lb/ft torque DSG option. Externally, the Alltrack is distinguishable from its front-wheeldrive siblings by having 25mm raised suspension and 165mm of ground clearance (a significant difference when traversing crests of banks or hills), together with more rugged bumpers and matt chrome underbody protection.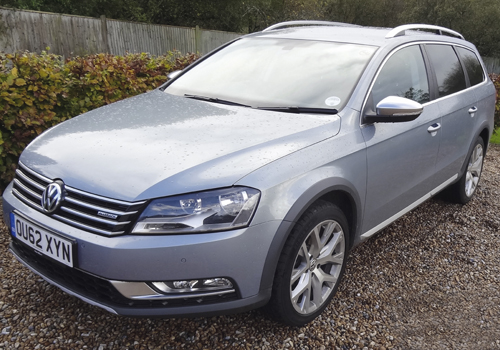 Switching on the "off-road" mode activates hill descent control on slopes of 10° or steeper, the ABS adjusts braking for loose surfaces, and the electronic diff-locks react sooner to prevent wheelspin, while it stays in lower gears longer.

At a magnificent Oxfordshire shoot, the Passat performed brilliantly, fording streams, scaling slippery slopes and ploughing through mud, but its limiting factor would be its relatively modest ground clearance.

The towing capacity is a useful 2,000kg, adding further to its versatility.

Internally, the Passat looks and feels spacious, offering 523 litres of boot space, and 1,641 litres with the rear seats flat.

(The Volvo XC70 provides 815/1,600 litres, and Skoda's 4WD Superb estate 633/1,865 litres.)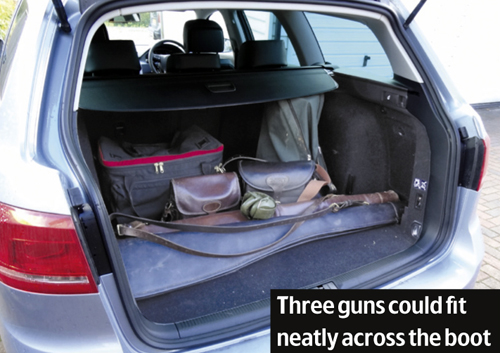 A steel space-saver spare wheel lives under the boot floor.

In terms of shooting practicality, three guns fit neatly across the boot if you remove the plastic strips used to create cubbyholes behind the rear wheel arches.

A three-stage blind screens boot contents.

Rear passenger leg room is excellent, while the front seats have ample adjustment, and variable height and rake.

They proved exceptionally comfortable on a couple of three-and-a-half-hour journeys, though not as cosseting as the Volvo's.

The Passat Alltrack handles far more sportily than the heavier Volvo XC70, reminding me of the delightfully nimble Skoda Octavia Scout 1.8TSI, to which the Passat is related.

The Alltrack is thus fun to drive, feels beautifully solid, and is serenely quiet and relaxed at speed, with just 2,200rpm providing 70mph.

Cruise control is a useful standard fitment.

My only dislike was the DSG dual clutch auto box.

Under way, this provides seamless changes, and in sport or manual mode is a delight on the open road, but in stop-start heavy traffic, whenever I applied braking pressure while edging forward some electronic wizardry cut off the power, preventing forward or reverse motion until this magic box permitted.

This can result in jerky parking and also cause a delay if you're in traffic and need to move off in a hurry.

The combined cycle fuel consumption claims a creditable 47.9mpg, but over 340 miles it used 50 litres, which equates to 31mpg.

This did include the aforementioned stop-start traffic and about 10 miles off road, so in everyday use nearer 40mpg would be feasible.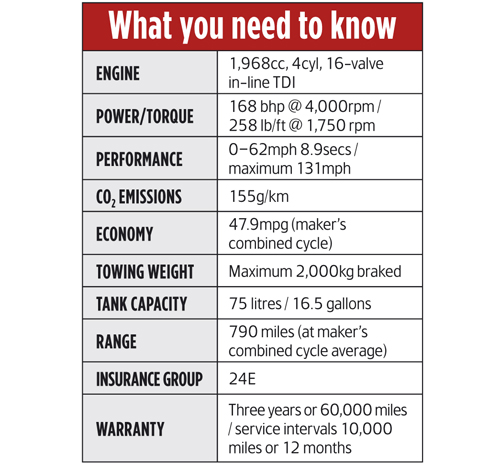 CONCLUSION
I enjoyed the Alltrack. It is thoroughly well designed and built; a spacious, comfortable and versatile load carrier; a great drive and easier to park than a big 4×4.

For shooting, it'll carry all one's gear and get quite a way off road.

The test car costs £31,030, but options such as touch-screen satnav and DVD radio system add £965, Automatic Distance Control £690, retractable towbar £840, Vienna leather seats and heated washer jets £1,745, and metallic paint £495 — putting £4,735 on the list price.

Hopefully there's scope for negotiation when it comes to bells and whistles.

4×4 Reviews: Passat Alltrack