Trail cameras are invaluable for predator control and culls, but they can also help shoots prove their conservation credentials, says Sam Carlisle
Technical innovation has transformed fieldsports. Standing in the line on a driven day, clad in tweed plus fours and clasping an inherited side-by-side, it may seem like not much has changed since the Edwardian golden age of shooting. But almost every facet of our sport has been shaped by the irrepressible march of technology.
One of the most evident areas of advancement is in the tools available to gamekeepers and conservationists. From range-finding rifle scopes to thermal imaging, the kit bag of a modern keeper would be unrecognisable to their forebears, even from just a generation ago. One of these tools are trail cameras. While camera traps have been around for some time, being invented in 1890 by the American politician, photographer and environmentalist George Shiras III, small trail cameras, which are inexpensive and simple to operate, are a relatively new phenomenon. And they have become indispensable to gamekeepers, deerstalkers and scientists alike.
First trail camera
My first trail camera was actually a birthday present for my father. A neighbour had suggested it would be a helpful tool for the spring count of grey partridge pairs on the farm. It was a selfish present at heart — I figured that if my father, an ardent technophobe, didn't appreciate the gift, I could appropriate it for myself. His birthday is in mid-March. Unwrapping it, he didn't seem as miffed as I expected, and that afternoon we fastened it to a post, overlooking a feeder. We collected the memory card a couple of days later, and I showed him how to look at the pictures on his computer. More than 700 images in 48 hours looked like it might derail the experiment. It was mostly shots of long grass waving in the wind. Then a pigeon appeared. Then, exactly as we'd hoped, a pair of greys.
The series of photographs were enchanting; one feeding while the other kept watch before they'd swap roles. This was a pair we hadn't seen before, and they were duly marked on the map to be submitted to the GWCT Partridge Count Scheme in about a month's time. We continued working our way through the endless images. As night-time fell and the photos changed from colour to black and white, rats started to make an appearance, hanging from the feeder's spring and hoovering up our grain. We hadn't spotted many of their holes near the feeder, but the next day we returned and, knowing they must be there, found them.
In its first couple of days, the present had gone from curiosity to vital tool: helping our monitoring and focusing our predator control. Three more cameras were immediately ordered, and stationed throughout the farm. Once we figured out how to adjust the sensitivity, the number of images we had to trawl through reduced. But the results were illuminating. We saw a redleg taken by a sparrowhawk, and moved the feeder accordingly to provide greater protection from aerial threats. We spotted a fox that followed the same routine most nights, which we caught up with before nesting began in earnest. A passing herd of red deer, a feral cat, songbirds and further pairs of greys that had remained elusive in the high cover all appeared.
Unequivocal proof
The eyes of a trail cam help make up for the lost observations of Edwardian levels of staff, when underkeepers and numerous farmhands would have been alert to every element of the landscape. But it's not just about predator control. With shoots, quite rightly, having to prove their credentials as driving forces for conservation, trail cams can provide legitimacy to these claims. "It's never been more important for shooting estates to show that they deliver enhanced biodiversity," says D'Arcy Wyvill, who runs Constable Burton shoot in North Yorkshire. "Each of our keepers has a good camera, and whenever they spot something red or amber listed, they document it. If anyone ever questions what our shoot delivers for the environment, we want to have unequivocal proof immediately to hand."
This is excellent practice and should be encouraged by every shoot. Trail cams can be a significant help in knowing what rarities live on your ground, especially if you don't have a team of keepers out and about each day.
Growth in trail cam use over the past couple of decades has been largely driven by American hunters, whose culture and game laws make them a particularly important tool. Most US hunters harvest a limited number of deer thanks to a 'tagging' system, where they might only get a permit to take one or two bucks each season. The pressure is on to find the most mature animal, and with large swathes of public land to choose from, the reconnaissance a trail cam provides is essential.
Improving the odds
The growth in recreational stalking in Britain has seen an equal increase in trail cam use on this side of the Atlantic. For someone who is not able to be on the ground each day, it can provide invaluable information about specific animals or patterns of movement. Learning at what times the deer are active in certain areas is critical to ensuring an effective cull. It is striking how much this can differ from year to year, changing dramatically with the weather. I've noticed that in windy periods especially, it can be much harder to find deer, and the patterns displayed by the camera significantly improve your odds.
It is not just in culling, though, that a trail camera is useful. They make it possible for amateurs to really manage their herd. Without them, I simply wouldn't be able to observe the population of roebucks that live in our patch of Suffolk woodland and make decisions about which to leave until after this year's rut and which to leave for at least another season or two. While some would argue these are decisions that need to be left to professionals, it is exactly this process that drives learning and interest in deer. Access to this kind of detail has enabled a much wider pool of people to become stewards of our woodlands and the animals that live there.
While trail cams may make the most difference to the results of part-time deerstalkers, they are important for professionals as well. "As I'm full-time, I like to think I see most of what is on the ground over the year, but I'd say for me trail cams are still useful for confirming the movement times of deer we want to cull. Of course, they will always flag up individuals we didn't know were there," comments Chris Rogers, who is the stalker on 10,500 acres of Suffolk Breckland. "The estate also has a couple for security purposes."
This last point is another consideration. While images from a trail camera may help with a police investigation, there are myriad complex laws relating to data protection that may preclude the images from being deemed acceptable evidence. However, if you're regularly capturing walkers where they shouldn't be, it might well inform where you place some strategic signs to deter the trespassers. With this in mind, though, Chris suggests that you always padlock your camera. He has had a number disappear over the years.
Many trail cams are now equipped with SIM cards and will text you images. This instant feedback is both addictive and enlightening. Detractors will say that this technology gives us an unfair advantage. But the thrill of spotting a buck that you've never seen before is matched by the excitement of seeing a sparrowhawk mantling its prey or deciphering the pattern of a hunting fox. Allowing observation of wildlife from your home or while on the go only deepens our relationship with and understanding of our flora and fauna, and as such is a technical advance we should all embrace.
Trail cameras to watch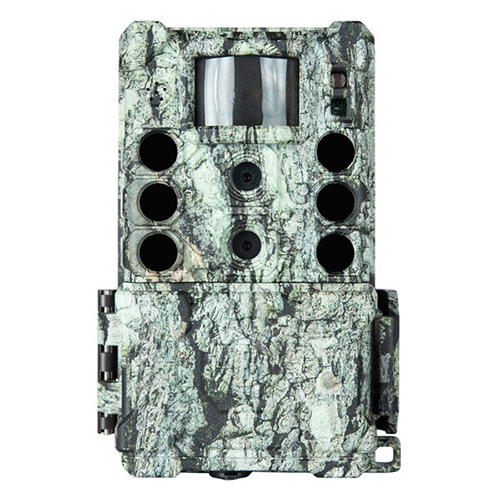 The Core DS-4K offers dual sensors and 4K picture resolution for high-quality images, day and night. The unit has an optimised battery life for maximum image captures and more time in the field without checking batteries, all in a compact design to stay hidden from eyes you don't want to alert. The 0.15-second trigger speed is best in class.
With true 4K ultra-high-definition video, this unit features the highest quality of image and video of any of Browning's trail cams. This trail camera has an adjustable detection range up to 80ft and Illuma-Smart Technology, which automatically adjusts the infrared flash for those perfect photos at night. A 2in colour display screen means you can view your images in the field.
The Force-Pro is fitted with a high-powered 30-megapixel camera for high-definition photography as well as video capture at 4K resolution with audio. The trail cam's sub-second trigger speed, long-distance detection and high-powered LEDs mean users will be able to get the best Spypoint experience to date.