It's their confidence, their optimism, and their belief that anything is possible that makes the Americans such an admirable people and has historically made them such great allies. The only problem, to bring the topic on to cars, is that when one is designing a vehicle for their huge market, one has to defer to their tastes. If a car manufacturer wants to sell big in America, it has to pen its cars big, with big personalities.

When Nissan (née Datsun) decided it wanted to push upmarket in the US, they looked across the road at the enormous success Toyota had achieved with its Lexus brand. In essence, when they created Infiniti, they decided they were going to be BMW to Lexus's Mercedes. They are sportier, edgier and styled even more confidently. Possibly as a result it was a good decade before we got to see them in the mother country.

The Infiniti FX30 is their off-roader, a competitor to the Range Rover Sport and BMW X5 that has recently been made relevant to the European buyer with the addition of a diesel engine. However, the styling has not been changed at all for our rather more diffident tastes and the Infiniti FX30 still enjoys the same concept car looks that have wowed our colonial cousins. I can safely say that no SUV I have ever driven has turned heads like the Infiniti FX30 and I suspect that none will until Lamborghini launches the Urus. It has an imposing nose and huge 21" wheels that give it a stance quite unlike anything from Solihull. Actually, one of the early press releases described its styling as being like a "bionic cheetah", although personally I think it's got rather more of the bionic hippopotamus about it.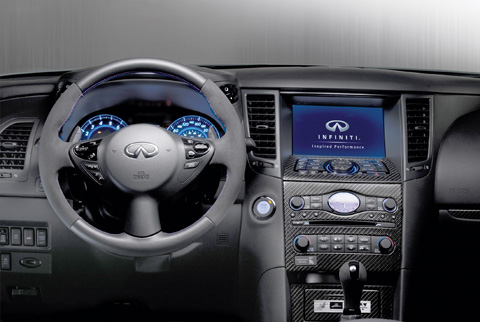 The Infiniti FX30 has bold, confident, American looks inside and out.

Step inside the Infiniti FX30 and the American theme continues, with a combination of very shiny woodwork, brushed aluminium and high quality but very brightly coloured leatherwork. The only thing is that, accommodation-wise, we're definitely not talking about the wide-open spaces of Montana here. Considering the carbon footprint of the car, the back seats and boot are rather more akin to a snug Cape Cod cottage scale.

Fire up the Infiniti FX30 and, as soon as the engine's warm, it proves to be a very sweet and refined unit, yet another example of the six cylinder diesels that are making large capacity petrol engines impossible to sell in the UK. The big Infiniti FX30 handles very nicely too, right at the top of the class, thanks to its relatively lightweight and clever four wheel steering. Its ride isn't quite so clever, but that's probably more down to the gangsta [sic] spec wheels and rubber band tyres than it is any weakness in the spring and damper rates.

Those same tyres dramatically hinder its potential off road, however. Try to drive it up a wet grassy hill and it gets precisely nowhere. I did drive down some tracks and across a small ford, however, with which it coped with aplomb. Of course, you could put knobbly tyres on it and it would probably prove fairly competent at most things you need a gun bus to do, but I rather suspect that would be missing the point.

The Infiniti FX30 is all about its bold, confident, American looks. That one criterion will have a bigger effect on whether you buy it or not than any other.

Specifications for the Infiniti FX30D S AUTO

Price: £48,965
Top speed: 148mph
0-60mph: 8.3 seconds
Combined: 31.4mpg
CO2: 238g/km

3.5/5

Ben Samuelson is the managing director of PR and events agency Samuelson Wylie Associates. Follow him on Twitter at: twitter.com/bensamuelson

For more features click here