Since launching it in 1997, Mercedes has built 1.2 million MLs in its Alabama factory, so the unveiling of a new one is a fairly significant occasion. Even more so when the new Mercedes ML250 features a 2.1 litre, four-cylinder engine that promises considerably better fuel consumption than that of any comparable large SUV.

Yes, you did read that right. The Mercedes ML250 is a competitor to the likes of the Range Rover Sport and BMW X5 but features an engine that's no larger than one you'd find lurking under the bonnet of your average Ford Focus.

You'd presume this would make it really sluggish – but not a bit of it. This engine develops a scarcely believable 91bhp per litre, a figure that only a few years ago was considered good for a top sports car engine. In the Mercedes ML250 it delivers perfectly adequate performance while still only sipping diesel in a rather miserly fashion. My 36mpg wasn't anywhere near the figure in the brochure but it was noticeably better than I've had out of any of its competitors. To put it in the sort of terms my editor would understand, if you and a chum with a Range Rover Sport are going to a shoot 100 miles away, you've saved the cost of entering the sweep by the time you both get home. For those who still run company cars, the Mercedes ML250 is also three VED bands better than them so makes George Osborne's job that little bit trickier.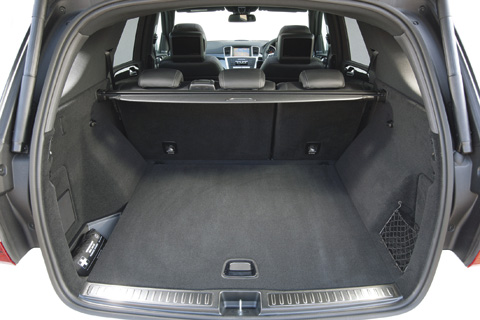 There is plenty of space in the boot of the Mercedes ML250 to get your shooting kit in.

The Mercedes ML250 also has admirable sound-proofing so its cabin is well isolated from wind and road noise. It rode, uncommonly for a luxury SUV nowadays, on old-fashioned coil springs, which actually probably helped. This means you can't raise its ride height though, which was a problem when transporting three of my fellow guns and their paraphernalia round a shoot. A rutted track, which wouldn't have bothered any of Solihull's finest, had us all wincing as rocks made expensive sounding clangs as they banged against its undercarriage. The good news is that coil-sprung cars still deal with sharp bumps such as motorway expansion joints far better than their air-sprung brethren so, if you do most of your driving on road, you'll be fine. If you want extra off-road capability you can specify both air suspension with level adjustment and an 'on and off-road' option pack, which features goodies like diff locks and underbody bash plates. But even without either of these we didn't get stuck between drives.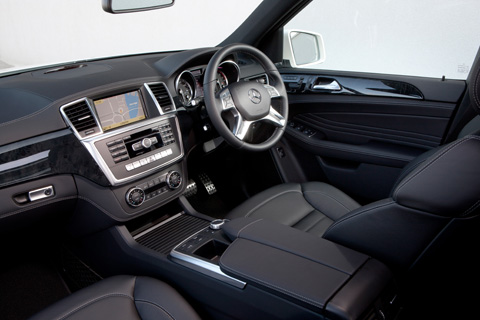 The cabin of the Mercedes ML250 is sound-proofed so is well isolated from outside noise.

The inside of a Mercedes ML250 is a comfortable, luxurious place to sit, with a return to the quality feel of Mercs of my father's generation. I didn't expect that you could put such a small engine in such a big car and not have to make an unacceptable sacrifice in terms of performance or refinement. The only negative is that it doesn't sound as nice as the old petrol V8 in a Range Rover, but then which of us would go back to the days of fuel consumption in the teens?

Specifications for the Mercedes ML250 CDI Bluitec Special Edition

Price: £48,965
Top speed: 130mph
0-60mph: 9.0 seconds
Combined: 44.8mpg
CO₂: 165g/km

4/5

Ben Samuelson is the managing director of PR and events agency Samuelson Wylie Associates. Follow him on Twitter at twitter.com/bensamuelson

For more features from Shooting Gazette click here