Standing beside the fireplace in the sitting room of his Nottinghamshire home, Barry Atkinson is a man in need of a rest. Over the past 10 shooting seasons he has driven close to 250,000 miles in an attempt to beat on 1,000 different shoots in 100 different UK counties, and raise £1,000,000 for the NGO Educational Trust and Cancer Research UK in the process.

The road to completing the first two of these targets, achieved in January, was tainted by sorrow, frustration, fatigue and injury. And had it not been for a rock-solid resolve, a passion for fieldsports and devotion to his dogs, the former lecturer would never have summoned the strength to work six-day weeks, often punctuated only by the cold comfort of power naps in his van. Even during the close season Barry chooses to split his time between cancer research laboratories and educational events to witness first-hand the positive impact the appeal is having UK-wide.

The house was bitterly cold and the sitting room had hardly changed since the last time I visited some five years ago, a reminder of the sacrifices Barry has made since that first day at Rothwell in Lincolnshire on September 1, 2003. His hair was longer than before but the smile as he greeted me suggested he was in good spirits. I asked how he felt when the 1,000th day at Birch Grove, West Sussex, came to a close.

"Absolute relief that we'd managed it. I was anticipating that, after the final drive, I would fall to my knees, grab hold of Spider II and burst into tears. In fact the whole day was so busy I had no time to be emotional."

Barry and Spider II (the grandson of the Spider from which the charity takes its name) had already had a busy Christmas period, including a trip up to Jura for the 998th shoot day, which also notched up the 100th UK county of the quest. A shoot in Kirkcudbrightshire, the 999th, followed on January 2, and that meant eight days for Barry to compose himself ahead of another long drive to West Sussex for the 1,000th and final day on January 10.

"During the final day, I was anxious about failing to inform everyone about the appeal. I normally speak to the guns and beaters/pickers-up separately but I hadn't had much contact with either. Headkeeper John Lewis managed to get me in to see both parties. The estate owner was equally enthusiastic and it made the day very special."

Barry was also relieved to have guided his four-footed ward, Spider II, through the season safely after a brief scare ahead of the final day.

"I felt thankful I had managed to get Spider II through it, especially because of the broken leg he suffered during the previous season. I'd been worried about him all the way through the final season, trying not to overwork him and keeping an eye on him. I'd been living in fear of the leg being damaged again, and he actually went lame the day before Birch Grove. Thankfully he turned out to be fine in the morning and worked brilliantly all day."

Although we joked about the very real possibility that Barry had driven as many miles as pounds raised – around £400,000 at the time of writing – as he began to talk about fatigue, gripes about the number of miles I clock up each year began to seem insignificant.

"I probably did around 20,000 road miles per season for 10 seasons, and there were/are even more in the close season because of the visits to monitor our projects. Regarding mileage while beating, on some of the lowland shoots we were in a tight area so it might only have been six miles a day, but on grouse moors we could be well into the teens negotiating difficult terrain. The dogs walked even farther!"

I was absolutely aghast as Barry told me about 320-mile night trips here and 475-mile night trips there between consecutive shoot days.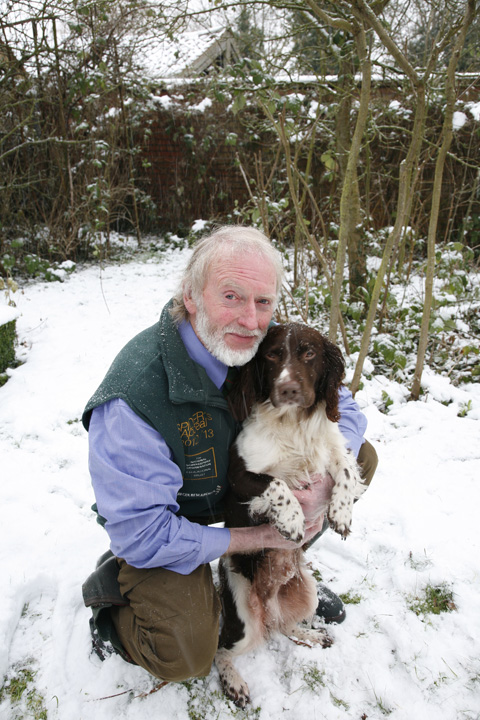 The Spider's Appeal class of 2012/ 2013: Barry Atkinson with Spider II at home in Norwell, Nottinghamshire.

"Long night journeys got really painful and I was almost in tears struggling to keep awake. The van limped from lay-by to lay-by before I set the alarm clock for a 10-minute nap and then struggled on. This part of the extreme endurance was dangerous and I wouldn't want to repeat it again.

"Journeys home really depended on where the shoot was on the Monday. I always tried to get back for the Sundays but even they were horrendous because I had so much recording and planning to do before heading out at midnight to be at the shoot for the next day."

With no more shoot days to organise and midnight sorties to endure, Barry admitted it was taking time to readjust to life back in Nottinghamshire.

"The relentless organising of each season's programme was a necessary pressure. When the reality of the completed challenge has sunk in, I have to try to reconstruct my sleep pattern, which was completely destroyed during the first season."

Barry is far from overawed by his achievement and, as anyone who has ever spoken to him will know, Spider's Appeal has always been a dog story, with the late English springers Spider, Sally, Bay and Rowan (as well as Spider II) all having played their part.

Spider's Appeal does not have an August 12 to February 1 shelflife and come the close season Barry's role flips from beater to project manager.

"The NGO Educational Trust money is tied to an educational project called Spider's Heritage. This is a creative, annual competition aimed at schools UK-wide. The winning school puts on a show and in recent years the opening ceremony – for the prize of a conservation garden – has been presided over by Dr David Bellamy. The Cancer Research UK money is tied to a select project that addresses a different cancerous disease each year and I track that project by visiting the laboratory, wherever it is in the UK, speaking directly to the clinician teams involved. With both projects we are breaking new ground each year."

Two down, one to go

With the 1,000 shoots and 100 counties targets met, Spider's Appeal can now begin the race to the £1,000,000 target through ambitious plans focusing on art and literature. With around £600,000 still to raise, Barry is ready for the continued challenge, and knows it will be as difficult as those that have gone before.

"The plan is to sell five different paintings from five different artists, depicting the original Spider with a different game bird, to the 1,000 shoots visited, each painting signed and numbered according to where the shoot sits in the running order. There are also plans to represent the 100 counties through Spider's Dog Tails, a collection of 100 different verses or prose, one from a dog owner in each county along with a photograph and illustration of the dog by them. I will be frustrated if I don't raise the £1,000,000 and expect it to take another couple of years – another marketing headache."

There have been other headaches too. Barry admitted he won't miss the more dangerous aspects of beating and the list of misadventures he and his dogs have suffered make for uncomfortable reading; Spider II went missing for a full day on a grouse moor and once fell 30ft into the depths of a white water river. Barry also went beating with a broken ankle and even suffered a very nasty haematoma to his other leg.

While there have been other setbacks; broken promises, nil donations and fatigue, there are things he will miss.

"The nice thing about what we've done is being nomadic and the endless opportunities to start afresh every day. You don't bring any baggage and there are no grievances. I've also been lucky to see a different part of our beautiful countryside every day – that is priceless.

"Whenever I experience a setback I remember the massive response and support from thousands of people to the appeal. The overriding realisation is without really knowing me, thousands of people have taken to the appeal and trusted me – one hell of a compliment."

Motivation and a warning

We talked about what had kept him motivated and his voice softened as he remembered his late parents and Spider, the dog who inspired the appeal.

"My absolute love for the original Spider has got me through my lowest moments. I've genuinely thought of him every day. When we lost him in 2006 I decided what I'd do to keep him involved spiritually would be to lay some of his ashes down on every subsequent shoot we've visited. Motivation is difficult when fatigue overwhelmes you. The appeal turned into an endurance sport and I'd like to think we've redefined beating and picking-up. Some people might think we're estate serfs who are just doing it for a bit of cash but beaters are dedicated people from all backgrounds who love the countryside. If Spider's Appeal has been able to help with the recognition of their efforts that's great.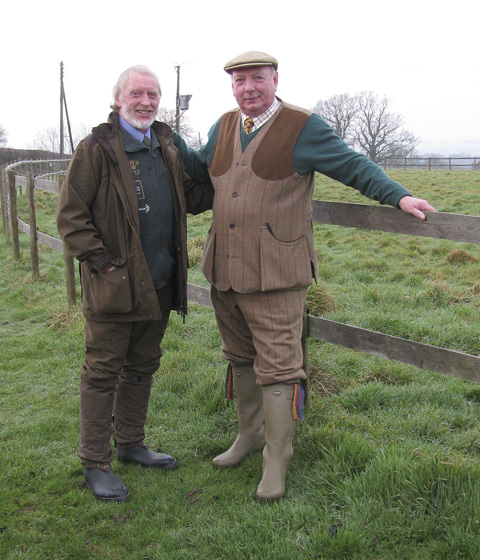 Barry with Birch Grove headkeeper John Lewis at the end of the 1,000th and final shoot day.

"I've had to remind myself the appeal is a celebration of dogs, but also in honour of my parents. I lost my father to stomach cancer when he was only 62, typical of the tragedy where serious health problems kick in and shorten people's lives. It was awful to see someone, who had enjoyed an active life and not yet reached retirement, fade and go like that."

Barry cited Caerhays "a Victorian day out" and Birch Grove "it fulfilled every dream" as two favourite shoots, and of all the people he met over the 10 seasons the one who made the biggest impression was also the smallest.

"At three years old, Max, from the Falkland estate in Fifeshire, was the youngest winner of Spider's Younger Beater of the Year. It was great to see how totally besotted he is by fieldsports. If that indicates the potential interest youngsters can have then it should spur us on to do all we can to inform the general public of what fieldsports is all about. That is where the future lies and it's in our hands at the moment, but I don't think we're doing enough."

Barry is ideally placed to comment on the changing face of shooting. He loves the diversity and improved standards in game welfare but also has concerns.

"We really need those people in a fortunate position to appreciate the countryside to appoint themselves as active ambassadors. We are, as a rural community, severely misunderstood."

Barry Atkinson has 'done it' well and the self-confessed incurable idealist deserves every plaudit coming his way.

"It has been an extraordinary and emotional dream-like adventure. All of my standards, passions and beliefs in life have come together within this last 10 seasons and given me a purpose. I've got no regrets at all."

For more information about Spider's Appeal, and Spider's UK National Bird Campaign, click here

For more features from Shooting Gazette click here