After 27 years as Editor of Sporting Gun, Robin Scott now embarks on a new role as Editor-at-Large of Sporting Gun, Shooting Times, Shooting Gazette and the Field.
The following tributes, from friends and colleagues, were published in the February issue.
Do you have fond memories of Robin's time as Editor? Please comment below and add yours.
John Bidwell
6 times World FITSAC Champion and Sporting gun contributor
Robin has been an inspiration to me – it was he who convinced me that the Move Mount Shoot technique should be documented and in 1990 we wrote the book Move Mount Shoot – the rest is history. Like myself Robin is a keen fisherman and we have spent many good times on Orford Island fishing for cod – Robin will never forget my one piece Hardy homemade rod with only two rings on – one glued at the top and one held on with electrical tape with the reel held on with two jubilee clips. It always out fished Robin's all singing and dancing Abu gear – he never got over it. Robin was a great editor and will always be a great pal. Looking forward to our next fishing trip – whenever. Here's wishing you all the very best for the future!
Bjorn Waktare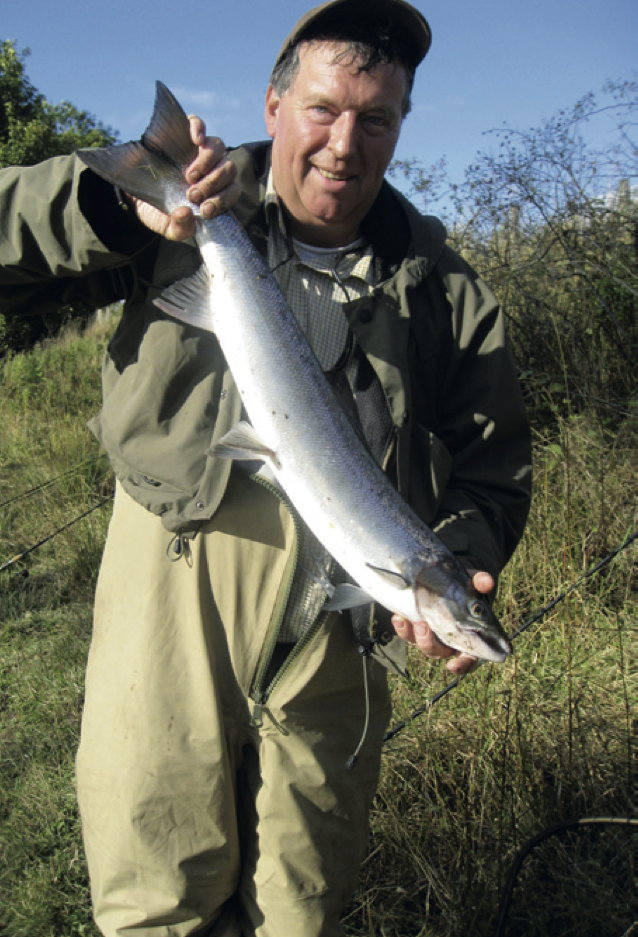 Director GMK
Robin is a legend in the gun business. I have enjoyed many nights with him, discussing late into the night things we cannot remember in the morning. He is a real shooting enthusiast in all its forms allowing him to write with authority on most subjects. I am sure he will never be far from the action even if he has passed on the reigns.
Hamish Dawson
Publishing Director Sporting Gun
Robin and I have worked together since 1995. From then until now, Sporting Gun and its success has always been his number-one priority (after his dogs and his shooting and fishing, of course). In some months I know Robin put the magazine together almost single-handedly, and he's always treated his readers with respect and has an instinctive understanding of their pleasures and challenges. He's a great journalist, a valued colleague and a wise counsel and I'm pleased he will remain so for some time to come.

Donald Muir
BASC Scotland
Robin, who is a big supporter of BASC Scotland, and I got stranded on the high bank of the river Tay at Newburgh out wildfowling. The rest of the boys on the other boat managed to get back to the hotel. We arrived eight hours later on the next tide to be greeted by "The Jack Daniels Gibbering Club". Great memories!
Jim Albone
Pigeon Shooter and Sporting Gun contributor
I've known Robin for 20 years and in that time we've shared many a good day's shooting. We did the pigeon shooting DVD "Red letter days" together and had plenty of laughs on the stand at the Game Fairs. I wish him best of luck on his semi retirement.
Will Hetherington
Editor Shooting Gazette
I've shared an office with Robin, or RoboScott as we affectionately named him a few years back, for nine very happy years. In that time we have enjoyed numerous road trips all around the UK with guns and dogs on board, and I've always enjoyed every minute. Not only does Robin have a tremendous wealth of experience in the world of shooting journalism, he is also a top shot and a fearsome companion at the bar. I have always been able to rely on him for an honest opinion, a broken clay or killed pheasant and a drink at the end of the day.
Jackie Wurr
Ad Manager Sporting Gun 1991 to 1995
Robin and I were away at The Scottish Game Fair when we had a mega disagreement about the ad that I had placed on the outside back cover, Robin for some strange reason had taken a great dislike to it. That evening in the bar we argued about it for hours and eventually agreed not mention it again. However, the next day when we arrived at the car there was a flyer on the windscreen and on closer inspection we discovered it was a reprint of the ad. Scottie was furious and convinced that I had somehow managed to organise this and was deliberately winding him up. I really thought I was walking home. To this day I wish I could take credit for it.
Going away with Scottie on business trips was always interesting I remember arriving at a very nice Hotel and getting my bag out to check in and turning round to find to my horror Robin had bought his whole laundry basket with him rather than a suitcase. He gave it in to reception to get laundered and delivered back for the morning. I'm not sure how he got away with that one on his expenses.
Evelyn Webster
Former Publisher of Sporting Gun and Senior Vice-President at Time Inc.
I have many, many fond memories of my time working with Robin. He was a great colleague and we had tremendous fun working together. He is also responsible for me taking up shooting. His passion for the sport was infectious, and even though I handled a gun for the first time with some trepidation, Robin was patient and encouraging (when he wasn't laughing at me). I'd describe myself as an enthusiastic shot, rather than a particularly skilled one, but he is responsible for introducing me to the sport, for which I am ever thankful.

Rob Hardy
Art Editor Sporting Gun 1992 to 2002
Having worked with Robin on Sporting Gun for over 10 years from offices including a lovely converted barn, an office over my dog kennels, where we could barely stand up, and a small flat over a pub. He perfectly shows that producing a best selling magazine has nothing to do with having fancy offices or surroundings. It is to do with people who not only instinctively know what their readers want, but can communicate that same passion for the sport. I'm honoured to have worked with him and call him my friend.
John Swift
Former BASC Chief Executive
Sincere best wishes and respect to Robin on his retirement as editor. It was a privilege to have had contact with both Robin and Sporting Gun throughout his term of office. I do not recall ever once having had one of those difficult "Chief Executive to press editor" telephone calls. Robin never played games, or at least appeared to give much of a damn for those who take it all much too seriously. Shooting (and fishing) was fun and to be enjoyed to the full. All points of view had their place even the totally potty/ ill-informed ones. Robin must take huge pride that he guided so many tens of thousands of newcomers in the right way to have it. I certainly wish him all the very best in his move to the backbenches; and Joe equal good fortune for the next 25 years or so. Short- termism is a bane of modern thinking and Robin did not suffer from it.