Whitbourne estate: Game shooting in Herefordshire
Not so long ago, Joe Evans, a well-spoken and buoyant 29-year-old, travelled the world working for a major international bank. Up to the eyeballs in stress and working long hours he knew he was not long for the financial sector, always hoping he would end up back in Herefordshire. His father, Bill, living at the family seat in Whitbourne, never thought his son would return home and succession plans for the estate were unclear. However, Bill was receptive to plans reducing his role on the 1,300 acres the Evans family has called home since the 1860s, and the two reached an agreement which saw Evans the Younger return to his birthplace in the September of 2011, taking over the reigns almost immediately.
"The notion of abandoning expatriate life first surfaced while we were living in Mumbai in 2009. We had only narrowly avoided the Mumbai terror attacks the previous November and that experience gave my wife Keeley – then my girlfriend – and I much to consider about what kind of lifestyle we wanted. It was at that stage I talked hypothetically with my father about his ideas on succession of management of the estate and so ideas began to develop. It was over a year later while my parents were holidaying with us in the Philippines (where we were living by then) that I vividly remember telling my father I intended to resign and come home six months later."
"My parents have been fantastic about not putting any pressure on me to continue doing things in a particular way, and there is certainly no resistance to trying new things such as taking the shoot back in hand. I think my father is now quite relieved he is no longer at the helm, though of course he is still heavily involved as a source of wisdom and he continues to manage the forestry on the estate."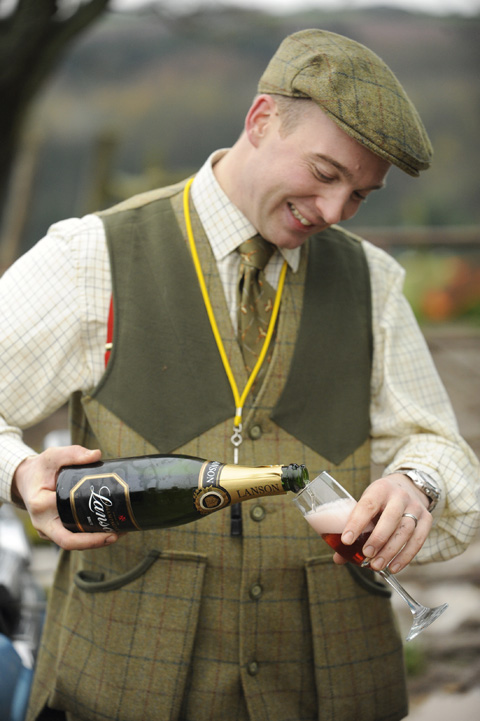 Whitbourne estate manager Joe Evans is relishing his new role on an estate his family has called home since the 1860s.
Given Joe's previous background in banking I wondered if the rewards and challenges of estate management superseded those of his former life.
"Estate management couldn't be more different to banking, the only similarity is that certain business disciplines are constant. Just as in a multi-national, we must bring in enough income to pay salaries, insurance, rates etc., but the numbers I look at now have fewer zeros! The successes are in many ways more real and immediate; for example the joy that guests demonstrate when they shoot their best pheasant of the season gives me a real buzz. I miss some aspects of being part of one of the biggest organisations in the world; the travel and adventure was a thrill but the challenges of estate management are no less important. Whilst decisions impact fewer people, I suppose they have the potential to matter more to them."
In at the deep end at Whitbourne estate
One of Joe's first tasks was to formulate a plan to make the estate economically viable, a plan with the shoot at its epicentre. Joe brushes off any suggestion that he has the weight of the world on his shoulders now he is charged with running the family business, not least because he has the best possible right-hand man in Brian Powell, an old-schooler who has keepered on the estate in one guise or another for almost 40 years. Brian knows more about the shoot than most have forgotten, and his experience has been vital to Joe's continual on-the-job education.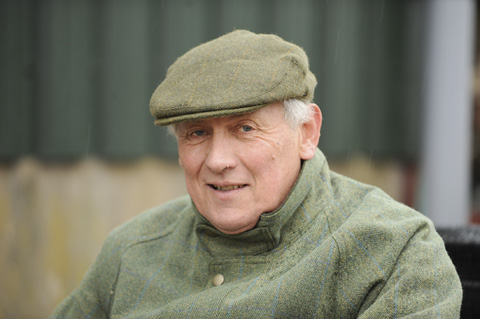 Brian Powell has been involved with the shoot for almost four decades.
"The biggest lesson I've learned is to give the pheasants enough rest! I put together the business plan for the shoot last March and of course it's a very different matter laying out a plan to shoot 200 birds on day X and then actually doing it. The season soon comes around then theory has to become reality. Another lesson is to listen hard to experience. Brian has been part of the shoot here for almost four decades and he really has seen and heard it all."
The pair did not start from scratch, as the previous shooting tenant had grown the shoot from a humble farmer's syndicate to a popular local affair with the odd let day during his 12-year tenure. They have built on this success with the help of some-time host, beater and family friend Paul Dawson and Whitbourne estate held 17 days in Joe's first season, nine of them let. While keen to roll up his sleeves, Joe, mindful of sustainable shooting, appears to want to take things one at a time; item one being to build the shoot's reputation for quality not quantity.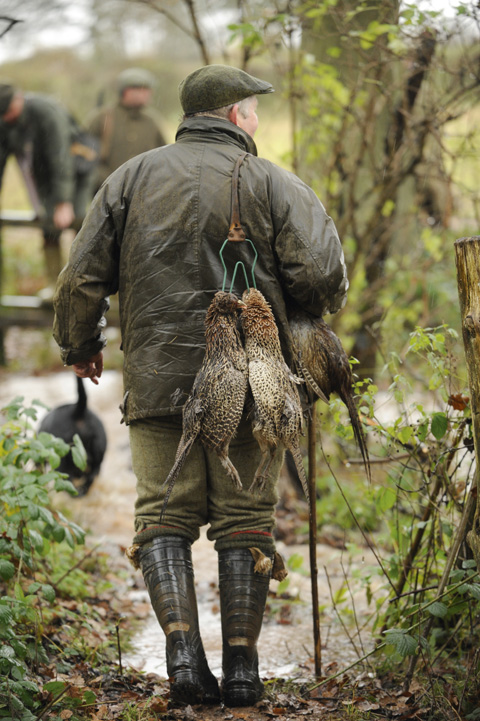 It was all hands on deck on this wettest of shoot days.
"An important part for me early on was trying to assemble a group of like-minded individuals as our syndicate members, in fact I did suggest to a few of the prospective guns who were interested in joining us that the 'new' Whitbourne estate shoot might not be what they were looking for if they were after big bags etc."
A shoot day in two halves
The weather in Herefordshire on the day of our visit was atrocious, heavy rain falling on a county where great swathes of farmland were already under water. Photographer Bob Atkins and I were within a mile of the shoot when a sodden policeman directed us away from our required road and along a three-mile detour, which made us late; never a pleasant experience on shoot day, not least because all heads turn in unison when a creaking shoot lodge door announces your arrival.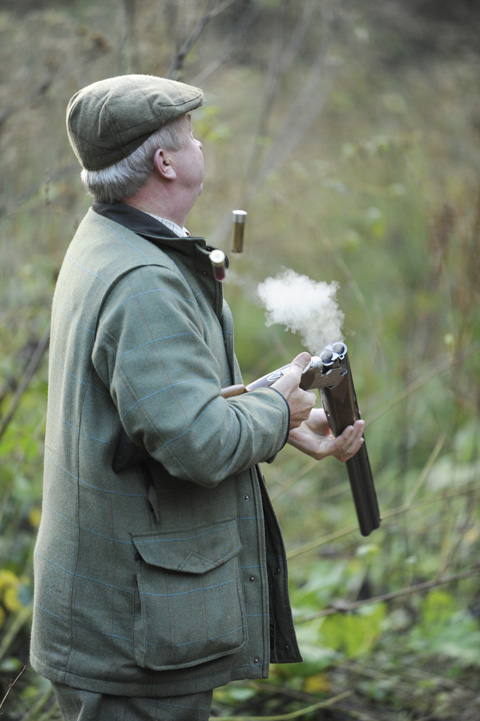 As the weather improved so the birds flew higher and the gun's barrels became warmer.
Joe, whom I had first met at the Midland Game Fair, politely snaked away from his conversation to meet us, insisting a bacon sandwich and coffee would lift our moods and dry the rain running down our backs and into our boots.
We had already made it farther than one syndicate member who, upon seeing the waterfalls pouring into the guttering of the barns, apparently nodded a good morning to the team and drove back towards the comfort of his log fire. The others seemed to agree with my adage that 'I've played rugby in worse', and no sooner had Joe given us a weather-conscious briefing than we loaded up and went into the wet. Joe has recently introduced a gunbus to the estate in an effort to keep everyone together, but given the ground conditions the fields would have been thoroughly cut had it been allowed to churn its way from drive to drive.
The smile of Holly Bond brightened up the miserable morning.
One could only admire Joe's optimism in the face of such grotesque conditions. Everyone was pegged out with a smile on Woodend and given an idea as to what the birds might do once they appeared from the saturated cover crop 150-odd yards ahead. It wouldn't be the last time guns waited with numb fingers and the gurgling of a swollen stream in their ears while waiting for the first signs of sport. Joe wants his modest shoot to show the best birds possible and the line had a flavour of their potential as beaters soldiered through the windswept cover, the odd 'corker' followed by a disinterested hen or cock which provided a lesson in how to spot an unsporting bird.
Whatever their height the Whitbourne estate shoot birds were fast, determined and in excellent condition, and it was a shame the rain began to subside only when guns were negotiating the field on the way back to their vehicles. What could you do?
A professional outfit both on and off the peg
The aim is to shoot bags of between 135 and 165 during each Whitbourne estate shoot day, but sadly there was little hope of achieving even the former. Forget his age, Joe is extremely business-like with his guns before, during and after the day. He might very well have come from a profession which has been hauled over the coals in recent years, but is neither flash nor flippant with visitors.
For example, he makes plain in the extensive shoot literature that should 'prohibitively miserable' conditions threaten the continuation of the day – had the rain continued we could have been in that position – decisions are made collectively and an alterative agreement reached.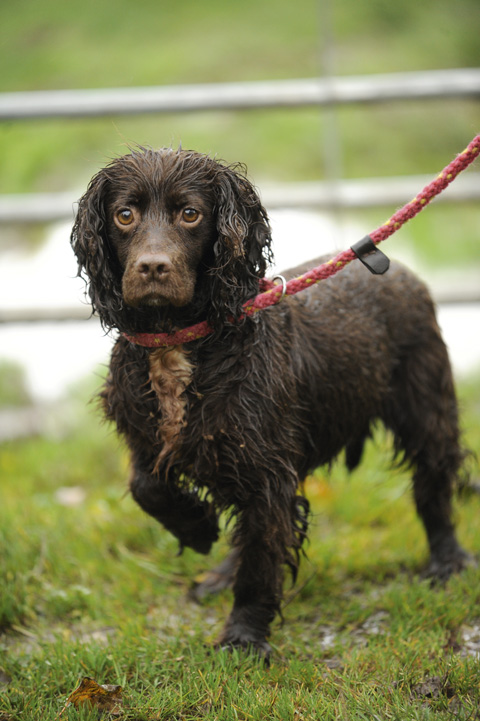 Even the smallest members of the shooting party were keen to play their part.
Undeterred by the weather, Joe chose that moment to break out the champagne and we got talking about the reputation he wants for Whitbourne estate.
"The quality of the birds is quite superior, we're very lucky in the fact we can organise the shoot over classical forestry. It's not like the big bag estates which are orientated around covers, we have 300 acres of mature and mixed forestry here. We aspire to be known as a high-quality shoot which can balance the books with slightly smaller bag days."
We pressed on and as the rain receeded further and the autumn skies brightened, so the quality of the sport improved. Guns loved Big Dunley, a drive on top of a hillside where birds rose on set wings early from the hedges a couple of hundred yards from the line. A friend once told me that on drives such as this he sees the birds and then looks at the floor, just so he isn't tempted to mount his gun too early and end up shooting behind.
The numbers were certainly there (this is surely the shoot's signature drive given the height the pheasants reach) and but for want of more wind and a tweak in beating tactics, every single gun would have had birds over them all at once.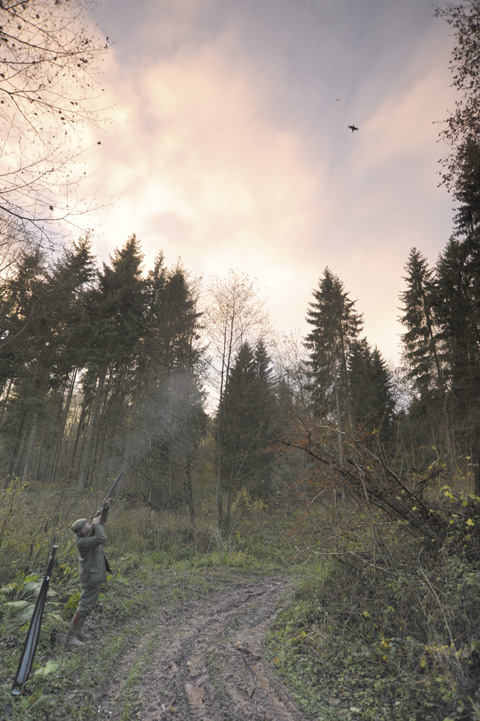 A tight fit and fast sport on The Warren.
Later, after a lunch worthy of any estate with a five-figure acreage, we ventured into forest for The Warren, its pegs accessible via a very careful walk down a track smothered in treacle-like mud. Guns were pegged close together here, and the forestry, which has given so much to the estate over the centuries, certainly made the guns work for their bag. It was quality snap shooting; pheasant and woodcock were there and then gone in an instant, and any dozing gun who let adrenaline get the better of them was left sorely disappointed.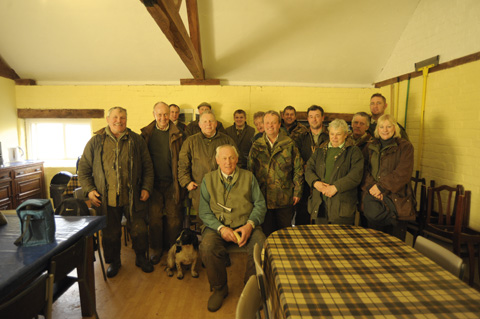 Brian Powell (seated centre) flanked by his team of loyal beaters.
The dropping sun forced proceedings on Long Symmonds to come to a close, and although I was left wondering what might have been had conditions been better, none of the guns seemed to care because they know what Whitbourne estate can do. With so many valuable assets at his disposal, Joe Evans is only going to take this shoot forwards.
Whitbourne estate: From condiments to forestry
Whitbourne estate owes its existence to vinegar. Edward Evans, a one-time mayor of Worcester, founded a successful vinegar-making business in the 1830s with business partner William Hill. In the 1860s Edward bought 20 acres of land in Whitbourne, with the Palladian-style Whitbourne Hall, designed by Edmund Wallace Elmslie and known locally as 'Vinegar Hall', being completed in 1862. By the end of the First World War Whitbourne Hall's main income was from its farming and forestry operations. By the late 1970s the hall was too large for the Evans family to manage and after a brief period set up as a commune, it was sold to Whitbourne Hall Community Limited in the 1980s. The company converted the hall into flats and during the transition Joe was fittingly born in one of them (he and his parents later moving into Longlands Farm House). Today the estate, which is still owned by the Evans family, is home to a number of businesses offering a diverse range of retail, recreation and educational services.
Mickey Provis: no young pretender in the kitchen
Twenty-something chef Mickey Provis is an invaluable asset to the Whitbourne estate and shooting operation. A Herefordshire lad, Mickey's approach to game is simple: "Cook with game that is free to decide what it eats, where it lives and how it lives."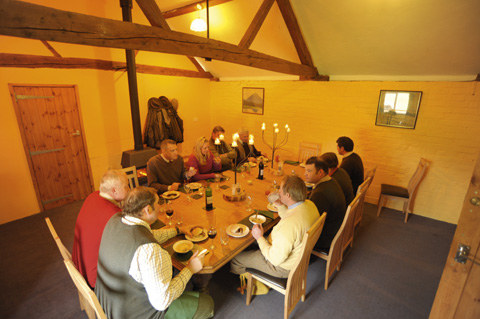 Guns broke for lunch and were treated to a game masterclass by Mickey Provis.
And the shoot lunch clearly demonstrated Mickey's talents; wild food antipastis, generous cuts of Whitbourne's own organic shorthorn beef with vegetables and lemon ginger cheesecake leaving the guests groaning for more. Sheer bliss at the lunch table.
The beaters and pickers-up were next door while we ate, their muffled conversations and raucous laughter easily audible when guns were quietly asking a neighbour for a drop more port or for advice when choosing their cheeses.
For more information on the shooting opportunities at Whitbourne estate contact 01886 821992 or visit the website here
For more features from Shooting Gazette click here
Update: Since this article was published in the February 2013 issue headkeeper Brian Powell has retired.