What can one say that has not already been said about Ian Coley MBE, the former gamekeeper who was instrumental in Peter Wilson's and Richard Faulds's Olympic gold medal winning successes in 2012 and 2000 respectively? The business that bears his name (Ian Coley Sporting) wears many different hats; shooting school, sporting agency and gunshop, and with the help of his son, Phil, and other highly-trained staff, including former Great Britain and England shots, the empire is expanding at a rate which will surely see it soon add to the Best Shooting Ground gong it won at last year's Shooting Industry Awards.
Ian Coley Shooting School: Well-presented
The first thing that strikes you once you've passed through the blue and gold gates and down the drive is how well-presented Ian Coley Shooting School is, both out on the traps and then inside the lodge; gunshop to the left, retail section in the centre, lounge and café to the right. We met Phil for a brief chat in the lounge before our lesson, and found ourselves surrounded by framed reminders of the ground's past – from news stories and adverts in old shooting magazines to the obligatory freeze frames of the competitive successes of you-know-who (and others).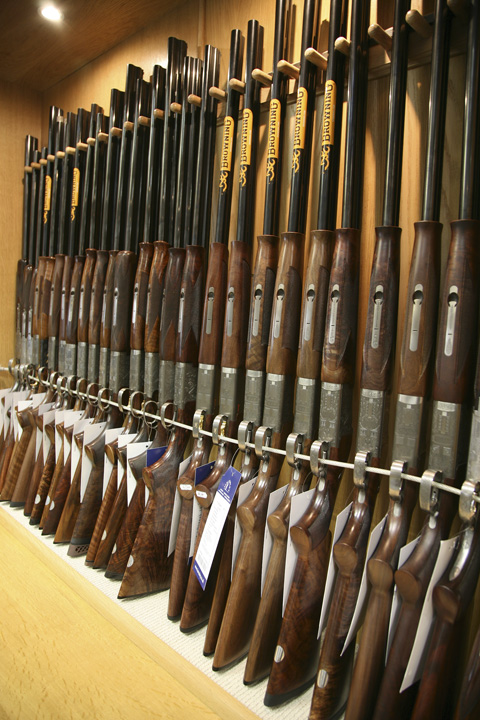 Browning, William Powell, Beretta and more are all in the gunshop.
The ground isn't standing around milking the 2012 spotlight though, and plans have recently been submitted to build a training room on site, which amongst other things will educate shots about the science involved in shooting. That may sound needless but gunfit is overlooked by so many of us yet is crucial to good shooting. Gunfit is extremely important to the school; Ian and the team making the point of offering four try-guns to its visitors for use on the pattern plate.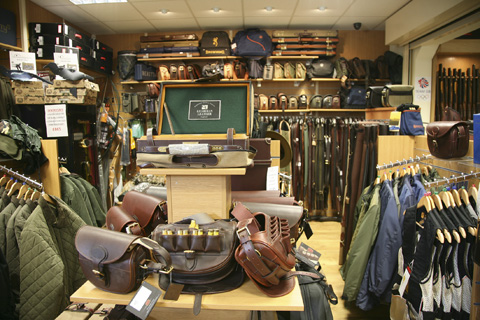 A trip to the lodge could do some serious damage to your bank balance.
With the customer base split 50/50 between game and clay shots from right around the region, the ground has to use the relatively modest space available constructively. Game stands are laid out around hollows and low banks in the woods, with the traps tight to the trees making shots tricky whatever the season. There is a natural feeling throughout the ground as a whole; eight of the wooden stands are undercover and soon many paths will be covered in netting to protect against falling clay fragments.
Location of Ian Coley Shooting School: Near Andoversford on the A436.
Facilities at Ian Coley Shooting School: A variety of clay and game targets are available to novices and advanced shots alike. Game shots who like their quarry high might want to try out the towers – targets shown here are between 60-120ft in height. A ladies club has recently opened for those wanting to get into both clays and game, with various progression routes available and linked in with the school's simulated day programme. The school prides itself on selling good, practical clothing – there is a range of men's and ladies game shooting apparel available from Seeland, Le Chameau, Hunter, Schöffel and Albion Sporting. Shotgun cabinets, gun cleaning equipment and pigeon shooting kit are also available. Shotguns by William Powell, Browning, Beretta, AYA, and Perazzi are plentiful in the gunshop and repairs can be taken care of either locally or on-site.
Plus points of Ian Coley Shooting School: Visiting guns will come away with a better understanding of why the basics of shooting matter, be encouraged to push themselves and, crucially, want to come back for more – the reason is simple; the atmosphere on the stands is relaxed without being laissez-faire, you won't be constantly harassed in the gunshop and the retail section is top-end but not always top-price.
Drawbacks of Ian Coley Shooting School: Not the school's fault, but have your wits about you when coming off or rejoining the A436.
Costs at Ian Coley Shooting School: From £65 per lesson (packages are available). Game shots can also take advantage of driven flush lessons.
Ian Coley Shooting School: Telephone 01242 870391 or click here
For more shooting ground reviews and other features click here