You can set up an air rifle shooting range in your garden with these targets, provided you follow a few safety rules
We've taken a look at the best air rifle targets which you can use at home. If you've got a garden with a range of above 20m then you've enough room. Read our key advice on garden airgunning which covers neighbours, pets, noise and other things you should be thinking about.
Air rifle expert and Shooting Times contributor Mat Manning says:
"Being an accurate shot with an airgun hinges on being familiar with your gear and understanding the downrange performance of your ammo of choice. That means getting in lots of range time, and the best way to achieve that is by setting up a safe target layout in your garden so you can practise whenever time permits."
Before you set off:
Mat Manning warns: "You must stop pellets from travelling beyond the target. If you don't, you risk breaking the law. Pellets must never stray outside the limits of your garden. Always use a solid backdrop of brick, stone or concrete. Large paving slabs can be used to the same effect. " (Read our list of the best airgun pellets.)
Good backstops
Brick wall
Stone wall
Concrete paving slabs (extremely safe because they cause stray pellets to flatten out on impact)
Kevlar panels from Army surplus store (but will need replacing)
Sandbags piled high
You can check up on airgun laws here to make sure you are following the rules correctly.
What makes a good target?
Mat also advises: "When it comes to garden shooting, paper and card targets are a great starting point. Because they show exactly where each shot strikes they are brilliant for zeroing and pellet testing.
"Punching holes in paper can get a bit monotonous, though, but there are lots of reactive targets that make things much more interesting. Knockdown targets with reset cords are really popular as are spinning targets which reset by gravity, and wooden targets made from board that smashes when you hit it are good fun, too. Reactive targets are a great way to keep young shooters engaged and I often set up a combination of knockdowns and spinners, all with safe backstops in place, when shooting in the garden with my children."
The best air rifle targets
Best for value
Good quality card
Small and portable
Ideal for garden airgunning, you get hours of entertainment. They measure 14cm x 14cm, so are small enough to refine your skills.

Best for creating targets
Good visibility on dull days
Different sizes available.
Stick these wherever you want to create a target. The 2″ diameter will add a touch of finesse to shooting tin cans. Bright orange for good visibility on dull days. 10 sheets in a pack.

Best for snacking
Inexpensive
Biodegradable
Classic targets which disappear into a satisfying white puff when you hit them right.

Best for improving aim
Quick to assemble
Strong and sturdy
Once you've mastered static paper targets you can move onto these spinning ducks which are a great way to hone your aim. The ducks flip down as you hit them.
Best for instant impact
Easy to see shots at distance
High visibility in dull weather
Hit the target right and your shot bursts into fluorescent yellow on impact. You can see your shots at a distance, even on a gloomy day.
Best for resetting quickly
Resets automatically
Useful for improving skills
You shoot the four ducks first and then shoot the round target to reset it. So you're not constantly walking backward and forward.
Best for changing zones
Choose your quarry from a rabbit, crow, boar, pigeon or rat.  You can adjust the kill zone to between 40mm to 15mm. Reset the target by hitting the yellow bottom disc.

Best pocket money price
If you want a bit more colour in your target then these do the job perfectly.

Best for moving around
Screws provided
All steel construction
Move these around in whichever position you want on your target board.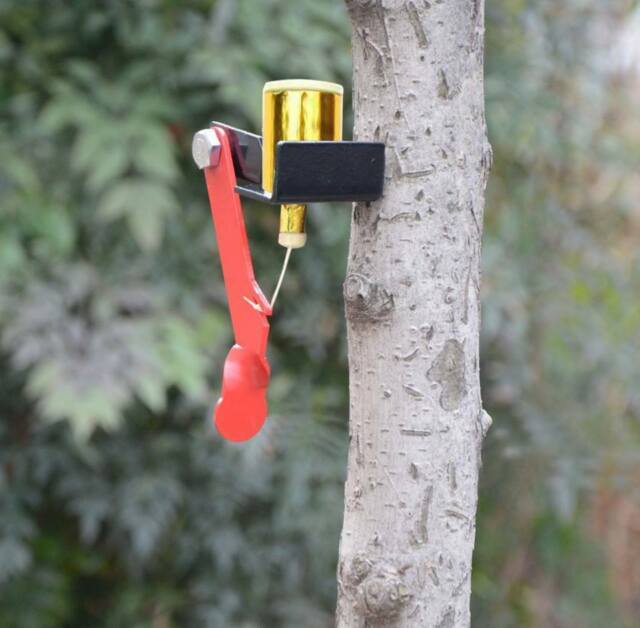 Best for fun
+ 13cm x 2.5cm
+ All steel construction
Use up left-over Christmas or birthday party poppers in this target. Attach the shooting target to a post in front of your backstop, connect a party popper. Then take aim – when you hit the target it will pull the string and the popper will explode.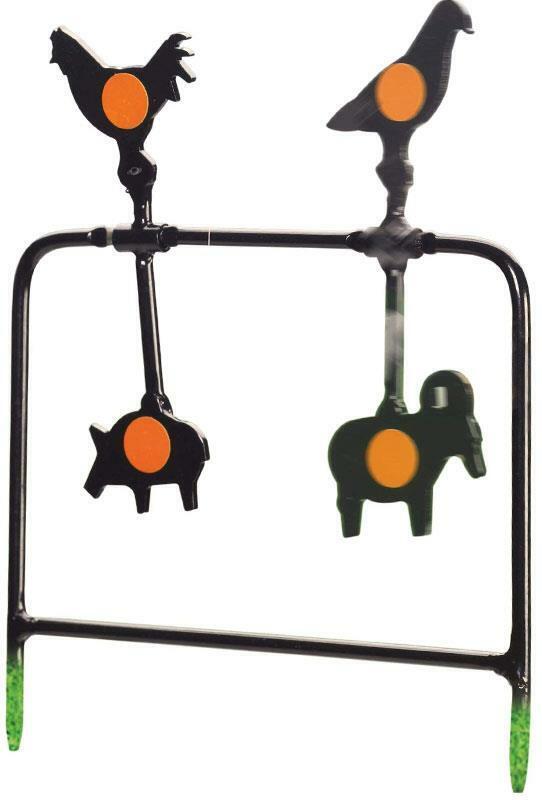 Best for variety
Approx 21cm high x 17cm wide. The 4 targets are up to 5cm x 5cm in size
Metal construction
Legs can be stuck into grass/soil
Balanced targets automatially reset
Includes 12 orange bulleye stickers and 6 shooting balloons
Corrosion resistant coating.
Mike Morton of Airgun Shooter says: "One of my favourite types of spinner is a double-target affair consisting of a rabbit's head and counterweight on one side of the spinner, and a pigeon's head and counterweight on the other. You can shoot the smaller counterweights too, so this single device offers a total of four different targets."

Best for paper targets in windy weather
Heavy duty construction
Target holder and pellet catcher
Comes with 10 targets supplied and holds 14cm targets.
Best for size
Steel construction
Suitable for all firearms except 50 calibre and above
Mat Manning's tips for using garden air rifle targets
If you're buying a target that will fit through your letterbox, be sure to leave a cushion under the letterbox when you're expecting a delivery. These things are heavy and can damage the floor.
If you're buying a standard gong, buy a bigger size than you think you will need. You can always spray paint a smaller dot on it and, if you're missing that dog, at least you can see where you're missing.
There's nothing more frustrating than shooting at a target and not seeing where your shots are landing if you miss.
A safety check
Know where any spent ammunition not being contained ends up. The spent pellets will have fallen to the ground immediately beneath and in front of the target. If you can't account for the pellets, or suspect they may be bouncing off the target, don't use that particular target in a garden setting any more.
We are supported by our audience. When you purchase through links on our site, we may earn an affiliate commission. Learn more.