Here's how to plan a well-organised boot room with plenty of practical storage for muddy wellies and wet tweeds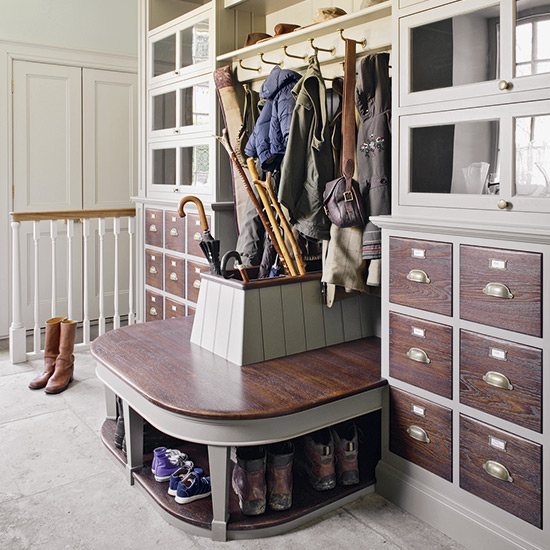 Personalised storage
Stop your boot room becoming a dumping ground for all sorts of sporting attire, footwear and seasonal clothing by meticulously plotting storage provisions. 'Think carefully about what you are storing and ensure every item has a home – for example a shelf for riding hats or a rack for shooting sticks and fishing rods,' advises Artichoke's director Andrew Petherick. 'Don't forget smaller items like gloves and welly socks, which are easier to locate in dedicated drawers. For fast finding within multiple drawers, consider labeling contents on the outside.'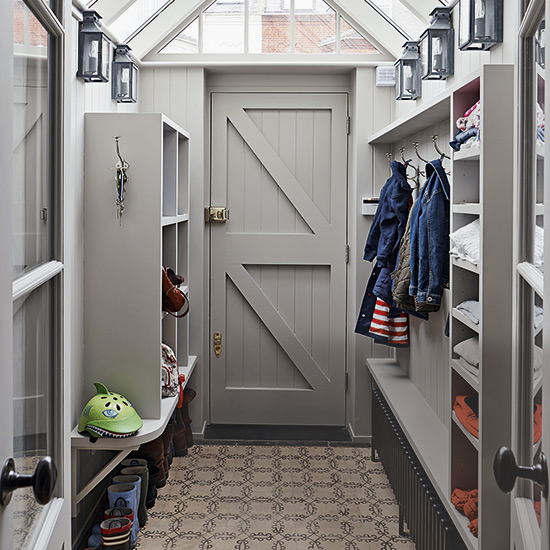 Small space, big ideas
Create boot room facilities in the smallest of spaces by being clever with the details. 'The secret is to choose interesting fittings, such as these industrial-style wall lights, that make the space feel like a purposeful, important room, rather than just a place to hang coats,' says interior designer Charlotte Crosland. 'A patterned floor will also add interest and help make the room feel larger so don't be afraid to embrace busy or large-scale pattern.'
Up and over
If your boot room is blessed with high ceilings, maximise the full storage potential by taking a vertical approach to cabinetry. 'Fitting top cupboards above a seating area is a really efficient storage solution for items that aren't used on a daily basis,' says interior designer Emma Sims Hilditch. 'Open shelves are great for accessibility and, with the addition of smart wicker baskets, will help provide natural texture and interest.'
Take a seat
'Boot rooms are increasingly popular and provide an easy and comfortable transition from indoors to outdoors, and vice versa,' enthuses Mowlem & Co's design director Jane Stewart. 'For extra ease, we always recommend built-in bench seating, preferably topped in a comfortable cushion, covered in a washable, durable fabric. Not only will you enjoy a handy spot to remove your own shoes, and help children with their laces, but the space underneath can also be used for extra storage.
Behind doors
If space allows, large cloakroom cupboards offer the perfect stashing place for bulky winter coats and seasonal essentials – just close the doors and calmness will prevail. 'Why not dedicate one cupboard for winter wear and one for summer, so that the right coats and boots are always on hand as you dash out the door?' suggests Neil Matthews, director, Lewis Alderson & Co. 'Slatted shelves are also great for storing wellies as they aid drying and help keep mildew at bay.'
Synonymous with classic New England styling, tongue-and-groove panelling will create a relaxed welcome and works especially well in coastal locations. The look also has practical benefits as walls are protected from scuffs and, when painted in a durable finish like eggshell, the panelling can be easily wiped clean. In a large room like this, there's no need to go overboard with storage. A simple high-level shelf, with boots lined-up below a row of coat pegs is all you'll need for a fresh, uncluttered space with rustic charm.
Dog-friendly
Colour lift