Ingredients for this game cookery recipe, which serves 4 people.

2 oven-ready duck
10g fennel seeds
2 oranges
Cornish sea salt
Milled black pepper

Method for this game cookery recipe

This is a cracking game cookery recipe. Simply season and sear the duck in a hot pan. Crush the fennel seeds and sprinkle them over the duck. Zest the oranges over the duck and place the oranges inside the cavity. Roast the duck in an oven at 180°C for 40 minutes then set aside to rest. Allow at least 30 minutes resting before serving.

———————————————————————————

A lifestyle tip from Amy Willcock to accompany this game cookery recipe

It is a truth universally acknowledged that a woman in possession of a gundog will also need a very good coat. And I believe that clothing manufacturers largely ignore the picking-up brigade. We have slightly different needs from people who actually pull the trigger. I want deep outer pockets with lots of inside accessible pockets.

With this in mind and in pursuit of the perfect jacket, I have been test-driving Barbour's Sporting Cotterdale 3 in 1. It is a waterproof lightweight jacket with an inner liner, which can be worn as a vest and, if you put them on together, they form a super cozy watertight coat.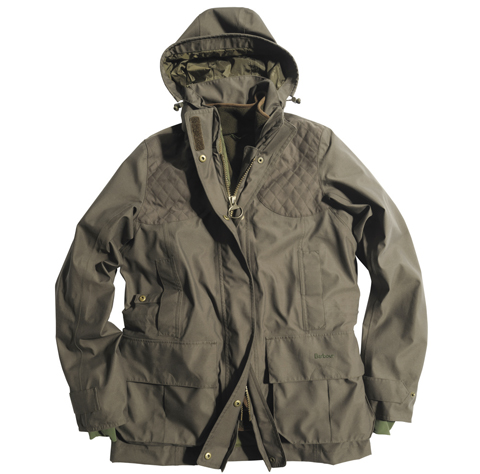 The Cotterdale isn't bad and has a few fun touches, a pocket labeled "mobile" (sadly not big enough for my iPhone) and another that says "lipstick", but they are tricky to get to if you have the liner on. The close fitting inner sleeve with thumbhole is fantastic for keeping arms dry and the lightness of the coat belies the strength and warmth of the jacket.

What I really like is the inner drawstring to make the female form a little more distinguishable, which is, let's face it, difficult to achieve. I would like the hood to tuck up rather than hang at the back, although it is detachable, and the hand warmer pockets still let in a little water when it rains hard. This is a common fault in every jacket I have owned. I think once your hands are inside they let the water seep in.  Perhaps those pockets should be lined with an elastic cuff like the sleeves, because there is little worse on a shoot day than soggy pockets.

After a day's picking-up with all the attendant mud and blood I put it through the machine. It washed like a dream and dried near the Aga in no time at all. This is a good all weather, all seasons jacket.

Cost: £379

For more information click here

———————————————————————————

For more game cookery recipes from Lee Maycock and Amy Willcock click here