Pigeon shooting cartridges review
Expert Mike George reviews what's on the market
Any day now the spring sun will hopefully start shining and kick start a long overdue season of new growth in the garden, hedgerows and woodland.
The only upside to having no buds on the trees thanks to the prolonged winter is that I've been able to enjoy some exciting late season roost shooting.
On days when it has been nice and windy (not to mention blood chillingly cold) I have made a few respectable bags of 30 odd of an evening – not bad for barely a couple of hours of work; well I tell my wife it's field testing you know!
CLEARLY IMPROVED
Possibly the best known pigeon specific cartridge is Gamebore's Clear Pigeon which has pretty much a cult following here in the UK.
The original shell performed well enough but a few months ago Gamebore completely revamped the cartridge. In my view everything about it has been improved.
First, and most importantly, the makers have expanded the range to include a fibre wad version of the 32gm load, which was always going to be a big seller.
They have also changed the case length to 70mm (2.3/4in) across the board, the case appearing in a tasteful gunmetal grey colour – streets ahead of the dirty white of its predecessor.
However the most significant thing is the case length bit: at 70mm Gamebore are now able to guarantee that it is completely "auto friendly" as they call it.
These days semi-automatic shotguns are in the ascendancy with pigeon shooters so it is of course essential that the product works through all types of gun, which these now do!
Performance has also been improved, up from 1375fps to 1400fps so we now also have 'extended knock down power', as Gamebore like to call it.
My term for the same thing is "increased pellet energy" which will give you more confidence on those longer birds.
Whichever way you look at, or call it, the shell's better performance is down to the use of a new powder, which is smoother and generates less recoil along the way.
Modern new packaging completes the revamp, but best of all the price remains the same as before, starting at £199 per 1,000 for the 30gm (1.1/16oz) plastic load.
VALUE VELOCITY
Staying on the subject of price… Gamebore have also added a new load to their range for more cost conscious shooters called Velocity HV Pigeon.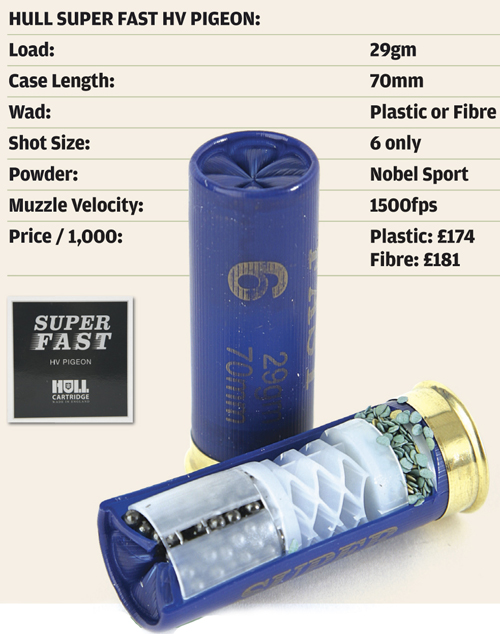 This shell used to appear under the Kent Velocity banner, but it now benefits from new branding and comprises a money saving 29gm load in plastic or fibre wad 6 shot only.
Prices start at just £175 for the plastic version. Performance remains the same at 1400fps so no worries there and the whole Velocity range is now in a 70mm case, so again it's auto friendly as they say.
SERIOUS CONTENDER
Also worth a serious look is Hull's Super Fast HV Pigeon – a 29gm load in plastic or fibre wad 6 shot starting at £174.
Hull were the first cartridge company to start these 29gm economy loads (about this time last year in fact) and other manufacturers haven't been slow to follow suit.
Hull's innovative idea saves shooters much needed money in these straitened economic times.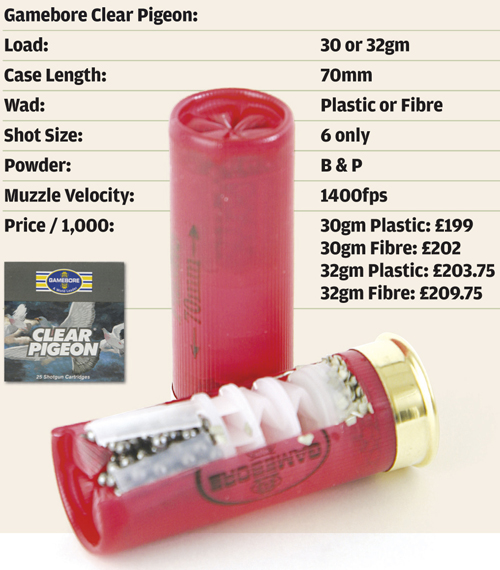 Technically speaking, are we really going to notice any difference in having one measly gram less of shot per load, a weight which equates to fewer than ten pellets?
A 30gm (1.1/16th oz) load comes with about 290 pellets inside whereas the 29gm charge weighs in with about 280.
I am certainly not going to lose much sleep about the slightly lighter pay load when it actually saves us money.
The best thing about Super Fast is its performance.
Bit of a clue there in the name of course but this is amazing for the money at 1500fps – proper hitting power and about 100fps faster than Hull's Special Pigeon range costing considerably more.
Super Fast is also now loaded into a 70mm case across the board, so it's yet another auto friendly offering and comes to you in striking new packaging to boot.
I really can't get over the price of the Super Fast either, this is a truly staggering performance for a cartridge at this sort of money and on that basis alone, they definitely warrant a try.
I don't think you will be disappointed.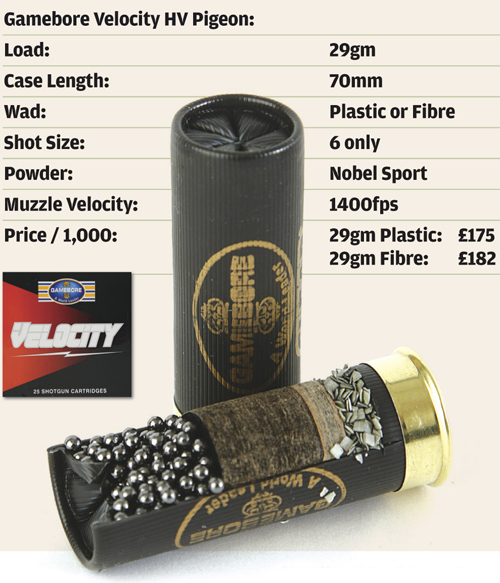 All our English manufacturers have for some time made a pigeon load delivered in no frills packaging and economies of scale, only usually made in a shot size 6 for example.
And invariably they've sold for sensible money.
However the advent of the 29gm money-saving load has brought costs down by an appreciable amount… those ten pellets less won't make any difference to knock down power but the reduction could save shooters at least £25 per 1,000, if not slightly more.
Sounds like a lot of sense to me. Hopefully by the time you read this, decoying will be well under way on Spring crops, stuff will be growing and who knows, maybe even the temperature will have improved by a degree or two.
There are more pigeons about than ever, so good luck with that crop protection!
Pigeon shooting cartridges review