We put the Tikka T3 .243 Win laminate rifle through its paces
Tikka T3 .243 Win laminate rifle
Overall Rating: 91%
Tikka T3 rifles have earned a reputation as dependable stalking rifles, and I can confirm that they certainly are capable.
A nice touch is the fact that you can order your T3 in a variety of configurations — from Sporter to varmint barrels, and with a choice of walnut, synthetic or laminate wood stocks.
You also have the option of steel or stainless steel finishes, with an excellent range of calibres to cope with anything from vermin to African game.
This is why the T3 is probably the best-selling stalking rifle in the UK today.
Barrel, action and finish
The rifle on test had a slim Sporter weight barrel configuration, and its balance is enhanced by the 20″ length of this threaded version.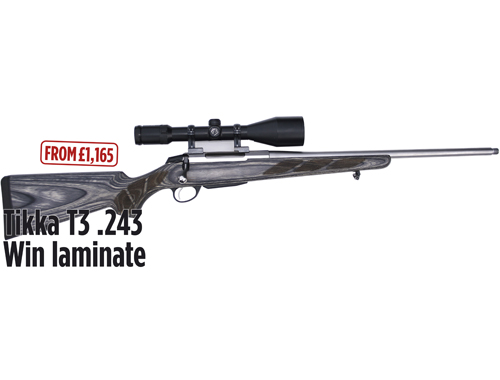 The muzzle is nicely crowned and comes with a M14x1 metric thread for sound moderator use.
The cold hammer-forged construction on this model uses the durable and robust stainless steel which, sensibly, is free-floating.
It is not furnished with sights; only scope rails to attach the Optilock mounts.
One size of action fits all models of T3, which saves retooling and costs, and means that differing cartridge lengths are accommodated in a common length action, with the magazine being altered to accommodate differing cartridge sizes.
This .243 Win model has a solid, one-piece, machined steel action, plus stainless steel bolt and bolt handle, making it very hard-wearing for sporting use.
Tikka's 17mm-diameter integral scope rails run the full length of the rifle, though it is drilled and tapped.
Smooth actions are a Tikka trait, and this T3's action is also strong due to the smaller ejection port, as more metal is in the action walls and top.
The bolt has a low bolt lift to avoid you knocking the scope, and it has a twin-locking lug arrangement (opposite each other).
This is pretty standard, but they fit snugly in the machined action, semi-coned in profile, with a single extractor claw and a plunger-type ejector that pings out old cases with verve.
Tikka rifles have always been a popular choice for shooters due to their accuracy. The brand offers a rifle for…
When the Tikka T3 Lite first appeared it took the market by storm. Finnish gunmaking company Sako had intended to…
Q:  I want my son to come out stalking with me; he is keen and a good shot. Can you…
Accuracy and targets
T3s always tend to shoot well, and this model was no exception.
With the shorter, 20″ barrels, you have to be careful that the heavy .243 Win bullets shoot to the minimum legal energy of 1,700ft/lb in England and Wales, or 1,750ft/lb in Scotland.
The velocity was a healthy 3,004fps and produced 1,704ft/lb of energy.
The Winchester 80-gr load also shot good groups of around 1in to 1.25in. The reloads upped the velocity, so you can tweak them a bit to suit your needs.
The Nosler 90-gr Partitions gave groups of less than 1in and generated 2,987fps for 1,783ft/lb energy, but the Hornady 80-gr Soft Points were even more accurate, shooting 3,116fps for 1,725ft/lb with a load of 49-gr of RL19 powder and grouping three shots into 0.75-0.95in.
Trigger, safety and magazine
The T3 has a single-stage adjustable unit, though a set trigger unit can be ordered. You can adjust the pull weight from 2-4lb — this is ideally suited to a Sporter rifle, so is safe but gives a clean let-off.
The weight can be adjusted by removing the stock and using an Allen key. Tikka employs a one-size-fits-all policy whereby the same size of magazine is used for all cartridge sizes.
By using a varying size filler block at the rear of the magazine, you can use small cases from .222 up to .300 Win Mag.
A hard-impact polymer is used in the construction of the magazine, making it lightweight and waterproof, with a single column feed that holds three rounds in this .243 calibre.
If you want more capacity, a five-shot version is available that protrudes to the trigger-guard level.
To remove the magazine, simply press the magazine release at the front of the magazine well and it pops out.
The safety is the standard Tikka/Sako type — a toggle unit that is moved forward for "fire" and rearward for "safe", locking both the bolt operation and the trigger.
Stock
This is my favourite version in the T3 range, as it blends goods looks with functionality.
The laminate construction is not to everybody's taste, but the variations on the matt grey finish give a muted yet stylish look.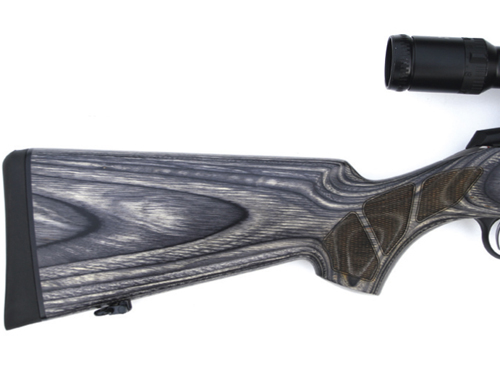 The laminate design shrugs off the worst of the British weather and ensures your T3 keeps shooting straight.
Its design is pure Sporter, with a low comb and no cheekpiece, so it is somewhat ambidextrous and has a slender rounded fore-end.
Both this and the pistol grip are cut with chequering arranged in three panels — both improving its appearance and increasing grip.
Two quick-detachable swivel studs are furnished as standard, and the butt-pad is a good inch thick and squishy enough in the shoulder to grip well.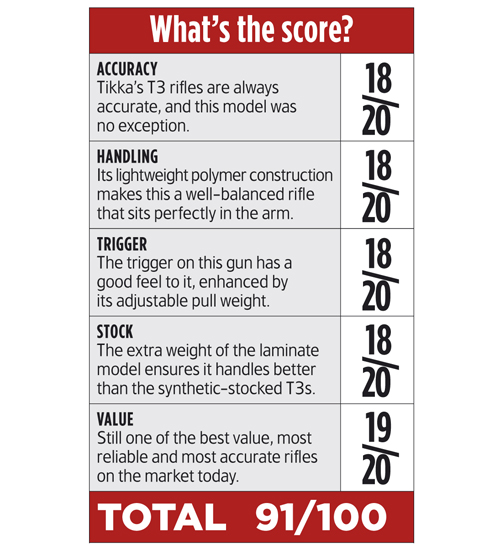 CONCLUSION
This is a practical and accurate stalking rifle with a justified reputation for being reliable right out of the box.
The bolt action is always smooth on any Tikka T3, and the detachable magazine is extremely handy.
This rifle's stainless steel finish is perfect for stalking trips, as it enables the holder to keep his or her mind on the stalk instead of worrying about scratching their rifle.
The laminate stock is excellent also, as it is solid, comfortable and pointable.