Gun reviews: Puma .22LR synthetic sporter rifle
Everybody needs a rimfire in their lives, be it for centrefire practice or, more commonly, for pest control.
There are many new types to choose from and also good value second-hand kit on the market.
We all like a bargain, and the Puma rimfire from Highland Outdoors is one such item.
Closely modelled on the Brno and CZ bolt rifles, the Puma comes in either a wood-stocked or synthetic sporting version.
At £259 it's a steal.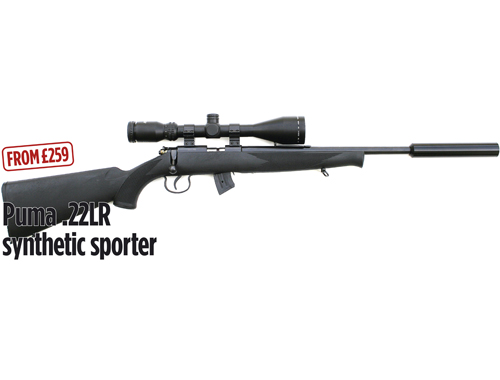 A package deal, complete with Nikko Stirling Mount Master 4-12x50mm adjustable objective (AO) scope and Hogan DecimEater sound moderator, is also available for £325.
This is a great price to get you started with everything you need for pest control.
I tried the 16in shortened version — the standard length is 20in — with synthetic stock and the Hogan moderator fitted but no scope.
This makes it a compact vermin tool.
BARREL, ACTION AND FINISH
This is essentially a CZ clone, which means it is a scaled down Mauser design action and bolt assembly.
Its tubular all-steel receiver has an integral dovetail for scope mounting, with the bolt proportioned to give a small yet fast and reliable rimfire action to operate.
When the action is cocked, a small protrusion from the bolt shroud indicates you are ready to fire.
The bolt is polished bright and has the usual twin-extractor claw arrangement with a blade ejector attached that is simple yet works well and is suitably robust.
The overall finish is a dull/matt blued finish, which feels a bit "dry", but a good lube soon sorted out the operation of the bolt, though the firing cycle or lock time was a bit sluggish.
I preferred the 16in barrel over the standard 20in version. It is screw-cut for a moderator with inch United Fine Thread (UNF) pitch and is supplied with a thread protector.
Open sights are supplied.
This rifle had the foresight removed by the owner, but most people would fit a scope to the receiver.
An air rifle is particularly suited for killing rats. With sensible use of backstops — most often concrete walls in…
ACCURACY & TARGETS
I set up some targets at 30 yards and shot off a BR Pivot shooting bench and used a Chrony Alpha Chronograph to record the results.
This Puma came with a Hogan DecimEater sound moderator, which was superbly quiet with all the subsonic ammunition tested. I had no feeding problems, but the bolt was a bit stiff though it eased up with use.
All subs shot fine, with the RWS and Winchester both shooting 0.75-1.0in groups for five shots at 30 yards.
The Eleys shot best and gave good consistent 0.5in groups with a mean velocity of 1,012fps for 91ft/lb energy.
I found that the reduced load CB Long, shooting a light 29-gr bullet at 741fps and 35ft/lb energy, was like shooting an FAC rated air rifle.
With restricted ranges, these are great for ferals and rats around barns. I also tried some high-velocity rounds and their accuracy was random.
This Puma did not like Remington Cyclones or CCI Velocitors but it did like the Federal 31-gr rounds, producing 1,358fps and 127ft/lb with 1.0in groups.
Best high-velocity rounds were the RWS HVs at 1,220fps, yielding 132ft/lb of energy, which gave 0.65in groups at 30 yards, making it a good longer-range rimfire round.
TRIGGER, SAFETY AND MAGAZINE
The trigger is a two-stage type with slender trigger-blade. Despite the small amount of creep to the let-off, the trigger weight broke at 4lb. I would work at it a bit to refine the triggerpull.
Safety-wise, the bolt shroud safety is pretty straightforward — you push the top lever to engage the safety.
This is tactile and positive — no problems here. The magazine is all steel in construction and comes standard with a five-cartridge capacity.
A nine-cartridge capacity plastic magazine is also available.
Both fit within the pressed steel trigger-guard.
A small catch in front of the magazine is depressed and the magazine pops out. I had no problems at all in feeding.
STOCK
The nicest part of the Puma .22LR is the stock design. It is a hard plastic so it feels a bit cheap, but despite being hollow it is hard-wearing and actually what you want on a sporting arm.
The stock is a matt grey/black with a textured finish and has a nice style to it, with Schnabel fore-end but low comb and no cheekpiece.
There is pressed-in chequering to the fore-end and pistol grip for extra grip, but the butt-pad is a slim, hard plastic plate, so it is a bit slippery in the shoulder.
There are also sling loops attached to the stock but not of the quick detach type.
Despite a few shortfalls, the stock is practical and feels good when shooting.
CONCLUSION
Despite being a copy and a bit rough around the edges, the Puma shoots well. I had no problems with accuracy at all — the Eleys shot nicely.
The action needs to be smoother, but the more the bolt is operated, the more the action beds in and becomes better.
The trigger is fine and the stock is well proportioned and perfect for rough use around the farm.
The Hogan DecimEater is outstanding as a rimfire moderator, and if I were to buy this rifle, I would go for the complete kit.
Would you buy a Puma instead of a Brno or CZ that it emulates?
I'm not sure you can get a second-hand CZ for £200, but the choice is yours.
Gun reviews: Puma .22LR synthetic sporter rifle