Gun reviews: Savage Model 25 in .17 Hornet
In some respects, this review is more about the cartridge than the rifle. Hornady launched its .17 Hornet cartridge last year, billing it as the best new cartridge since the .223 Rem.

However, despite its being called new, one can easily trace its origins to the .17 AK Hornet round.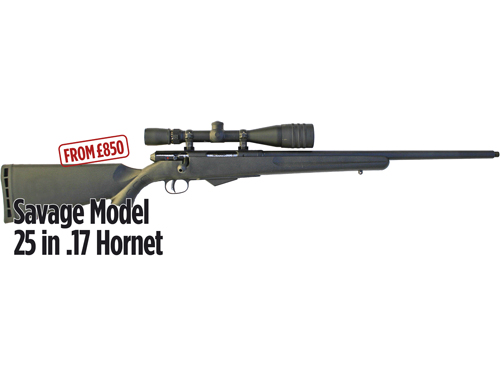 Like many other manufacturers, Hornady has simply tweaked the design of the cartridge, turning an excellent wildcat round into a commercial one.

The .17 Hornet is a necked down version of the .22 Hornet that has been modified to give superior ballistics downrange and flatter trajectories, in addition to making it a light recoiling, quiet, but accurate vermin round.

I have owned a rifle in .17 AK Hornet for more than 14 years, so I was interested to see how the Savage Arms Model 25 would compare at handling the new round.

BARREL, ACTION AND FINISH
The Model 25 on test (pictured) was the Walking Varminter version, though a version with a laminated stock thumbhole is also available.

The barrel is 22in, which is not too long, but it does have a heavy profi le, as it has an almost straight taper to it and its muzzle diameter is 0.7in from a 1.1in receiver diameter.

This adds a lot of weight to the rifle, which makes it rather muzzle-heavy.

The rifle has a subdued matt black finish to match the receiver and, sensibly, the muzzle is threaded for a 0.5in unified fine thread (UNF) sound moderator attachment and is fully free-floating in the stock.




The action is typical of Savage in that it is long — the bolt is more than 8in long, with the bolt handle being 3.25in along its length, thus giving it a "stepped back" look.

The bolt has a nicely jewelled finish and three locking lugs: at 4 o'clock, 8 o'clock and 12 o'clock.

There is also a small claw extractor and a sprung plunger-type ejector set into the bolt face.

In my opinion, it is slightly over-engineered, but it is smooth enough.

The receiver is tapped for twin Weaver bases that are supplied with the rifle so that a scope can be attached, but they are 4.5in apart, so mounting a small scope could be an issue.

TRIGGER, SAFETY AND MAGAZINE
The trigger is one of this rifle's assets, being Savage's flagship Accu-Trigger type.

This system provides the shooter with a light but precise trigger-pull and the confidence that comes with a foolproof safety feature that's completely reliable.

The trigger pressure of the Accu-Trigger can be adjusted by an interruption system that gives a safe let-off even in the case of excessive adjustment by the user.

An integral skeletonised lever within the trigger-blade, called the Accu-Release, must be depressed at the same time as the trigger — if it is not, a safety bar drops down from the trigger and prevents you from firing.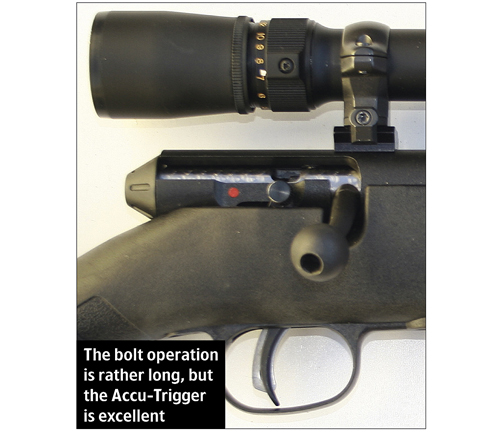 This is a good system and elevates it above other American-made rifles.

The safety is to the right of the bolt handle and is simple to use — when the lever is back it is safe, and if you push it forward you can fire.

In safe mode, the trigger is blocked, but you can still operate the bolt to remove a round if necessary.

The magazine is the detachable type, housed in the synthetic floorplate and held by three allen screws.

The magazine pops out after depressing the forward-mounted latch.

Being of a polymer construction, the magazine is a single-stack, three-shot variety with filler at the back so that the small Hornet case sits forward in the magazine for proper feeding.

As it is synthetic, it needs to be kept clean of debris in order to function correctly.

ACCURACY AND TARGETS
Hornady's factory ammunition is advertised as producing a velocity of 3,650fps, and I came pretty close to that with the Savage, generating 3,559fps and 536ft/lb energy, while the accuracy was good, achieving a group of just less than 1in at 100 yards.

Reloading is where the fun starts and I bought some Hornady reloading dies to make up some loads to maximise performance.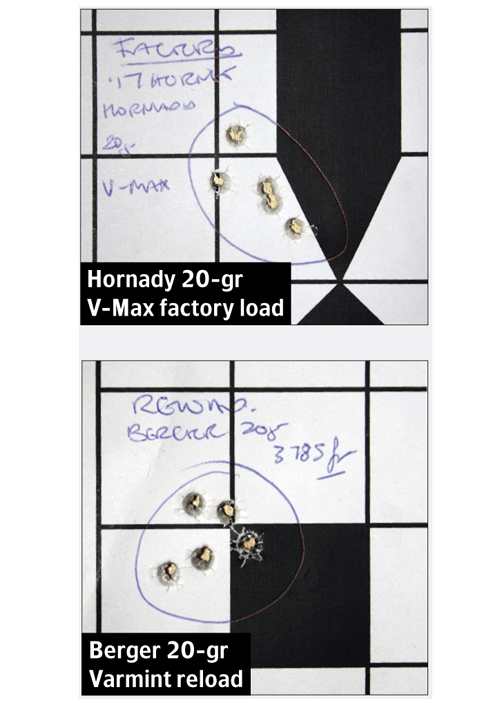 Bullet choice is limited to 20 to 25-gr really, as even though 30-gr bullets are available, they do not perform well in the little Hornet.

Both Hornady's V-Max and Berger's Varmint 20-gr bullets were fast when loaded correctly — 10.5-gr of Lil'Gun shot the V-Maxes at 3,791fps for 638ft/lb and grouped under 0.85in at 100 yards.

The Bergers, with a load of 10.75-gr, shot 3,785fps and 636ft/lb, grouping to 0.75in.

With an increased bullet weight, the Hornady V-Max 25-gr shot 3,321fps and 612ft/lb with a load of 12.5-gr of H322 powder, and again grouped well at 0.85in.

I tested some Berger 30-gr bullets and they remained accurate despite generating 3,114fps, and would be fine for close-range fox control.

STOCK
In order to save weight and thus give this model its Walking Varminter name, the Model 25 has a light synthetic black stock.

It is in the Sporter style, but it feels very plasticky and hollow to the touch and, coupled with the heavy-profiled barrel, this does nothing to stop the rifle tipping forward in the shoulder.




However, this rifle does have other plus points too: there are two swivel studs for a sling attachment, and the length of pull is a decent 14.25in, in a crinkled black finish.

There are also three finger grooves moulded into the slim pistol grip for extra purchase, and the rifle has a straight comb with no cheekpiece, which makes it somewhat ambidextrous.

The rifle is finished off with a soft 0.75in large vented recoil pad.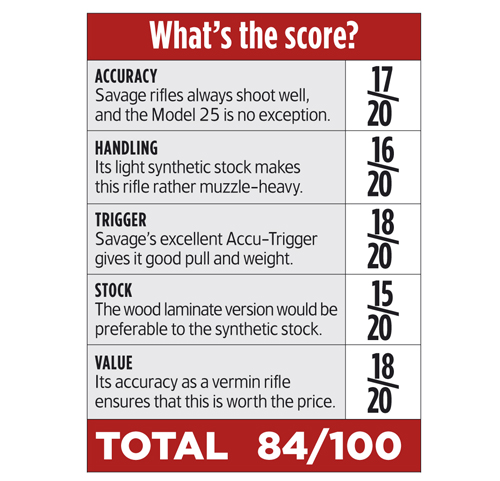 CONCLUSION
I have always thought that the .17 AK Hornet was one of the best-balanced small-calibre varmint cartridges, suitable for short range vermin control in the UK, and the same is true of this new Hornady .17 Hornet.

It's easy to load, quiet and produces low recoil, and you now also have the choice of some new lead-free 15 NTX cartridges (these were released too late to test).

Though the Savage Model 25 shot well, I would prefer to see this round used in a CZ or an Anschutz rifle, as these are better all-round rifles.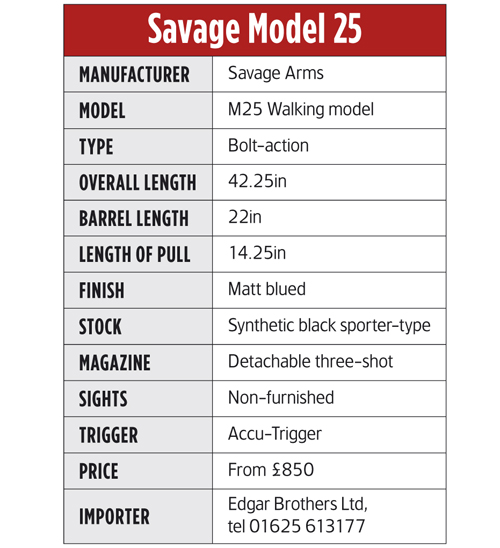 Gun reviews: Savage Model 25 in .17 Hornet