Gun reviews: AYA No.2 De Luxe round action shotgun
Gun reviews: AYA No.2 De Luxe round action shotgun.
Founded in 1915 by Miguel Aguirre and Nicolas Aranzabal, Aguirre y Aranzabal, known around the world as AYA, is Spain's largest and most famous gunmaker.

Manufacturing a range of fine shotguns at its factory in Eibar in the Basque Country in north eastern Spain, AYA owes much of its current success and fame to two English brothers, Andrew and Peter King.

The King brothers first discovered AYA on a holiday to Spain in the mid- 1950s and shortly afterwards set up Anglo Spanish Imports (ASI) who, under the guidance of Andrew's son Edward, continue to import these Spanish guns into the UK.

GRAFT AND CRAFT
As well as setting up links between AYA and a British shooting public hungry for high quality guns without the London price tag, Andrew and Peter helped the company develop a range of guns specifically for the English market, based on Holland & Holland's sidelocks and boxlocks with the Anson & Deeley action.




They also hired English craftsmen, sending them to AYA to teach English techniques in rib laying, blacking and finishing.

Today, AYA enjoys success the world over and produce a wide range of shotguns, including the affordable and popular No.2 model, now available with the round body action tested over these pages.

This £8,000 gun comes in a cardboard box with a user guide and a certificate of proof and nary an accessory in sight.

Of course, you should be able to wheedle a nice gun slip or even a used leather case out of your dealer, but given many guns at a fraction of this price point come complete in hard ABS cases you might feel a little short-changed.

Take the components out of their branded polythene sleeves, however, and all those negative thoughts will be washed away: this is a lovely gun to look at.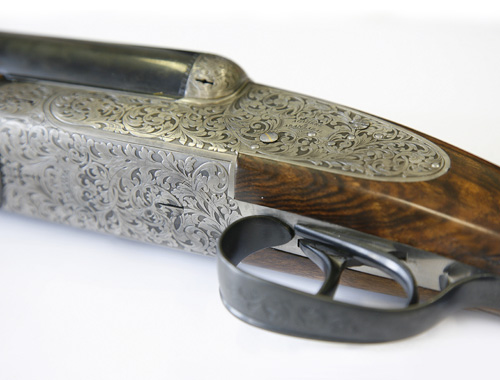 Taking its design cues from the revered English shotguns which have dominated much of the higher end of the sporting gun market for the last 100 years, it is a nine pin sidelock which has been built and finished to a very high standard.

The rounded action body has removed the hard lines often associated with the classic London guns, which when coupled with the delightfully figured and finished wood results in a beautiful gun.

At first glance this gun looks to be a premium quality tool, and indeed on closer inspection it is evident this round body No.2 wears its De Luxe tag with some justification.

The wood used in the stock and fore-end is a delight, with plenty of attractive figuring evident and a lovely oiled finish.




The checkering on the straight-hand grip and fore-end is very fine, lacking the roughness often evident in new guns.

Despite being largely carried out by laser the engraving is finished by hand and is very pleasing to my eye, particularly the deep foliate patterns covering the action body.

In fact, finishing and fine details all over this gun are generally excellent, with the black trigger guard and tang, which extends along the bottom of the grip, top lever and safety catch all being tastefully engraved and finished.

Wood to metal fit all over the gun is superb, and the whole gun has an air of solidity which brings with it a feeling of quality.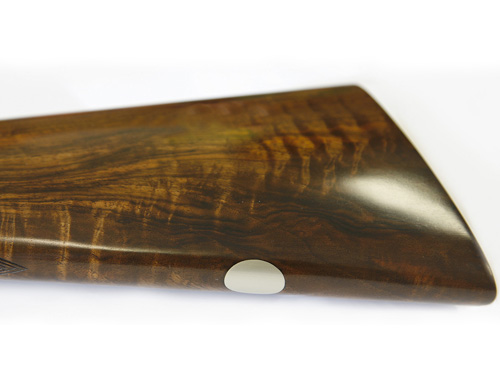 There is a push rod for removing the fore-end, which on our example was a little tough to remove and to replace, lacking a satisfying click when being set home under the barrels.

This is very much a traditional game gun, complete with double triggers.

Trigger pulls are lovely and crisp, and generally the gun feels very natural in the hands.

Our test gun had 30" barrels, which falls in line with the current preference for longer barrels on game guns, though 28" barrels are standard with other lengths available on request.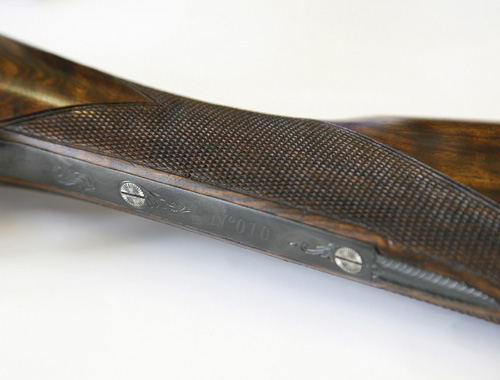 This new gun was seemingly fresh out of the factory, or had at least seen only a tiny number of cartridges fired through it, as it was incredibly stiff to open and close.

Just opening the gun proved quite difficult, and it also required a good shove to open the breech fully to allow cartridges to be loaded.

Once open, ejection of the cartridges was good, but again it was quite stiff to close.

This should ease as more cartridges are fired, however.

These minor teething problems aside, to shoot this gun is an absolute delight.

IN THE FIELD
I shot this gun at Grange Farm Shooting Ground, near Peterborough, with instructors Bruce Marks and Ed Smith, and it's fair to say we all came away from the experience happy.

We broke plenty of clays with it, but we did have some observations.

The stock as standard seems a little short, but of course you would make sure the stock dimensions are right for you when buying the gun.

The longer barrels mean considerable weight is felt in the front hand, which does allow for good even swings, but may become wearing over a long drive.

When taking a comfortable position on the gun my front hand was well forward of the fore-end, being completely on the steel of the barrels.

As such, the use of a good glove would be absolutely essential to avoid burning your hand.

However, the straight-hand grip is extremely comfortable and we all enjoyed success with this gun, having confidence-inspiring swings and very little felt recoil.

VIEW FROM THE GUN SHOP
Bill Elderkin casts his expert eye over the AYA No.2 De Luxe Round Action
This gun is very well finished, with lovely wood used all the way through.

Unfortunately it does feel a little bit heavy, which is unusual for AYAs.

This is particularly unusual for a round-bodied gun, where metal and wood has been removed to create the lovely, slim curved body of the gun.

Even with its 30" chopper lump barrels you might expect the gun to weigh less than the 7.1/4lbs it reached on our scales.

This surprising weight is manifested in a definite bias towards the front hand, which you might mitigate by holding your front hand further towards the muzzle.

Positively, the greater weight of the gun will mean reduced felt recoil, which is good for a long day on high birds with big loads, but slighter sportsmen and women may want to look elsewhere.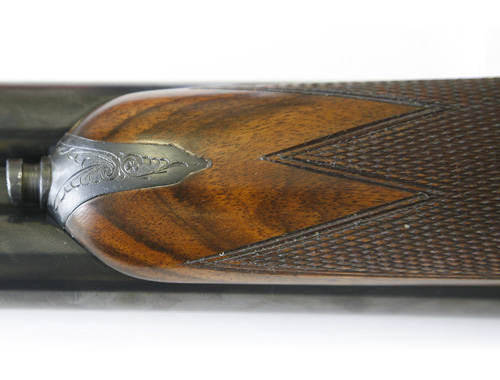 The gun has 2.3/4" chambers and the barrels are tightly choked at quarter and half, though you should bear in mind that in common with most Spanish guns this is nominal, and the actual bore will be tighter.

Any good gunsmith can easily open the bores out should you so desire, but the chances are if you are buying a gun such as this with 30" barrels you will be looking at mainly shooting high birds, and as such I would suggest leaving well alone.

The gun is designed and built on the Holland & Holland-style nine pin action with intercepting sears and disc set strikers.

There are Southgate ejectors which are very powerful, featuring a big 'V' spring in the fore-end which kicks the cartridge out.

This can, however, make the gun harder to close.

Overall, it is a very fine modern copy of a classic London gun.

SCORES
Engineering: A very good copy of a tried and tested design of a London sidelock, with strong ejectors and great solidity. 8/10

Handling: Surprisingly heavy on the scales and in the hand, with a definite bias towards the front hand. This will mean reduced recoil, which is good for a long day on high birds with big loads. 7/10

Looks and finishing: Very good quality, attractive wood used which is well finished. Round body gives excellent lines and engraving is nicely designed and executed. Punches well above its weight. 9/10

Reliability: More can go wrong with sidelocks, but AYA now has an outstanding reputation. If you are unlucky you can have occasional problems with firing pins, but these are easily and inexpensively rectified. 9/10

Value for money: If you are set on a side-by-side and want a new, reliable and attractive gun which gives pride of ownership for not silly money, you won't go far wrong with this gun. 8/10

Overall: 41/50





Gun reviews: AYA No.2 De Luxe round action shotgun