Gun reviews: Baikal 20-bore over-under shotgun
Most, if not all, shotgun shooters are aware of the Baikal range of shotguns, even if they are not overly familiar with them.
In fact, it would probably be fair to say that many shooters tend to show contempt for these Russian-made guns without ever having handled or examined one.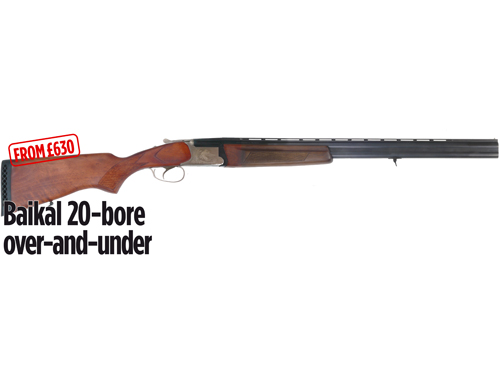 Common shooting lore suggests that this maker produces "plain Jane" guns with uncompromising looks that could, if needed, be used as a hedge stake.
Yet, Baikal guns have continued to sell well since the Cold War period, and there must be good reasons for that.
It is partly because they have proved to be reliable in even the most adverse conditions, and believe it or not, there are still some shooters who are more interested in reliability than looks.
FIRST IMPRESSIONS
The Baikal on test was a 20-bore, and that fact alone will come as a surprise to many who believe that this manufacturer is firmly wedded to the 12-bore.
Gone is the puritan black finish, replaced with a glossy plated action bearing some (albeit simple) decoration.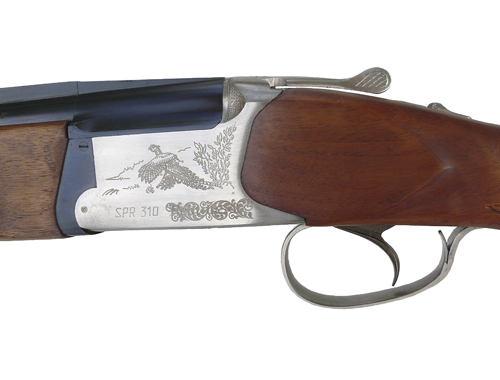 This model is the IZH-27EM-1C, which is a bit of a mouthful, though it is shortened to SPR 310.
I sometimes think Baikal could increase its appeal simply by adopting model names that are easier to remember.
Whatever you call it, this is a single-trigger ejector gun with multi-chokes.
My first impression was of a gun that is so new that it is a bit stiff to open and close because the tolerances are rather close, which is no bad thing in a mass-produced gun.
At just more than 6.1⁄2lb, it feels substantial enough to absorb some of the recoil for those tempted to use 3in cartridges — the marking on the barrel lists it as being suitable for 2.3⁄4 or 3in cartridges.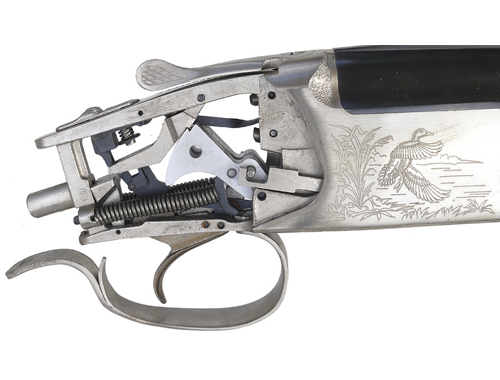 Its handling is smooth and it is quick to aim — helped, no doubt, by its comparatively short, 26.1⁄2in barrels.
By modern standards, the length of pull is a bit short at 14.1⁄4in, but for anyone wrapped up for Russian-type wintry conditions, it is probably right.
The drop across the comb is about 1.1⁄2in to 2.1⁄2in — a fairly standard measurement that would suit most users.
This gun exhibited some right-hand cast (cast off) — in fact, more than one usually gets with a factory gun — and a reasonably slim comb, with a shallow curve across the face of the stock.
These are all practical features that are an aid to good gun fit.
UNMISTAKABLY BAIKAL
In terms of its overall looks, this small-bore gun has not altered much over the years. In fact, to those who are familiar with the make, it is unmistakably a Baikal gun.
The head of the stock — with its pointed panels, shallow curved pistol grip and thick, recoil-absorbing butt-pad — is just what one would expect, as is the slightly chunky but eminently practical fore-end.
The finish to the wood could be described as "sufficient" rather than "lavish", but is probably the equal of some far more expensive guns.
The hand-cut chequering panels are practical rather than pretty, as is the trigger-guard, which is noticeably roomy — designed with a thick-gloved finger in mind, I suspect.
The addition of sling swivels is a rather Continental feature, but they can be detached.
INTERNAL CHANGES
Internally, there have been some changes to the manufacturing process, with much use of investment castings to help reduce the amount of expensive machine work which, in the past, had been quite extensive on this design.
That apart, the lockwork followed a well-established layout, with helical mainsprings powering the hammers and long-arm sears hanging from the top strap.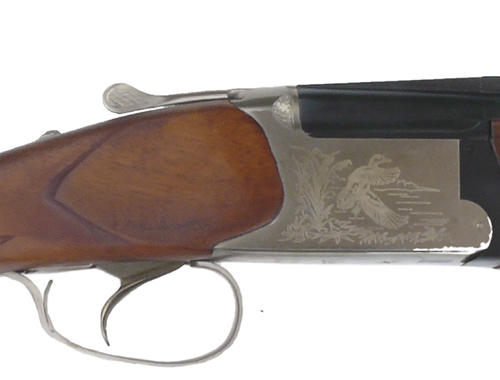 The safety button assembly still retains some of the complexity of previous models, but it has always proved to be both robust and reliable, giving a good, precise action.
The ejectors operate on the now-familiar spring and plunger arrangement located in the barrel monobloc, while the barrels still hinge on a full-width cross pin.
Baikal makes good barrel tubes, and the hard-chromed bore is a plus. While a length of 26.1⁄2in is the only option for this field-grade gun, that is no major handicap, and the reasonably narrow top rib and dinky foresight bead are suitable for the job.
The 20-bore on test was supplied with four choke tubes, and the spares (along with the choke key) are individually wrapped in a protective greased paper, which was something of a novelty, in my opinion.
The choke tubes are notch-marked and also marked with an easyto- understand code on the side. For example, "M (0.5)" means the American and Continental modified, or 0.5 (half) choke.
So it follows, then, that "C (0.0)" means cylinder, 0.0 being no choke, and so on.
TESTING
Testing the gun went well. The stiffness in opening it was a little more noticeable after firing both barrels, but by the end of the test session it was already starting to smooth out.
Trigger pulls proved to be fairly crisp, the first pull being slightly lighter than for the second barrel. I should point out that this is not a selective barrel gun — the first pull is always the bottom barrel, the second is the top barrel.
However, with interchangeable chokes this is no problem, as they can be set up to suit the expected shooting conditions. Ejection was fairly soft, though nicely timed.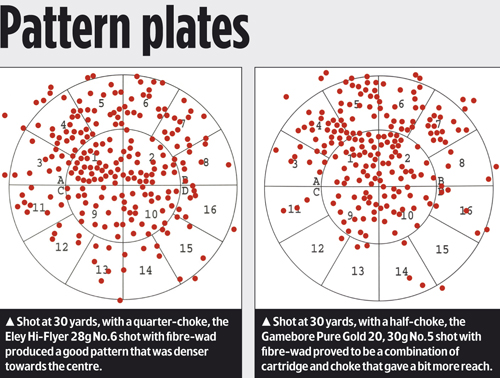 The point of aim proved to be fairly central on the pattern sheet, and the patterns produced with all the cartridges used could be described as anything from "fair" to "good".
The cartridges used were: Lyalvale Express Special 20, 25g of No.6 shot with fibre-wad and biodegradable obturator; Eley Hi-Flyer 28g of No.6 shot with fibre-wad; Gamebore Pure Gold 20, 30g of No.5 shot with fibre-wad; and Eley VIP 28g of No.5 shot with fibre-wad.
The Eley Hi-Flyers shot well in the bottom barrel fitted with quarter-choke, while the Gamebore Pure Gold 20 — using the top barrel and half- choke — produced extra reach and more pellet energy.
The more traditional, lighter 25g load in the Express Special 20 also shot well for those that prefer lighter loads.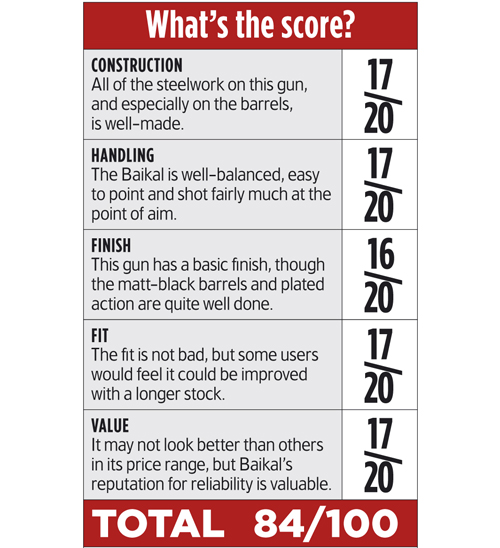 CONCLUSION
This 20-bore may be economically priced, but it shot well with the cartridges on hand.
That came as no surprise to me, as most Baikals I test throw good patterns.
A bit of bling has been added to this plain Jane, but that doesn't detract from the fact that it is an unpretentious gun.
If you require a tool to do a job, you could do a lot worse than this gun.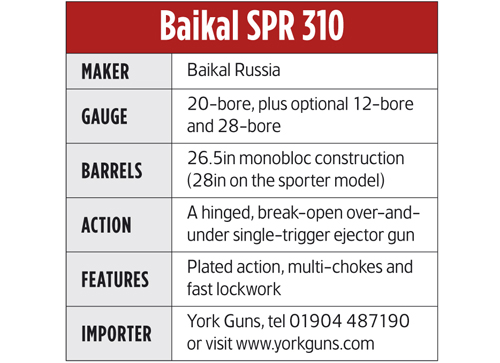 Gun reviews: Baikal 20-bore over-under shotgun