Gun reviews: Beretta 486 side-by-side shotgun
Beretta 486 side-by-side shotgun.
Beretta has launched a new side-by-side: the 486. Previously, the firm offered the 471 and the 626; both well made and reliable, they never achieved the success that the all-conquering Beretta over-unders did.

This was partly due to a market in which stack-barrelled guns were in ever greater demand, and partly because the older guns were, to be blunt, nothing particularly special (the main difference between them was a more complex trigger mechanism in the 471).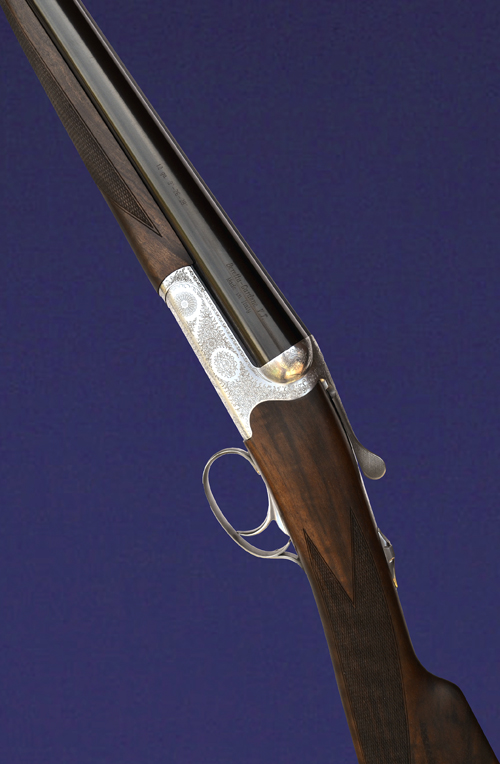 I had a 20-bore 471 that I used for some years and found it quite satisfactory.

It had a good single trigger, typical Beretta Woodward-esque pistol grip and a well-shaped, slender, beavertail fore-end. I would have liked a 30in version but 28in was all that was on offer and it worked.

I was introduced to the new 486 at a special event at the West London Shooting School.

It is a 12-bore, trigger-plate "boxlock" side-by-side with 28in barrels, multichokes and a single trigger.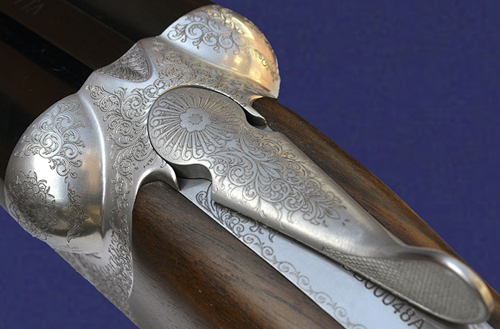 Next year, 30in barrels (fixed choke only) and twin triggers will be options, as will a pistol-grip stock and beavertail fore-end, as well as a 20-bore version.

Aesthetically, it is much improved, with a rounded action (made for Beretta by Fausti) asymmetrically scalloped to the rear and decorated with delicate rose and scroll.

The top of the action has been reworked, making it look more traditional and delicate. The trigger blade is nicely proportioned and not too thick.

Action and furniture are all silver finished.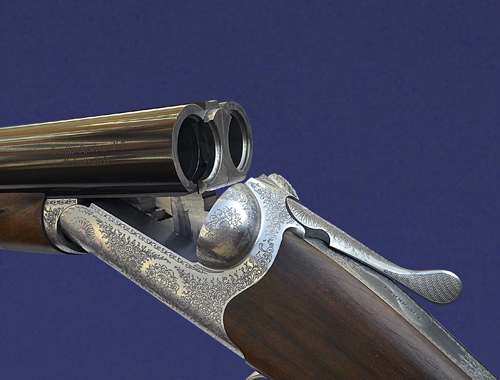 However, there is much more to the new gun than aesthetics.

The action of the 486 has a new trigger mechanism that appears to be a significant improvement on that in the 471, which was quite complex.

Most importantly, the hammers are now powered by V-springs rather than the helical ones seen in most mass-produced over-and-under and side-by-side guns (save those from Spain).

This is a notable step forward, as it makes possible better trigger pulls.

The 486 uses, as did the 471, an over-and-under-style stock bolt to attach the butt to the action (rather than a "breech pin" screw between top and bottom tangs).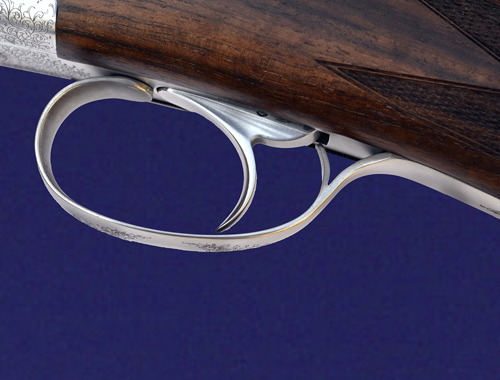 Most unusually for a Beretta, the 3in chambered barrels of the 486 are not monobloc.

Two tubes have been fixed together with the underside machined to locate the barrels' lumps in the manner of the old dovetail system, but with a thin, vertical extension added like a through lump and horizontal wings that become the barrel flats.

Made from Beretta's new "Steelium" alloy, they have Optima HP bores with relatively tight diameters of 18.4mm and medium length forcing cones.

The flush-fitting interchangeable chokes are of the longer Optima HP type (fixed chokes are available in other versions).

This evidently strong gun is fleur-de-lis proofed for steel shot as is the modern trend (though the fixed-choke version will not be fleur-de-lis, probably because of the choke options).

The stock is of conventional form with an Anglicised straight grip and splinter fore-end. Quality of wood is good.

The squared oval grip is a little thicker than its predecessors and better for it.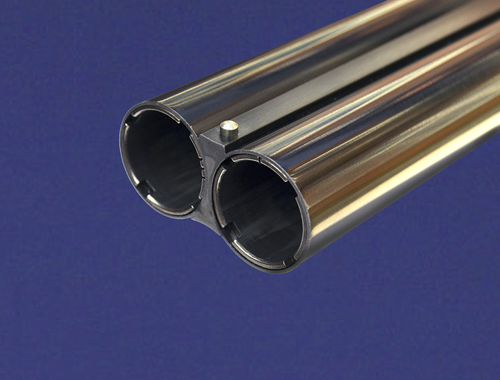 The gun measures 14.1⁄2in for length of pull with a wooden butt plate fitted. You could get just over 15in with a 1in pad.

Drop was 1.1⁄2in at the front of the well-shaped comb and 2.1⁄8in to the rear. The fore-end is slightly more svelte towards the front than on the 471.

It shares a similar Anson push-button latch. There was slight cast for a right-hander – about 1⁄8in at heel and 1⁄4in at toe.

The dimensions were very good for a shelf gun with a single-trigger.

TECHNICAL DATA
This gun is innovative when considered against its immediate forerunners.

The V-springs in the redesigned trigger group of the trigger plate action allow for improved sear angles.

Consequently, the pulls here are better than the previous guns' (but are set quite heavy with both breaking at just over 4lb). No creep was evident, however.

The gun has another interesting feature: gravitational safety locks that take effect if the gun is dropped.

They work by means of a floating block on the back of the trigger. Joe Manton came up with something similar.

It is an interesting idea and, potentially, makes for a safer gun.

The method for manufacturing the barrels has already been mentioned; it combines deep drilling, hammer forging and vacuum-distension stress release with a high-quality alloy steel.

Like the 471, the ejectors in the 486 may be disabled.

SHOOTING IMPRESSIONS
The test gun with 28in barrels weighed just under 7lb 3oz – not light but not too heavy (7lb would have been ideal).

I prefer a gun that has a little weight for most applications.

This one was all the better for balancing almost exactly on its crosspin, too.

I shot it at the high towers at West London and it shot really well – by far the best Beretta side-by-side that I have shot to date.

Low recoil. Good handling. Excellent kills.

I was aware that it was a stock-bolted gun (they feel just a little different when fired) but, by any standard, this is an excellent side-by-side and one offering really good value for money, too, with an RRP of £3,875 (the fixed-choke model will cost £75 less).

Beretta has another winner here. Silver Pigeon 1, DT11, 692 and now the 486 – that is quite an act to follow.

Beretta 486 side-by-side shotgun
Price £3,875

www.beretta.com