Gun reviews: Beretta Jubilee shotgun review
In many ways, this ought to be the easiest review a sporting journalist can write. What more can be said about Beretta shotguns?
Their strength, reliability, handling and good looks are well known to the extent that many buyers barely give other gunmakers a second's thought.
However, this gun proved something of a surprise, although at this price we are looking for the very best.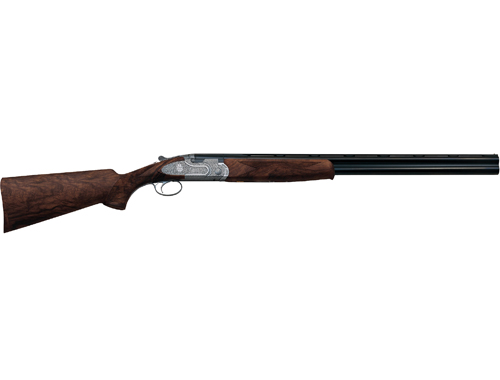 This is Beretta's priciest gun based on mono-bloc barrels and features an inertia-based trigger-plate action of the manufacturer's own design.
The second barrel is cocked by the firing of the first, as featured on the 686 and 687 range of guns.
Most sportsmen will have come across a Beretta, from the excellent mass-produced Silver Pigeon at £1,550, right up to the best its custom shop has to offer – the sidelock SO10 EELL, which costs a cool £67,850.
The Jubilee comes from the Beretta custom shop, where the manufacturer's best guns are built and finished by hand.
As you would expect of a premium gun, it is a delight to behold.
First impressions are good, as the Jubilee comes with not only a synthetic hard case, but also a lovely leather and canvas case.
At this price point you are paying for first-class finishing, and though at first glance you might find it tricky to spot the differences between the Jubilee and an EELL Classic, closer inspection reveals all the fine detail work.
Customers may choose between a gun covered in rose and scroll engraving or from several different game scenes for each of the gun's side and bottom plates.
Our test gun had pheasant and duck on the side plates and woodcock on the bottom, all engraved exquisitely.
The scenes are framed with a bold stripe that follows the line of the side plates, defining them from the main body where there is extensive foliate engraving and attractive carved fences.
The engraving is deep, providing a lovely 3D effect.
The wood is exceptional: the stock is beautifully figured and finished, and the grain is completely filled with oil to provide a smooth feel.
Checkering is fine, and on the fore-end the holding pin has been carefully framed and decorated, while the Beretta shield – in the form of a large 24ct gold piece – has been inlaid.
Barrel blueing is excellent, and there is plenty of polish on the internal surfaces that do nothing for the gun's reliability, but certainly look pretty.
Wood-to-metal fit is outstanding, and the gun has an appealing overall look thanks to the Beretta action, which allows for the beautiful shallow lines.
The only thing that lets the gun down looks-wise is a white plastic sight bead.
Though we tested the gun in 12-bore form, it is also available in 20, 28 and .410 gauges.
Indeed, given the hefty 7.1/2lbs. (3.4kg) weight of the 12-bore variant, this gun might well be at its best in a lighter gauge.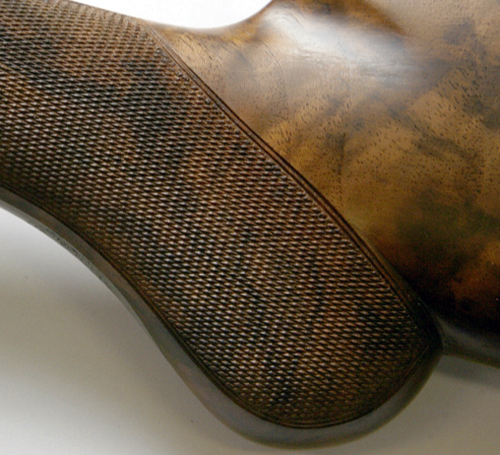 Our gun had 30" barrels with multichokes, but it is also available with fixed chokes at quarter and half, and with 28" barrels.
Buyers also get the choice of pistol grip, semi-pistol grip and straight hand stocks, and it is here that I would encourage the greatest caution.
The test gun had a rounded semi-pistol grip stock that looks great and felt good in the hand thanks to the fine hand-cut checkering.
It also felt comfortable when dry mounting and swinging, but once we started pulling the trigger we ran into trouble.
The gun seemed to slip in the rear hand after the first shot, which caused hesitation on the second shot.
It never felt quite right and several experienced shots and our instructor were all in agreement that something was off.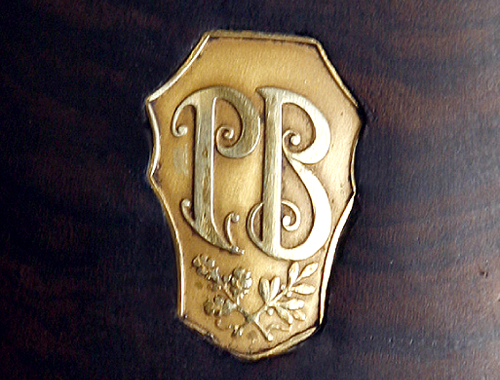 It also meant shoulders began to ache after only a few shells.
This was exacerbated by the lack of a rubber butt plate, which is present on much cheaper Beretta guns.
We were using heavy loads, but when the same shells were put through an aged Beretta 686 E, not one of us experienced the same problems or discomfort.
As such, I would advise choosing either a straight hand or full pistol grip stock. The options are there and when you get it right you will have a splendid looking gun, which shoots well and will hold its value.
In the field the best way to describe this gun in the field would be "inconsistent".
Normally one would put this down to operator fault, but the four man testing panel all agreed the grip option on this particular Jubilee made it difficult to maintain a stable hold on the gun when pulling the trigger.
On the positive side, the Jubilee mounted and swung well and was a good fit.
It opened and closed satisfyingly, with crisp trigger pulls and strong cartridge ejection.
A rubber recoil pad would almost certainly improve this Beretta's behaviour when using heavier loads.
In conclusion it was something of a curate's egg, but it's important to emphasise that when spending this much on a gun you need to ensure it is made to your specific requirements and fitted properly.
VIEW FROM THE GUN SHOP

Bill Elderkin casts his expert eye over the Beretta Jubilee. This 12-bore over-under shotgun is a little confusing at first glance, as it has a rib that would look more at home on one of its more sporting cousins such as the SO5.
It has 30" multi-choke barrels with a slightly tapered rib of around 10 to 8mm and a white sight bead, which looks a little cheap on a gun of such otherwise outstanding quality.
The fore-end on the test gun (not the version pictured above) was lovely and slim, with a rounded end rather than a Schnabel-style lip.
The wood on the fore-end of the test gun was not terribly well matched to the stock – a bit more red-coloured oil would bring the two together into a more satisfying whole.
This may seem fussy, but at this price you can afford to be!
At 7.1/2lbs it is a bit weighty for a game gun.
However, for those going after high birds and attending bigger days, this extra weight will be ideal, taking more of the recoil and allowing for a lovely, deliberate swing.
Indeed, the gun mounts and handles exceptionally well. You should have no concerns over buying and using a Beretta – the manufacturer uses a tried and tested action.
I have heard many tales of guns who choose to shoot with Berettas over some of the more prestigious-named guns thanks to their ability to cope with a hard day's graft, and major repair work on these guns are rare as long as they have been well looked after.
The Jubilee will hold its value well, as all Berettas seem to do.
ALTERNATIVE OPTIONS

The closest Jubilee competitor is probably the much-loved Browning B2G.
The Browning has been built on the renowned John Moses action since the 1930s and is an exceptional gun.
Looks-wise the Jubilee wins hands down, but I find the Beretta a little numb to shoot by comparison – the Browning is more nimble.
A new B2G with 30" barrels is £12,250.
Perazzi's SCO with side plates is also an obvious contender. These are slightly wider in the action, but well balanced and of a similar weight to the Jubilee.
They are attractive and fine to shoot, and offer something slightly unusual.
If you want an English name, you might also consider one of the new E.J. Churchill guns, which are made by Perazzi.
The entry level boxlock over-under, the Crown, starts at £11,500, with the attractive Regal boxlock coming in at £15,000.
At this price you might consider a good second-hand English side-by-side, or the best new guns from a Spanish maker.
Number 37, a sidelock over-under by AYA, costs £14,450, while a top-drawer Model 802, a sidelock side-by-side from Arrieta, is priced at £12,135.
SCORES

Engineering: As with all Beretta guns, the Jubilee is built on an exceptionally well designed and proven action. 9/10
Handling: Perhaps slightly heavy, but generally well balanced. The grip on the test gun was not quite right. And a recoil pad would be a very useful addition. 7/10
Looks and finishing: Good clean lines, beautiful wood and exceptional engraving. 9/10
Reliability and customer service: Beretta guns are renowned for their reliability and longevity. Great service is guaranteed from UK importer GMK. 10/10
Value: Obviously this is an expensive gun but it has the wow factor and the Jubilee will doubtless hold its value well. 7/10
Overall: 42/50

Gun reviews: Beretta Jubilee shotgun review