Gun reviews: Churchill Crown side-plate shotgun
Gun reviews: Churchill Crown side-plate shotgun.
The gun under the spotlight this month is the latest offering from dynamic English gunmaker EJ Churchill, based on its own shooting ground near High Wycombe, Bucks.

Called simply the Crown Side-plate (there is an unplated version, too), it is a 12-bore over-under made in collaboration with Italian firm Perazzi.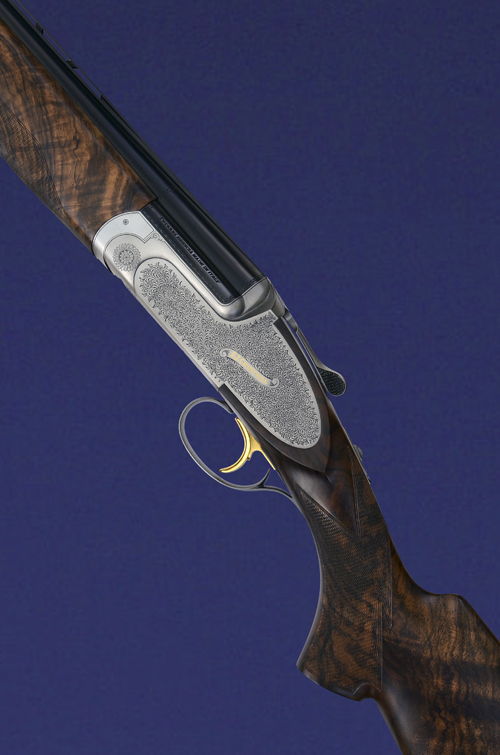 It is part of Churchill's growing "Continental" range (which includes side-by-sides and over-unders) and has been specified with driven game-shooting in mind.

First impressions are of a large, long, attractive sporting shotgun.

It has 30in barrels (32in is an option) with a ventilated, fairly narrow top rib.

Hitting the scales at a hefty (but not heavy) 8lb, balance is near the hinge pin.

One is struck by its pleasing and practical form and distinctive looks, with a bright polished action and furniture.

Though based on a Perazzi SCO, it does not immediately look like any gun of that marque.

Tight scroll-engraved sideplates are reminiscent of old Churchill house-style engraving, and the gold-lettered Churchill name appears on a ribbon in the middle of them.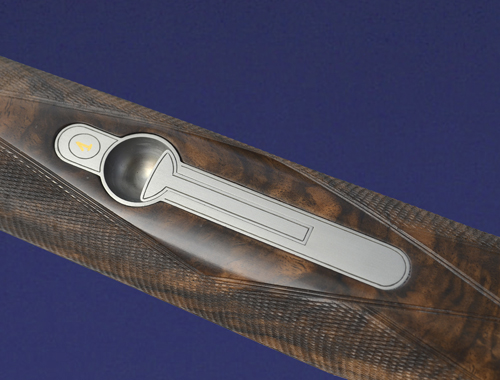 The butt is Purdey-esque, with a well-formed, open-radiused and not-too-thick flat-bottomed grip with an English-style tapered comb rearwards.

The fore-end has no Schnabel beak lip.

Stock shapes are exceptionally good, though I do not especially like the layout of the chequering on the grip; classic, straight-line borders would be my preference.

This gun has character, too, and much of it is due to Chris Cloke, Churchill's gunroom manager.

"We were successful with the non-sideplated model and wanted to create a plated version," he said, explaining the genesis of the new gun."

"I sent Mauro Perazzi a copy of Don Masters' book, The House of Churchill, and said this is the Churchill DNA from the beginning in 1891 to the Nineties."

"I wanted a sideplated gun with Churchill-type scroll without slavishly following old patterns."

"Aesthetically speaking, I wanted a gun that would look good but different, and inspire the question: 'What is that?'"

The sideplates offer a little more space for engraving and give the gun an improved, flowing line and, practically, add a little more weight between the hands.

"Not a lot," Cloke says of this, "but it is where we want it."




He has put a lot of thought into the barrels, which are fixed choke (though Teagues are an option) and weigh about 1.5kg (3lb 5oz).

The stock was also the focus of much effort.

"You can have any grip shape you like but we prefer a wide-radius, full but slim grip in the manner of a Purdey, which has a flat bottom but actually feels something like a semi," Cloke comments."

"We like the look of it and the fact that it does not force you to cock the wrist. It gives you significantly more control than a straighthand, too."


The grip on this gun is not too thick.

Indeed, it is slimmer than most modern over-unders and has no palm swell.

It does not need to be held too tightly, there is natural purchase.

You can hold the gun and control the muzzles without excessive tension being applied.

The area at the nose of the comb has been attended to well: there is support under the base of the thumb to avoid hand rotation, but not so much that it creates a pressure point on the base of the thumb.

The trigger finger must be free of wood and able to pull back straight in a good design – as it is here.

TECHNICAL DATA
The gun is built around Perazzi's MX12 action, which has hammers driven by helical rather than V-springs (it also gains a trigger selector).

The gun hinges on stud pins with primary bolting derived by convex extensions on either side of the bottom chamber mouth engaging corresponding slots in the action face.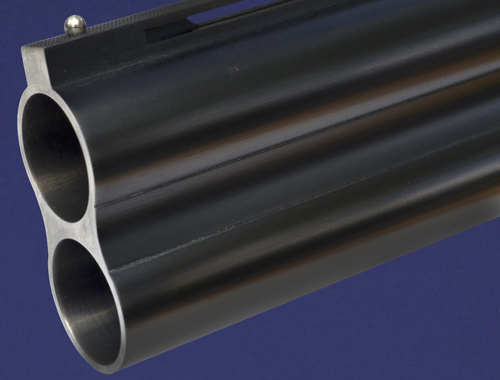 There are Boss-style draws and wedges on the barrel monobloc and inner action walls for added strength in lockup.

Inside, the action mechanism is gold washed. Joining ribs on the barrels are solid, but are dispensed with under the fore-end to reduce weight.

Chambers are 2.3⁄4in (3in may be specified).

The barrels are bored by modern standards quite tightly at 18.4mm.

EJ Churchill advises chamber length to match cartridge length and prefers an 18.4mm diameter for game-shooting; larger barrel diameters can be requested.

For this model, 30in (76cm) barrels are advised.

SHOOTING IMPRESSIONS
This is a great-shooting gun. I shot it with half-a-dozen others at Churchill's ground and nothing came close for ease of handling or consistent killing.

It vaporised clays with minimal effort.

Felt recoil was low.

Trigger pulls were excellent.

The gun, which has relatively light barrels and good central mass, moved well.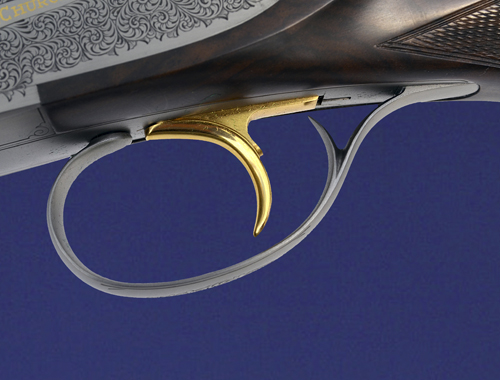 It was forgiving in use, too.

I made a mounting error but still broke the bird.

It is relatively high stocked, though you can have what you want.

Complex presentations were dealt with easily.

It is not cheap at £25,000 (the non-plated, less-engraved version is half that), but it is one of the best-shooting guns tested recently in these pages.

Considering the competition, that is quite an accolade.

A great gun.

I want one – or two.

It is one of a pair.

Churchill Crown side-plate shotgun
Price £25,000

www.ejchurchill.com