Gun reviews: Savage 212 slug gun
Gun reviews: Savage 212 slug gun.
This was not my typical rifle test, as the Savage 212 slug gun has the outward appearance of a bolt-action shotgun, but where one might expect a smooth, choked barrel, instead it has a fully rifled one — now, that's my kind of shotgun!

This specialised rifle would be classified as a Section 1 rifle on a firearms certificate in the UK, but in the US, where I have shot whitetail deer with an earlier model, they are commonplace.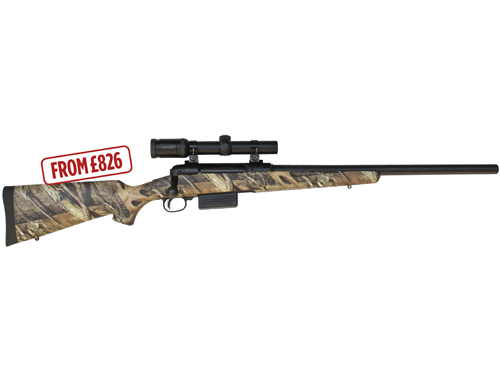 I was drawn to the Savage primarily for its obvious use for wild boar in this country or abroad.

Furthermore, the enhanced accuracy of a rifled barrel has obvious benefits, and the detachable two-shot magazine is handy.

The Model 212 on test is a 12-bore version, while there is also a Model 220 that is a 20-bore — both with a choice of black or camouflage finish.

It's a large rifle but handles well and, after fitting a Kahles scope, it proved to be exceptionally accurate with certain loads.

BARREL, ACTION AND FINISH
Looking down the barrel is a bit intimidating at first, as it's a big hole — a standard 0.729in 12-bore/groove diameter with shallow rifling lands of a 1/35 twist rate.

It's 22in long and has a 0.92in diameter, finished in a matt blue, almost rough/Parkerised finish.

It is secured to the action by Savage's usual barrel lock so the barrels can be removed and the headspace altered if needed.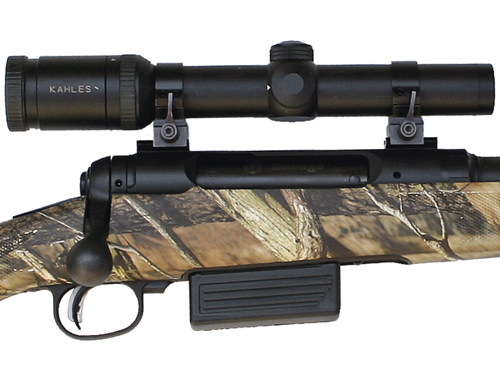 The action is an enlarged version of that used in Savage's centrefire rifles, with twin Weaver bases on top for scope mounting, in the same finish as the barrel.

The bolt is huge — 7.5in long and weighing 575g — and has two enormous locking lugs, twin guide lugs and twin extractor claws at the 3 and 9 o'clock positions.

Ejection is via a spur within the action base.

With the barrel being rifled, traditional Foster-type shotgun slugs of all-lead construction work okay, but this rifle is really designed to shoot the new breed of hybrid or sabot slugs.

These use a plastic shroud around a smaller lead or composite slug to achieve a higher velocity, flatter trajectory and, more importantly, better accuracy.

TRIGGER, SAFETY AND MAGAZINE
The magazine is the detachable two-shot type, fashioned from a high-impact plastic that sits proud of the stock by 1.25in and is released by a large lever in front of the magazine.

You have to get used to the feed with a deliberate bolt action otherwise blunt 12-bore cases can get hung up on the internals.




The safety is a sliding tang unit, which is non-automatic but is easily operated with the shooter's thumb to lock the trigger-sear, but the bolt can still be used to unload.

The trigger is the excellent AccuTrigger unit, just as in Savage's other rifles.

It is instantly recognisable, with the skeletonised lever set within the trigger-blade to ensure proper trigger-pull and safe handling.

It is a fast but safe trigger unit, adjustable to suit your preference, and requires little force to operate with a clean sear break.

It enhances the accuracy of any rifle it is fitted to.

ACCURACY & TARGETS
The Savage 212 is designed to give rifle-like accuracy at 100 yards but with the downrange kinetic energy of a traditional 12-bore slug gun.




For this, I mounted a Kahles 1.1-4x30mm scope, which is perfect for fast-moving boar at close range and grouping at 100 yards.

As I expected, the sabots and hybrids were the most accurate, but all the rounds performed well.

I used factory ammunition, as this is what most shooters use, though I reload slugs myself.

The best velocity came from the Winchester at 1,518fps for a huge 2,276ft/lb energy from a 445-gr slug — that's like the weight of three 150-gr .308Win bullets striking, but with a massive cross-sectional area for on-target energy transfer.

The accuracy was good (1.75in at 100 yards), but the most accurate was the Federal Sabot slug utilising the original BRI slug of 0.50 calibre encased by a plastic two-shell separating sabot.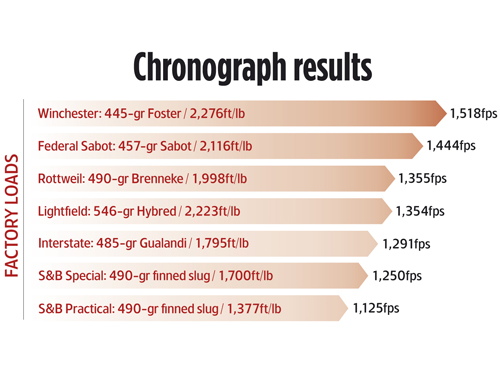 This consistently put three slugs into less than 0.5in at 100 yards, which is phenomenal.

The velocity was also good at 1,444fps for 2,116ft/lb energy from a 457-gr projectile shaped like a cotton reel.

The Lightfield Hybreds were also accurate, and the Rottweil Brenneke struck home, while the S&B slugs were easy on the shoulder yet still accurate (2in at 100 yards).

The Savage's simple yet well-designed stock absorbed recoil well.

STOCK
The rifle has a rather standard Sporter layout devoid of a cheekpiece and straight comb.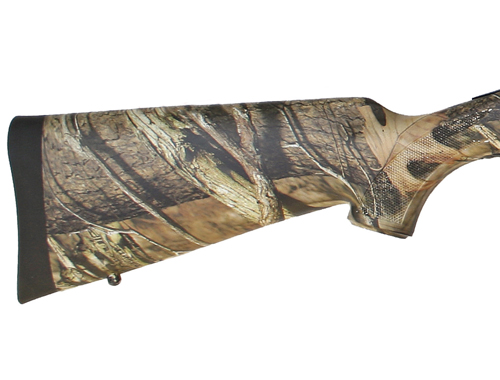 It has a squishy rubber recoil pad, twin Q/D sling swivel studs and a choice of either black or Break-Up Infinity camouflage finish.

I don't favour a camouflage finish, but it is practical, I guess, and suits this quintessentially American gun well.

The stock material is a high-impact synthetic moulding but light and solid inside, with pressed-in chequering to the pistol grip and fore-end.

It handles well and absorbs the recoil generated by those lumpy old slugs.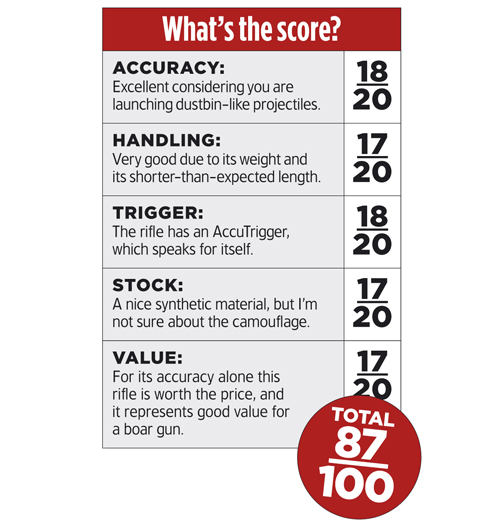 CONCLUSION
This is not your everyday rifle — and yes, it is a rifle, despite the fact it looks like a shotgun! — but it is a great gun to shoot.

Considering the high-quality optics of the Kahles scope and its good field of view, this would make an excellent gun for running boar or boar off a stand.

With the right ammunition — specifically the saboted or hybrid type, which better engages the rifling — the accuracy was rather surprising.

If you have access to boar and can convince your firearms enquiry officer of your need, then this is a remarkable piece of kit for the job.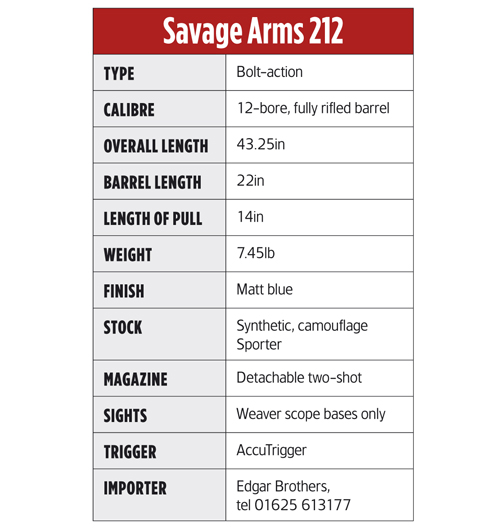 Savage 212 slug gun
From £826