Gun reviews: Secondhand B. Rizzini shotgun
GUN EXPERT: Mike George
USEFUL BUY: B. Rizzini
SECONDHAND COST: Around £1000
The Rizzini was more elegant than the Russian import, although if you kept it for a few years, you may have found that it wasn't quite as tough.
You have to be careful here, and refer to the gun as an E. Rizzini, because the Rizzinis are a particularly complex gunmaking dynasty rather than just one firm. E (for Emilio) Rizzini has now been taken over by a company called Fausti Stefano, which is run by the elegant Fausti sisters, Elena, Giovanna and Barbara, and their products are of very high quality.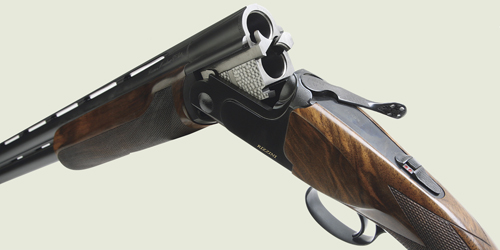 Then there is F.lli Rizzini, which translates as "Rizzini Brothers".
Headed up by Guido Rizzini, this company makes only a small number of guns of the very highest quality.
There is also Isidoro Rizzini, whose company is better known as FAIR (Fabbrica Armi Isidoro Rizzini, which translates roughly as "Isidoro Rizzini's Arms Factory"), then there is the maker of the gun we are looking at today, Battista Rizzini, who has a modern, well-equipped factory in Italy's Gardone valley gunmaking quarter near Brescia.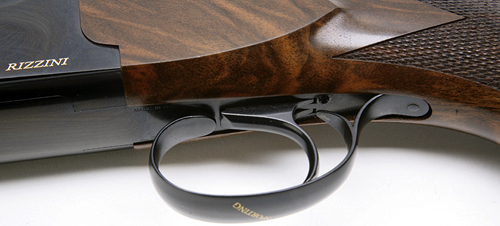 The company was founded in 1965, and makes good-quality shotguns and O/U double rifles.
All of these Rizzinis are, or were, related. Three of them (Battista, Isidoro and Emilio) are brothers, and are also nephews of Guido and his brothers who founded F.lli Rizzini.
They are also related to the Fausti family of gunmakers, and to Caesar Guerini who builds the gun we looked at last month.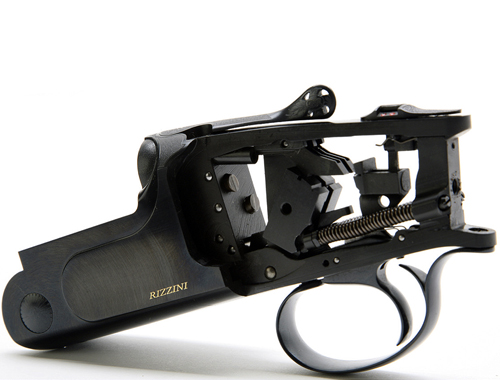 Overall, one gets the impression that if all the clan moved out of the Gardone Valley area, there would be a very large amount of factory property on the market!
Historically, the B.Rizzini marque has had a few importers into the UK, but for several years now it has been in the safe hands of ASI of Snape, Suffolk – the firm of AyA fame.
They have a huge number of guns to choose from, in 12, 20, 28-bores, and .410, most with the choice of multichokes or fixed chokes and a good selection of barrel lengths.
THE GUNS
The gun used to illustrate this article is the Premier Sporting model, which has a very plain and businesslike finish.
It is available with 28,30,32 and 34in barrels.
The action is somewhat Browning-like, with hammers hinged at the trigger plate and sears from the top strap, and a low- mounted bolt running along the action floor.
However, unlike a Browning, the barrels are hinged on stub pins rather than a full-width cross pin, which allows for a shallow action.
Another difference is that independent cocking levers are pushed by a cam on the fore-end iron, and these levers also operate the cocking mechanism.
HOW MUCH?
The Premier Sporting costs £2,900 new, with an extra charge of £268 for 34-inch barrels, and a further £70 if you require an automatic safety.
Other guns in the range vary from £5,479 down to £1,333. These are importer's recommended retail prices, so you may do a little better than that.
We have seen second-hand Premier Sportings as cheap as £800, but £1,000+ seems more realistic.
MORE INFORMATION
ASI Ltd
Tel: 01728 688555
www.a-s-i.co.uk
Gun reviews: Secondhand B. Rizzini shotgun