Gun reviews: Verney Carron Sagittaire shotgun
This lightweight 20-bore Sagittaire over-under is made by the famous French firm Verney Carron of Saint Etienne, which has been in the gunmaking business since 1820.

It remains a major producer of both shotguns and rifles, manufacturing not just for the mass market (for which the gun tested is intended) but for the carriage trade, building big-bore double and bolt-action safari rifles as well as bespoke shotguns.

The UK importer is Garlands, based near Tamworth in Staffordshire.

It offers a 12-bore version of the test gun, too, and a neat (and light) 8×57 double rifle in similar style, which may be ordered with an extra set of 20-bore barrels.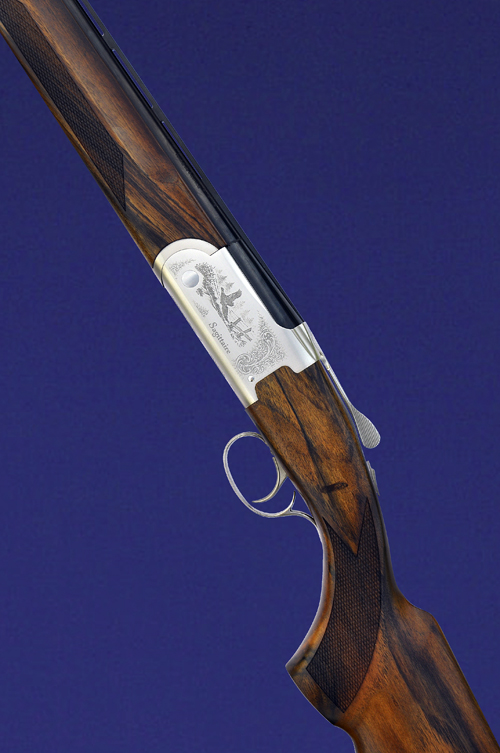 Though built in France's traditional gunmaking centre, the test gun is a product of advanced technology.

France has taken CNC on board almost to the same extent as Italy, and Verney Carron combines new technologies with traditional bench methods.

And as one might expect from Gallic engineering, this gun is not much like the average Browning, Beretta or Rizzini as far as its mechanics are concerned.

The French have their own way of doing things and the world is a richer place for it.




First impressions of the Sagittaire are of a light (5lb 10oz), streamlined hunting gun with basic but adequate laser engraving (game scenes plus neat scroll) and an overall elegance of form.

The silver but not brightly polished Ergal (alloy) action is trunnion hinged with bifurcated lumps, shallow and slightly rounded.

It has simple, flat action walls without raised panels. The top of the action is plain and simply shaped.

The top lever is longer than average (offering good leverage) and the safety catch is quite small, non-automatic and a little lacking in purchase.

The 28in barrels are monobloc, 3in chambered and fleurs-de-lis steel-shot proofed.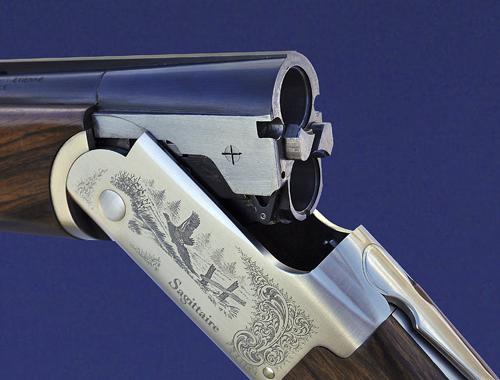 They are well presented, with multi-chokes (four supplied). The blacking is competent, even and deep, but not overly glossy.

The hammer-forged tubes are 15.8mm in internal diameter, near the industry standard.

They are straight and free of blemish internally. There are solid joining ribs and a narrow – 7mm – ventilated top rib finished with a fluorescent-red rod foresight at muzzles.

All pass muster.

The woodwork is well presented. It is fairly simple in form, like the rest of the gun.

The walnut has slight figure, there is an open-radius pistol grip, not too large and pleasing because it is even in depth.




The comb is not overly thick and there is a black plastic butt plate.

The fore-end is of field pattern with even depth and parallel sides.

There is a sliding release latch underneath as seen on many Italian guns.

As far as measurements are concerned, the comb is quite low but this may suit walked-up shooting.

Any low-combed gun, however, when raised above 45 degrees, as is routine in driven shooting, may cause the wrong eye to take over.

I thought the shape of the butt plate might have been improved a little to prevent slipping.

But I did not dislike the stock; the chequering was a little coarse but practical. The overall form was acceptable and I especially liked the fore-end and grip.

TECHNICAL DATA
The Sagittaire was first introduced in the early Sixties in steel, 12-bore form.

The 20-bore, alloy-actioned version is more recent, though Verney Carron has been using alloy for some guns since 1985.

The interesting thing about the Sagittaire, apart from the trunnion hinging and a locking arrangement in which conical bolts mate with bites either side of the top chamber mouth, is that the design offers in-line firing pins for better lock time and increased mechanical efficiency.

The gun is powered by coil springs and has an operating mechanism not much like any other I have encountered.

This Sagittaire boasts a single, non-selective, recoil-activated trigger although the home market prefers a double trigger (a special-order option).

And Verney Carron makes a most interesting variation with a double-trigger firing sequence; it may be used as a conventional double or with both triggers acting as a single-trigger gun, with either trigger firing both barrels, the barrel sequence changing according to whether the front or rear trigger is pulled first.

SHOOTING IMPRESSIONS
I was surprised by how well this featherweight Sagittaire shot. It was fast-handling, balanced near the hinge pin and soft in recoil considering its lack of mass.

The French shoot driven game as we do but walking-up is far more common, and the woodcock is a national sporting and culinary obsession (although other bird species are walked-up as well as rabbits and hares).

This would be an ideal tool for such outings.

It would also suit walking on a Scottish moor or any situation when one does not want to be over-burdened.

For a smaller-bag pigeon day it would be useful, too.

With the right cartridge, it would be a good choice for young shots and women.

I liked its handling and shooting qualities; the only significant changes I would make would be to raise the stock slightly and make the butt sole more concave.

It offers value for money as well as something a little different.

Verney Carron Sagittaire shotgun
£1,495

Tel: Garlands 01827 383300

www.garlands.uk.com



Gun reviews: Verney Carron Sagittaire shotgun.