Gun reviews: William & Son 16-bore shotgun
This month's gun is a single-trigger, assisted-opening side-by-side from William & Son of Mount Street, Mayfair.

It is distinguished not just by its lone trigger and assisted-opening mechanism but by outstanding floral engraving (the work of Peter Cusack), a semi-pistol
grip stock hewn from a Turkish walnut blank and fashionable, 30in barrels.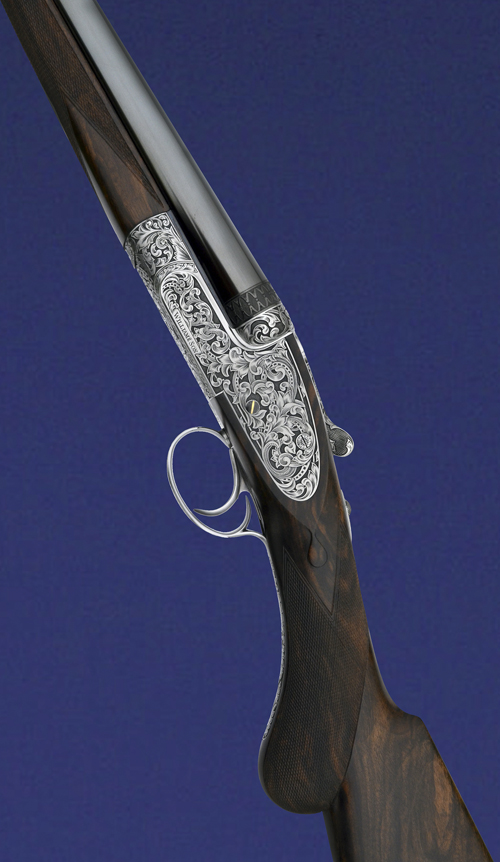 Another interesting element to the specification is that it is a 16-bore.

It is also the first 30in-barrelled 16-bore made by the firm since setting up shop in 2000 (when William Asprey moved from running the gun department of Asprey in Bond Street to create this new firm).

As far as first impressions are concerned, I have rather given the game away.

This is an extremely elegant-looking sporting gun and one would be hard pressed to criticise it aesthetically.

Weighing just under 6.1⁄2lb, near ideal for a 30in 16-bore – it looks particularly well proportioned and feels willing in the hands, too.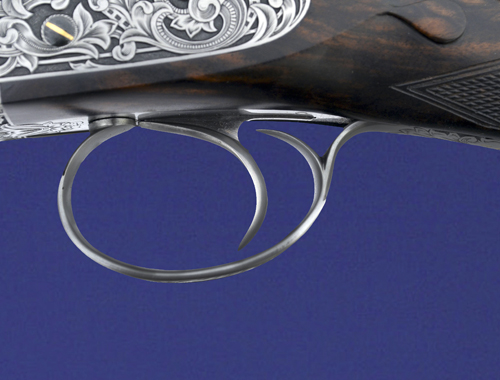 The longer barrels ensure controllability (it's not too lively) and give it a very pointable quality.

The sidelock action puts weight in the middle of the gun, where it is needed to create good dynamic handling. The balance is near the hinge pin.

This is not cheap at £52,500, but one would find it hard to fault the quality, form and attention to finish.

The usual William & Son outworkers put the gun together, all masters of their respective crafts: Mark Sullivan and John Craven actioning; barrels by Mick Kelly (using Microfinish chopper-lump tubes); finish by Colin Orchard with Johnson's London black on the barrels.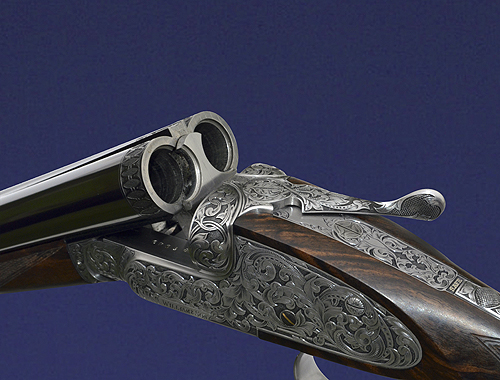 You can't get better.

The project was overseen by Paul West, William & Son's gunroom manager, himself an accomplished gunmaker.

West says of the evolution of the William & Son side-by-side, "We wanted to create a classic game-gun but one which was distinct.

We began with a traditional London intercepting-sear sidelock action and reshaped the body, saving a little weight but maintaining strength and improving handling qualities."

"We wanted to make it look a little different and as elegant as possible.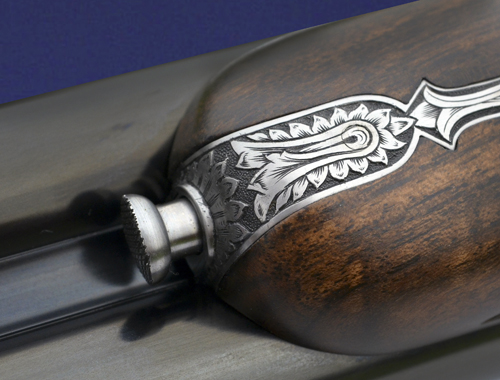 The artisans are among the most experienced in the country, each with a reputation of mastery in his field."

As far as form and looks are concerned, this gun is close to my ideal.

The bold engraving is both beautiful and practical. Stippled, photo-like bulino is far less hard wearing.

The gold-line cocking indicators are a refined touch, and 'SAFE' is inlaid in gold letters in front of the button-type sliding safety.

The chopper-lump barrels are 2.3⁄4in chambered and bear London proofmarks.

With fixed chokes of half and half, the gun would be compatible with standard steel shot.

The barrels measure just over 30 thou for wall thickness and 662 for internal bore diameter.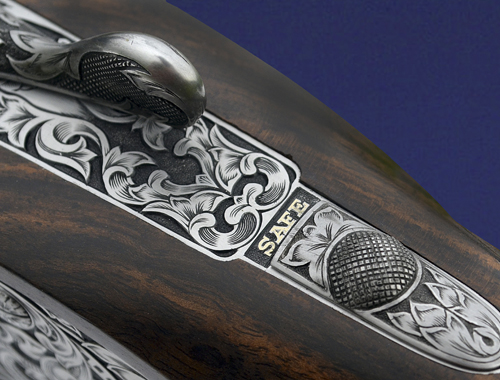 The sighting rib is of the classic concave type with the William & Son name neatly inlaid in gold.

The stock is well conceived.
I am fond of semi-pistol grips and have them on all my game-guns.

This grip allows for improved control with a single trigger and better recovery between shots.

It does not cramp the hand (as a full pistol does) when one is waiting in the ready position with muzzles raised.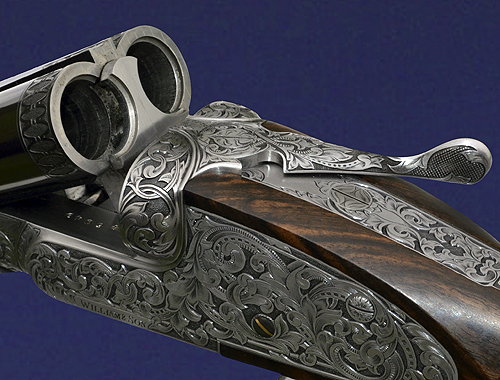 The excellent butt is complemented by a traditional English splinter fore-end.

All the wood is oil finished to a high standard and chequered with diamonds at 22 to the inch.

TECHNICAL DATA
The intercepting-safety-sear action is not novel but it is first class.

The gun is notable for an action bar that is narrower and less deep than most.

It is not as rounded as some on the base and achieves an excellent strength-to-weight ratio.

There are other refinements, a spring-plunger-assisted opening system and a mechanical single trigger among them.

The trigger is non-selective and works on a so-called three-pull system.

After the first shot a swinging device is activated, which pulls a slide off the right sear allowing it to move forward.

This makes contact with a bridge on the trigger plate, which catches the slide and acts as a break to block the involuntary pull before connecting with the left-hand lock sear.

Ejector work is British-best Southgate operating on an over-centre cam principle.

SHOOTING IMPRESSIONS
I have shot about 10 William & Son guns in 12 and 20-bore. None has disappointed, nor did this 16-bore.

The fairly light-weight and good balance, with plenty of central mass and longish barrels, made it extremely user friendly.

I put both 1.5⁄16oz and 1oz loads through it (I tend to use 1oz payloads in the main in my old 16-bore hammergun but find there is significant difference in felt recoil between cartridge brands).

Good actioning, barrelling, stock shapes and sensible but not excessive weight ensured that felt recoil was not excessive here.

The mechanical single trigger was crisp and reliable.

The semi-pistol grip allowed good control.

In simple terms, this is a well-proportioned, well-sorted gun – a superb and elegant example of the best in modern British gunmaking.

William & Son 16-bore shotgun
From £52,500 plus VAT

www.williamandson.com