William Powell Perseus 20-bore shotgun review
Gun reviews: William Powell Perseus 20-bore shotgun.

All these guns have mythological names and all also share the same maker: Italian firm Battista Rizzini.
Recently, many English gunmakers have imported European-made guns and sold them under their own, perhaps more desirable names.
HOW MUCH?

Where this latest gun stands out is in its low pricing – at £1,795 for either a 20 or 12-bore with 28" or 30" barrels and three-inch magnum proof chambers, it is Powell's cheapest by some margin.
The nearest Powell to the Perseus is the Marquis side-by-side sidelock ejector at £3,250, while the maker's other over-unders – the Phoenix and Pegasus – cost £5,450 and £10,750 respectively.
Indeed, the company itself calls the Perseus its "entry level" gun, noting it has been built with "value for money" in mind.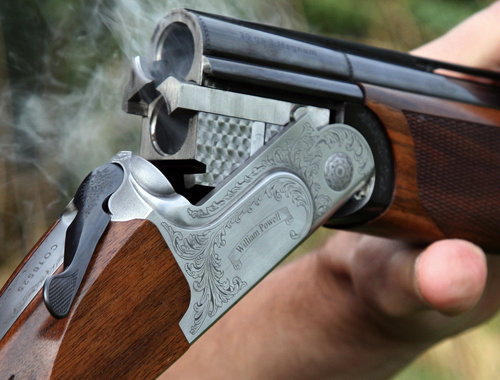 At first glance this off-the-shelf gun is an attractive proposition – good looking and ideal for game or clays.
However it is competing in a crowded market against popular guns from the likes of Beretta, Browning and Miroku.
From a distance, the 20-bore has elegant lines thanks to the shallow Italian-style action, a lovely rounded pistol grip and deep blacking on the barrels.
This is carried over to the top lever, safety catch and trigger guard, housing a simple steel trigger.
A CLOSER LOOK

The subtle foliate engraving on the action body is backed up by the maker's name in a banner on each side and an attractive woodcock on the bottom of the action.
From a few feet, you might question how Powell can afford to sell a gun this pretty at such a price.
However, from close up it becomes clear that the engraving is shallow, the laser etching making it look almost like a pencil drawing.
All guns come with five multichokes, covering 1/4, 1/2, 3/4, full and cylinder, plus a 1/2" unfinished butt plate should the gun need extending, and a five-year warranty from Powell.
The company also offers a range of extras, including "exhibition grade" walnut, solid silver or gold ovals for engraved initials, stock alterations and steel shot proofing.
However, disappointingly, the Perseus does not come with a case of any kind.
This is a fine gun to look at and use. For a good price you are getting a reliable Rizzini, but with individual appeal thanks to English design sensibilities.
It handles well, is fun to shoot with and will look good from your neighbour's peg.
IN THE FIELD

The weight is well distributed, being just forward of the hinge pin, so the gun comes to the shoulder nicely and swings well, and was a real pleasure to shoot.
The rounded pistol grip felt superb, and trigger pulls were crisp.
Recoil was unobtrusive, and muzzle flip was well handled.
All three sportsmen who tried it at Grange Farm Shooting School, near Peterborough, agreed it would make a fine companion.
VIEW FROM THE GUN SHOP

Bill Elderkin casts his expert eye over the Perseus.

You should have no problems with reliability. B. Rizzini is an excellent manufacturer and the gun is built on a tried and tested action.
It has the typical Italian ejector system, with the springs behind the extractor providing a good kick.
There are spare strikers, return springs and retaining dowel pins in the box – thoughtful additions.
Stock measurements are good but this gun could be altered easily.
The wood is well finished, with a semi-oiled stock and fore-end.
It will be easy to maintain and durable in wet weather.
The rounded pistol grip is quite elegant, but can be a disadvantage for those with larger hands.
The gun has an auto-safety mechanism – good for game shooting and easy to disable.
The multichokes in these guns are unusually long. Most measure 11/2", but these are almost double that.
This is a welcome feature for game shots, as the longer run-in on the chokes makes for much smoother shooting and more even, consistent patterns.
SCORES

Engineering: Built on a reliable action, this gun shoots well and should cause you no problems 8/10
Handling: Very pointable and a pleasure to shoot 8/10
Looks & finishing: Good first impressions, but disappointing engraving up close 7/10
Fit: Good stock dimensions mean this gun fits well off the shelf 8/10
Value: An attractive price, but this is a competitive market and every penny counts! 8/10
Overall: 39/50

William Powell Perseus 20-bore shotgun
£1,795