Winchester Platinum shotgun review
Winchester Platinum shotgun review.
One thing you rarely get with a mass produced gun is individuality. True, there's often a chance to pick a higher grade model in the make of your choice, or you might be able to go for a better quality stock and fore-end. Both options of course come at an extra cost.

If you should happen to drop on a standard model with more highly figured walnut than usual, then count yourself very lucky indeed!

Of course it wouldn't bother most folk if they turned up on a shoot to find several other people using the same gun as them. But by the same token there are a lot of others who would.

Limited edition is worth it
Much depends on how different you want to be and how much you can spend. For instance a top notch Holland and Holland Royal over-under will most definitely make you stand out from the crowd – but for that privilege you will have to fork out more than £60,000.

If you're firmly stuck in the mass produced bracket, but still hanker after a bit of individuality, then why not hang out for a limited edition shotgun from one of the popular makers?

With possibly just a couple of hundred in a run, the chances of bumping into similar gun are going to be pretty remote. In this respect, Winchester's limited edition Platinum game model might just fit the bill a treat.

While this gun is mechanically the same as its stablemates, the Supreme and Select, it differs quite considerably in the style and quality of its engraving, and woodwork. For a start Winchester has developed a new system of gun engraving, and the result is eye catching, to say the least.

Even though it still amounts to machine etching, the finished product and effect comes extremely close to hand engraving of the highest quality. In effect the Platinum sports a style of finish that is similar to many of the better Italian engravers.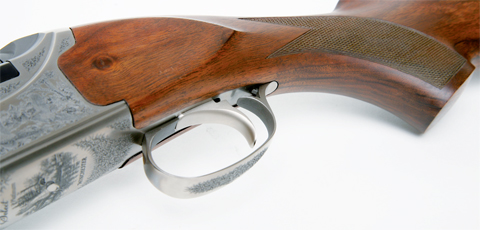 The Winchester platinum has a comfortably shaped trigger blade and crisp pulls with little drag.

On this gun the side panels of the action frame and the belly have been embellished with game scenes enclosed by areas of fine scroll work. The overall effect of this is very good and gives the gun a high class – and distinctive – appearance.

All the engraved areas of the action frame are finished to a silver polish and the fences have been bead blasted to produce a matt colour that not only gives the gun a subtle contrast, but also helps reduce glare from the top of the action frame on bright days. The narrow 6mm ventilated top rib has also been treated to a matt finish for the same reason.

As far as I can make out the Platinum is only offered with 28in barrels which have been chambered for three inch chambers and proofed to cope with steel shot. The makers have also rigged it out with the well know Invector Plus multichoke system.

Good usability
Stock dimensions are pretty standard fare at 14.3/4in pull and drops at comb and heel of 1.1/2in and 2.1/4in respectively. Most shooters will cope with these quite adequately and they shouldn't have too much to complain about either with the 1in deep butt pad. It carries a hard heel insert to ensure there's no snagging when the gun is mounted into the shoulder pocket.

Happy to say the wood on the test gun carried a good colour along with a fair amount of figure.

A noticeable feature of this gun is the action frame has a tendency to be a little bulky and the makers have done some work over the years to make it slimmer and lighter. This has clearly worked because the gun isn't too heavy at just over 7lb, yet the gun does have a big look to it.

What is a little odd is that the makers have fitted a manual safety to this game gun when an auto version would've been better. Each gun comes supplied with three choke tubes and an ABS travel case.

JASON'S VERDICT:
The Platinum is built to the same mechanical design as the Winchester Select, a gun that's been in production for a number of years now and proved its reliability. I can't remember ever having had to work on one at my own bench; general consensus is that this gun suffers no major faults or common problems.

Build quality: 8

Handling: 7

Styling: 9

Value for money: 8

UK SALES: 01235 514550