Yildiz single-barrel folding .410 shotgun review
Yildiz single-barrel folding .410 shotgun
Overall Rating: 83%
Price as reviewed: £179
The package was suspiciously light — empty, I thought. Someone must have made a mistake.
Yet nestled inside was this dinky little .410 shotgun that bore remarkable similarities to those old guns I had been brought up with as a boy.
In those days, most of us started off with a worn and asthmatic BSA/Lincoln Jefferies air rifle before progressing to a battered and shaky single-barrel .410, often of Belgian origin, and from then on to something bigger and eventually a double-barrelled gun.
Now here I was, more than half a century later, about to go out and test a single-barrel .410 exhibiting a newness I would never have even dreamed of all those years ago.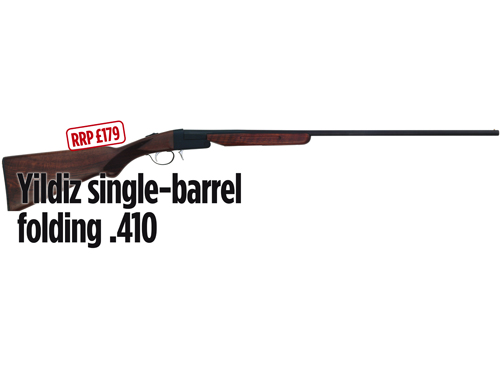 Not only that, but I would have thought this type of simple little gun was nearly extinct.
In fact, sales are on the up. Is this something to do with recapturing memories of youth, or is it really a practical gun?
A LEGGY LOOK
The Yildiz .410 has a distinctly leggy look, thanks to the nominally 28in slim barrel fixed to a suitably sized action body.
Only the butt of the stock, being fairly deep and wide for a gun of this size, gives any impression of real substance.
As for weight, it comes in at not much more than a bag of sugar, so carrying it around all day would never be a problem.
Of course, handling cannot be judged in the same manner you would a larger, heavier gun, and even though the balance point on this gun is just about 0.75in in front of the trigger guard, it makes little difference to its wand-like characteristics.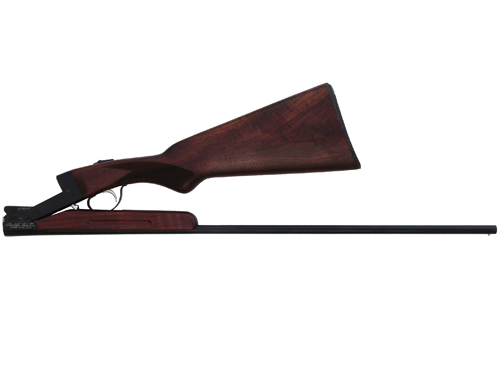 Being so light, there is no real indication that this gun is actually butt-heavy; in other words, it does not matter.
GOOD WALNUT
The stock, with its simple semi-pistol grip, laser-cut chequering and plastic heel-plate, is conventional, while the quality of the walnut is amazingly good for an economy gun.
In fact, nature's patterns in the stock of this particular gun would not have disgraced a good British boxlock side-by-side.
The fore-end is of similar quality, but designed with a slot to accommodate, when folded, the trigger-guard and opening lever.
This results in a more square and functional shape, somewhat in contrast to the flowing lines of the stock.
It is, though, a good compromise as the other alternative would be a tiny short fore-end that would be quite decorative but of little practical use.
SIMPLICITY ITSELF
The operation of this gun is quite simple and in some respects similar to the BSA Single XII of the 1950s as well as various Continental imitations.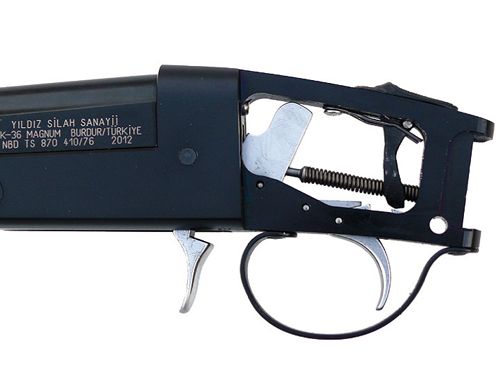 Opening is effected by pulling back a trigger-shaped lever in front of the trigger-guard.
This also acts as the locking bolt, with a V-shaped protrusion engaging directly into the single bite in the extractor housing below the barrel.
This opening lever-cum-bolt is pivoted on a large-diameter pin through the action body and powered by a helical spring visible through the cutaway in the action body bar.
Using the opening lever also manually cocks the internal hammer, so with two springs (including the mainspring) to compress, it is a little stiff to operate.
As for the lockwork, that is simplicity itself; the main parts being hammer, sear, trigger, mainspring and safety.
A COMPACT ARRANGEMENT
While the action body is aluminium alloy, the standing breech is fitted with a screw-in steel disc which is larger than the head of the cartridge; a neat extension of the disc-set striker.
Fully hinged guns, where the fore-end plays no part in holding it together, have a cross-pin (that the barrel pivots upon) through both the action bar and lump under the barrel.
The old method of accommodating this was to have a large diameter screw-pin.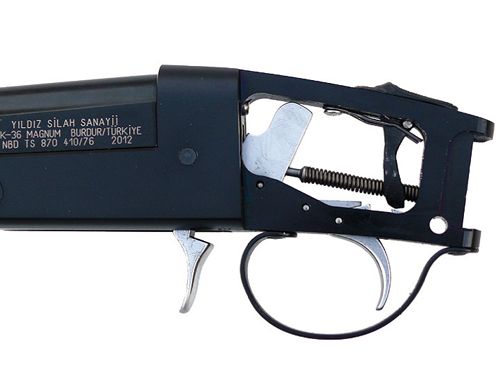 This Yildiz has a much better arrangement with a push-in cross-pin retained by opposing screw-pins.
For its part, the fore-end fixing follows the old way of doing things, with a single screw-pin engaging with a lug under the barrel.
Folding the gun is just a continuation of opening, as there is, in the absence of a conventional fore-end iron, no stop in the "broken to load" position.
So, it folds right around until the angled fore-end wood is almost in contact with the bottom of the action bar and the opening lever and trigger-guard slot neatly into the cut-out designed for this purpose.
It does not fold down quite as tight as those guns of old, but still makes for a compact arrangement.
ON TEST
On test, the non-auto safety button fell nicely to hand and the trigger-pull proved to be a commendably crisp 4.5lb.
Shooting it, I found I tended to hit just a bit low and had consciously to give the target a fair bit of foresight bead to put the pattern in the ideal place.
One thing to bear in mind is that, at a length of pull of 13.75in, this is really a junior stock length and I feel sure a youngster would have shot better, simply because the gun would fit better.
Cartridges used included the Eley Fourten (2in), Fourlong (2.5in) and Extra Long (3in Magnum), also Lyalvale 2.5in and 3in cartridges with 14g and 16g loads respectively.
The best patterns with these cartridges were achieved at 22 yards, though 25 yards was still a practical killing distance.
At 30 yards the pattern was starting to open out to the extent it would not be that reliable against small game for consistent humane kills.
Still, this is not at all bad when one considers the recommended distance for clean kills with the old 2in cartridge was 15 yards and to get that close takes some doing unless a rabbit is flushed out almost under one's feet.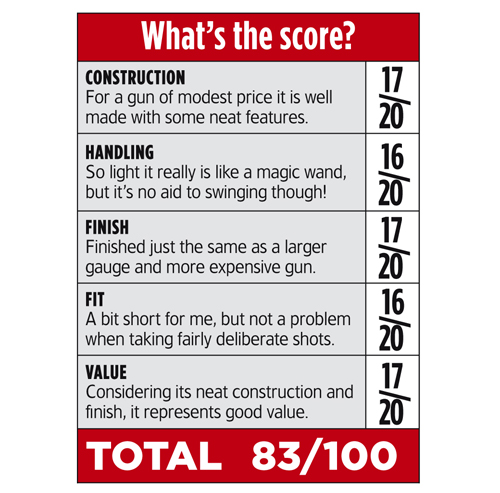 CONCLUSION
A gun like this is in its own niche. It is a workhorse, albeit more of a pit pony than a shire.
It is a suitable first gun for a youngster, being light, handy and simple to operate.
For me it evoked memories of yesteryear and, even though it will never be 1959 again, it was still fun, even if I found my skills at sneaking up on rabbits were not quite what they used to be.
However, on a foray out squirrelling on a sunny woodland bank it proved its worth.
As something ultra-light and fast, it is ideal for this sort of sport.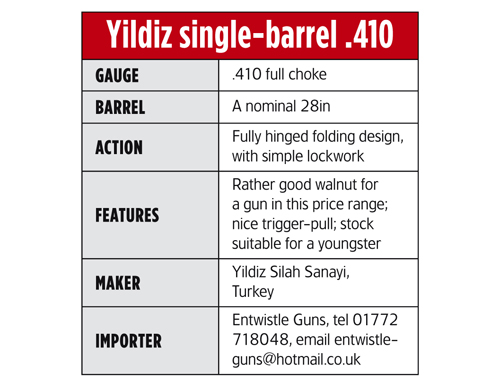 Yildiz single-barrel folding .410 shotgun
£179