The best telescopic sights: scoping out a bargain
Mat Manning tests three mid-priced telescopic sights that strike the right balance between affordability and dependable performance
You don't have to bankrupt yourself to own decent telescopic sights. Modern production processes mean that a comparatively modest outlay will now buy you an optic that would have been considered as high-end glass not so long ago. The three sub-£500 telescopic sights in this round- up are extremely versatile and built to cover a variety of rimfire and centrefire applications. Particularly suited to rabbit and fox control, they all have adjustable parallaxes that can focus down to very close range, so are also an option for serious airgun shooters who want to pair their rifle with a quality optic. (You might also like to look at our list of the best airgun pellets.)
Three of the best telescopic sights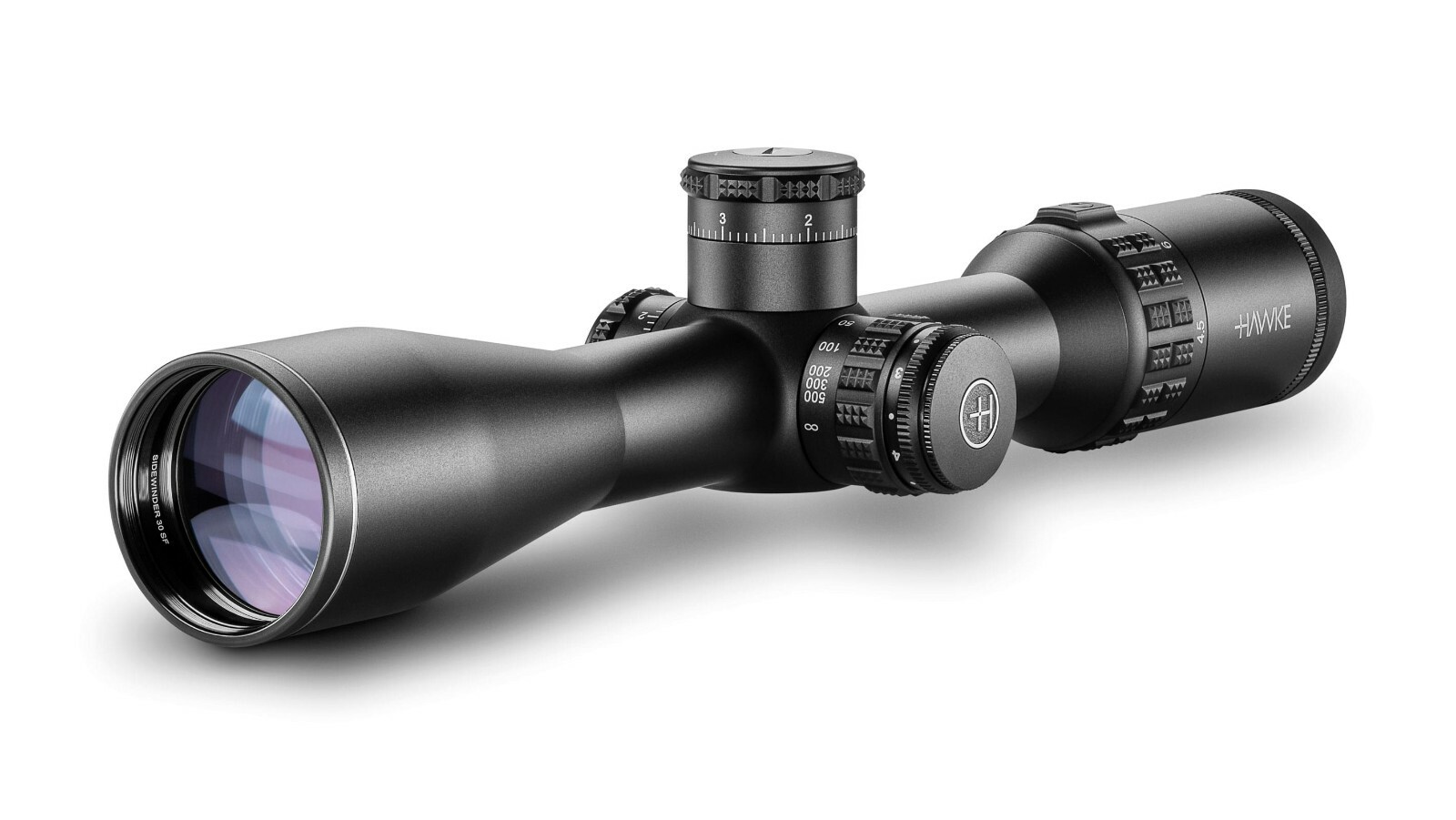 Rating 9/10
Made from high-quality aluminium with a monotube chassis, the Sidewinder has a 30mm tube. Combined with quality crown glass and Hawke's 18-layer lens-coating process, it delivers good light transmission and a sight picture that remains crisp right to the edges.
I had no quibbles with the optical quality of the 44mm objective lens model, but 50mm and 56mm versions are also available. Most shooting scenarios are covered by the 4.5x to 14x zoom scale. I found full magnification sufficient for nailing long-range rabbits off a bipod, but 24x and 32x models are available if you want to really crank it up.
At 34cm long and tipping the scales at 680g, this model can't be described as compact, but it's not unwieldy and still looks and feels at home on smaller, lighter rifles. This robust scope is made for proper field use and is waterproof, fogproof and shockproof-rated for all calibres.
The exposed locking windage and elevation turrets pull up to make tool-free adjustments and turn with distinct clicks, each one amounting to 1/10 MRAD. Full adjustment range is 28 MRAD and the elevation turret has a witness window, so you know which rotation it's on when making larger adjustments.
The second focal plane review scope features Hawke's 10x half-mil reticle, which has accurate half-mil spacings on 10x magnification. It offers plenty of aiming points without looking too busy and its main central element can be illuminated red in six levels of brightness via the outer dial on the left turret. The inner dial adjusts parallax and focuses down to 9m.
Supplied with battery for illuminated reticle, oversize parallax wheel, zoom-ring throw lever, screw-on sunshade, lens covers and lens cloth.
Summary: The Sidewinder packs impressive optical performance and a host of useful features into a very handsome package, and does it at a price that's within the reach of most shooters.
Rating: 8.5/10
Element Optics is a fairly new face on the gunsight scene, but these scopes have some impressive pedigree. They have been designed with input from Johan Axelsson and long-range supremo Matt Dubber. Though they have gained a strong following among the airgun community, these optics are also well suited to powder burners.
This second focal plane model weighs a solid 730g and is 36cm long. Made from aircraft-grade aluminium, it feels like it should stand up to unforgiving use and is shockproof, waterproof and nitrogen-purged to stop it fogging up in the wet.
Image quality and light transmission are very good for the price point. This optic features a 30mm tube and multi-coated lenses, and its performance in a wide range of light conditions suggests that there's some decent glass in there. I used it to tackle grey squirrels that were raiding pheasant feeders and was able to shoot well into dusk without losing sight of the fidgety little rodents.
A zoom range of 6x to 24x offers versatility, with plenty of magnification for long-range work. The left turret serves as an easy-access side parallax wheel, focusing down to 10m and out to infinity. The tool-free windage and elevation turrets are not covered or push-lock, but have sufficient torque to prevent accidental adjustment. Both are resettable and feature stainless steel internals and rotation scale indicators. Each click makes 1/10 MRAD adjustment and both turrets have a full range of 18.9 MRAD.
This model has Element's APR 1-C MRAD reticle, which is easy to read and offers numerous aim points that are properly calibrated to correspond with the click value of the windage and elevation turrets. The elevation turret is quite tall and could get in the way if used with a scope-mounted lamp or night-vision converter.
Supplied with lens covers, lens cloth, screw-in sunshade and screw-in throw lever for zoom dial.
Summary: A lot of thought has gone into the Helix design and construction, and it shows. This is a quality piece of kit with performance and features that exceed its asking price.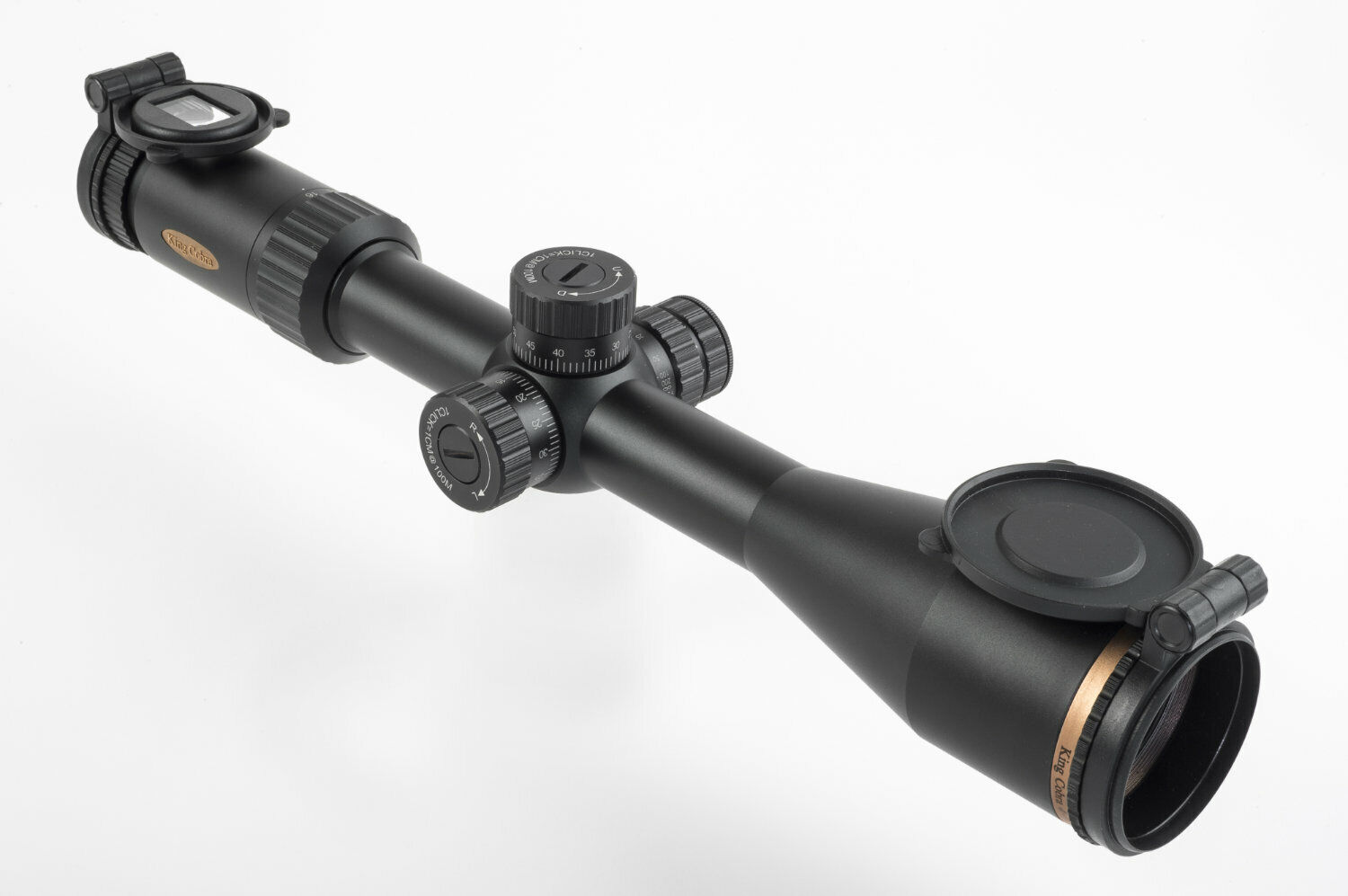 Rating 8.5/10
The most affordable in this round-up, the latest offering from MTC's King Cobra range, is also the most blingy, with copper-coloured embellishments on the objective bell, parallax wheel and ocular bell.
Weighing in at 750g, 36cm in length and built with a 30mm tube, the second focal plane King Cobra is waterproof, fogproof and shockproof. MTC's lens coatings are apparent in the green hue of the 50mm objective lens, which really sucks in the light. The crisp sight picture's edge-to-edge clarity confirms there is no skimping on glass quality.
The 4-16x zoom range should cover all but extreme long-range work. The parallax dial on the inside of the left turret turns smoothly, but with plenty of torque to prevent it drifting, from 10m to infinity. The outer dial controls the red illumination of the crosshair's central element, giving six levels of brightness. I don't usually view an illuminated reticle as essential, but it was useful for keeping a clear aimpoint when targeting rabbits in the fading light.
Windage and elevation turrets adjust point of impact by 1cm at 100m with each very distinct click. They pull up for tool-free adjustment, snap down to lock in position and can be loosened with a coin to reset the scale to zero.
This robust scope features MTC's excellent glass-etched SCB (small calibre ballistic) reticle, which is very easy to use. Multiple aim points facilitate precise aim-off for wind and drop. Fine elements make for precise shot placement.
Supplied with battery for illuminated reticle, lens cloth and screw-on magnetic flip-up lens covers.
Summary: Copper-coloured trim makes the King Cobra stand out from the crowd, but it boasts an excellent reticle and good glass.
In conclusion
This test of telescopic sights was a remarkably close call and the final choice for potential buyers will ultimately hinge on personal taste. All three telescopic sights can cut it in the field and should give good service to shooters who want decent optics without having to spend a small fortune. For me, the Hawke Sidewinder just about pips it. It costs a little more than the other contenders, but, when it comes to design, performance, build quality and affordability, it really is the complete package. The Helix from Element Optics is also a great optic for its price point and there is no evidence of any corner-cutting in its construction or optical quality. Though it's the most affordable scope, there is nothing cheap about the MTC King Cobra. Its performance is spot on, its copper trim makes it distinctive and its price tag will make it very appealing to a lot of shooters. (You might also like to read our list of best airgun scopes.)