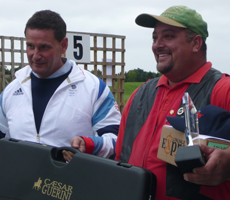 Yes of course you can!
It's only a few days to go until this year's exciting 75-bird English Sporting Clubman Championship!
Once again it will take place at the Midland Game Fair, Weston Park, Shropshire from 14 – 15 September.
Now in its 31st year, it is open to anyone who is 'B' Class and below or unclassified and you could be beaming like last year's Clubman Champion in the picture (with Kevin Gill from Anglo Italian Arms).
To encourage more youngsters try their luck at competitive clay shooting we dropped the entry fee for Juniors under 18 to only £10. The entry fee for all other competitors is still only £25. Payment in cash only on the day.
So come and join the fun! With a huge prize fund and fantastic prizes up for grabs, including Caesar Guerini and Fabarm guns, thousands of Lyalvale Express cartridges, Promatic traps, Musto clothing and cash prizes donated by the CPSA, make sure you enter this exciting event.
Opening times:
Saturday, 14 September: 9am – 3pm
Sunday, 15 September: 9am – 2pm; nail-biting shoot-off for top individuals and 4-man teams at approx. 3:30pm
For full details go to http://www.sportinggun.co.uk/clubmancomp/538928/Sporting_Gun_Clubman_Championship_2013.html
We hope to see you there!