The Blue Bell Inn's owner, Jarrod Fisher, loves champagne so much he has an impressive collection of bubbly boxes fixed to the beamed ceiling in his bar – and why not share your passion with others? Here is an innkeeper with an eye for eccentric detail that guests can relate to, appreciate and discuss, be it the giant glass jug full of champagne corks, a typewriter above the front door or a pair of Purdey gunslips left by a previous visitor. Do not be fooled into thinking this inn doubles as a clumsy curiosity shop, though.


During our visit to the Blue Bell Inn guns ate in the traditional dining room at the front of the building.

An inn has existed on this site in one form or another since way back in 1897, and the current inn was a forgotten fixture of the village of Weaverthorpe before Jarrod moved his family over from North Dalton in the late 1990s. Since then, the Fishers have moved the establishment into the 21st century and broadened its appeal to cater for shooting parties

The Blue Bell Inn knows how to wow sporting visitors

Prior to a night's stay, I dined along with other shooting guests in what was once an old poolroom at the front of the inn, not that you would know given the neat layout and pristine champagne menus peering down from the ceiling onto the dining table. Connoisseurs may find their dinner is taken away untouched given the amount of paraphernalia on show – there are champagne bottles everywhere – and if that wasn't enough there are around 70 wine bins to browse through.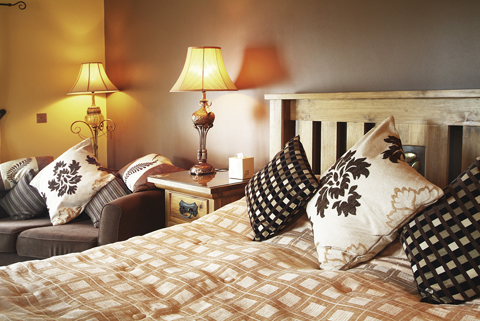 The Champagne Rooms at the Blue Bell Inn have a modern rural charm all of their own.

The Fishers bought neighbouring land around six years ago in order to build six Champagne Rooms over two storeys (Veuve Clicquot, Bollinger, Laurent Perrier, Pol Roger, Krug and Dom Pérignon) to compliment the six en-suite rooms at the inn. Each of the Champagne Rooms has a rustic holiday cottage feel. Sporting guests staying on warmer evenings in August and September can unwind on the private patio furniture outside.

Most importantly, the Blue Bell Inn knows and understands the needs of the sporting visitor. Gun cabinets are available on site, dogs are welcome and head chef Leanne, whose menus are Yorkshire-sourced as much as possible, will even prepare an elevenses for the field on request. Even if guns are not staying overnight they can still make use of the two private dining rooms, the other of which, the very swish Laurent Perrier room, has ice buckets embedded into the table.

What we ate at the Blue Bell Inn: An individual shoulder of lamb joint on minted mash with a mint and rosemary jus, and a jam sponge for pudding.

Blue Bell Inn plus points: A lot of work has gone into making sure the inn attracts sporting visitors without alienating the locals. My room, the Dom Pérignon, could have been miles from anywhere given the peace and quiet I enjoyed come bedtime. The generous pre-shoot bacon rolls and coffee set me up nicely for the sporting day ahead, while the post-shoot meal hit the spot so well I didn't have room for anything come the evening.

Blue Bell Inn drawbacks: There are no landlines in the rooms.

Shoots near to the Blue Bell Inn: Warter Priory.

Blue Bell Inn cost: From £79.50

Blue Bell Inn contact: www.bluebellweaverthorpe.com or 01944 738204.

For more sporting hotel reviews from Shooting Gazette click here