Biddick Hall, County Durham
Set in the stunning grounds of Lambton Estate, Biddick (pictured) is the private shoot lodge of the Earl of Durham, writes Rob Fenwick. It is one of the most amazing houses where the rooms, service, food and setting all equally impress. What makes it even more special is the team and how friendly they are. It is like the last of the Edwardian shoots and is the sort of house where the answer is "yes" no matter how demanding the request. I am talking hot water bottles in the bed, cars started in the morning and defrosted (with seat heaters on) and guns cleaned on arrival (let alone after a shoot). The food is to die for with the most stunning wines and, of course, the cheeky butler!
………………………………
Eshott Hall, Northumberland
Any sportsman heading to Northumberland to shoot or fish, or indeed anyone simply passing through looking for a place to stay, need look no further that this resting place between Morpeth and Alnwick. Even though it's just one mile from the A1, this beautiful hotel and nearby village seem to have been untouched by the less pleasant aspects of the march of time. Available for exclusive use, it's perfect for a team of guns, with 11 luxurious individually-styled en-suite bedrooms. Add to this the skills of head chef Chris Wood in the kitchen and you have all the ingredients of a memorable stay.
www.eshotthall.co.uk
………………………………
Bettws Hall, Powys
The Bettws Hall shooting operation is owned by Gwyn and Ann Evans and they run some of the best high bird shoots in the country, including Vaynor Park, Kempton and The Brigands. So it should come as no surprise to discover that the accommodation at the headquarters a few miles south of Welshpool offers everything you and your team could want. The lodges here serve the Welsh arm of the Bettws Hall shoots and they tick all the boxes for the shooting party. You could easily lose yourself for a week of wondrous shooting and luxury here, if you have the money!
www.bettwshall.com
………………………………
Tulchan, Moray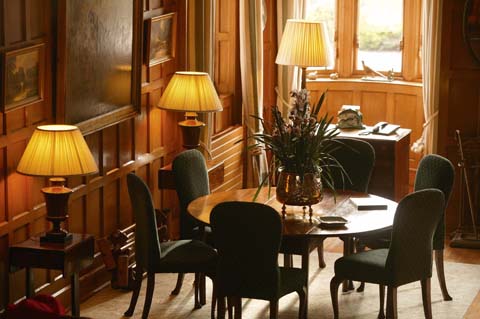 Grand is the word for this magnificent lodge overlooking the Spey, one of the most famous salmon rivers in the world. Built in 1906 and frequented by many of the famous sporting characters of the Edwardian era, it still offers a royal welcome in the 21st century. And the shooting is pretty good too, as the picture shows. The lodge retains its traditional features, which are now combined with the comforts of modern living to provide accommodation for 26 people. With bedrooms bigger than your average aircraft hangar and bathrooms to match there is no shortage of space. A full household staff with resident chef and butler ensure that your every need is catered for.
www.tulchan.com
………………………………
Tarr Farm Inn, Devon
With nine en-suite bedrooms, all with their own gun safes, baths and power showers (with ample hot water!) shoot teams are specifically catered for here in the heart of high bird territory; think Molland, Miltons, Chargot and Castle Hill. And if that's not enough provision for shooters there is also professional in-house massage available to ease those aches and pains after a long day in the field. It almost goes without saying, but dogs are more than welcome, with blankets, bowls and biscuits provided. This is about as far from a Premier Inn as you can get in the world of accommodation.
www.tarrfarm.co.uk
………………………………
Maristow Barton, Devon
Just driven across the country to shoot on a favoured estate the next day? What you seek is a warm welcome, a hot shower, a bit of a drink, a better than decent dinner and a comfortable bed, writes John Walker. If your shoot captain has been intelligent enough to secure the Maristow shoot lodge not many stone's throws from Plymouth, all your boxes will be ticked. Your guns will be whisked to the cellar on arrival and you will be shown to one of the eight individually decorated en-suites. Refreshed and relaxed you will meet your fellow guns with a glass of fizz in their fists and, after enticing nibbles, you will find yourself in the dining room, getting astride some lately demised animal, fettled by the resident chef. You sleep like a baby, awake to breakfast and in minutes you are briefed and away to the first drive. The only downside is that the dog will need to roost in the car. A small price to pay for a top quality shoot lodge.
………………………………
Middleton Lodge, North Yorkshire
Just five minutes from Scotch Corner, and therefore close to an ocean of game shooting opportunities in the surrounding area, the resplendent surroundings of Middleton Lodge are ideal if you want to lord it up – quite literally, as a stay here means hiring out the whole place. This Georgian Palladian mansion, built between 1777 and 1780 by John Carr for the landowning Hartley family, has been in the hands of the Allison family since the 1980s, and they have bought its original character into the 21st century in a stylish and considered fashion. There's so much it has to boast about, from 17 individually-styled en-suite bedrooms and drawing room to the underground cellar bar which can be converted into a cinema if you want to keep things civilised – although that might be difficult given the lodge's links to wine merchant Corney & Barrow.
……………………………..
Loyton, Devon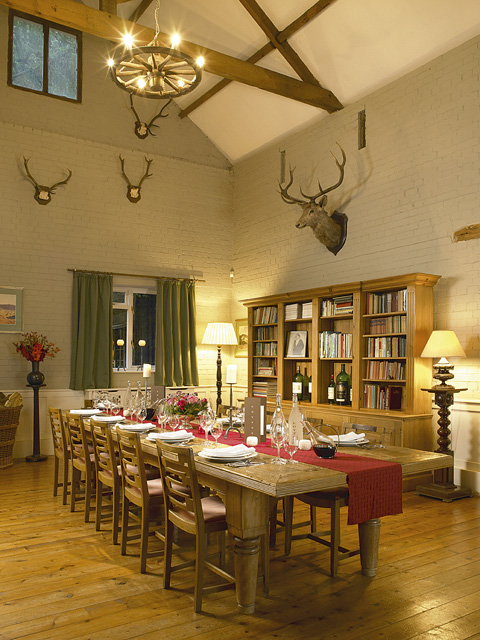 Owners Alick and Sally Barnes have been entertaining here for more than 40 years, but the lodge was fully renovated in 2003. With 10 bedrooms it offers fully-catered, luxurious and exclusive accommodation. And situated so close to Exmoor it's the perfect place to stay if you want to take on some classic high pheasants; Combe Sydenham and Loyton shoots are two brilliant and very convenient options. The boutique-style bedrooms all have private bathrooms and the airy sitting room, billiard room and two boot rooms ensure that shooting teams are well catered for. Dine either in the breakfast room with bar or the double height dining room with a blazing log fire (pictured).
www.loytonlodge.com
………………………………
Moles Cottage, Dorset
This is an eight bedroom self-catering house in the grounds of the Museum Inn in the village of Farnham, Dorset. Both the hotel and Moles Cottage cater specifically for shooting parties, which isn't surprising when you consider that Guy Ritchie's Ashcombe estate is a mere 10-minute drive away, and there is a plethora of other shoots within an easy half an hour drive. You and your team can either enjoy your own catering arrangements or nip across the courtyard to sample the delicious fare on offer in the private dining room in the Museum. It is a picture perfect village and the team here know exactly what shooters need.
www.museuminn.co.uk
………………………………
Linhope, Northumberland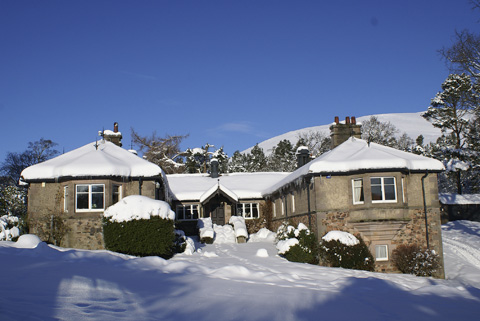 As the road gradually peters out to nothing in the Northumberland wilds your car makes the final ascent to Linhope lodge, which is central to the Linhope shoot run by Lord James Percy, younger brother of the Duke of Northumberland. It was their father who added this land to the family portfolio and what a decision that was. The shoot provides the most testing of high birds, and the lodge provides the luxury you might expect. With a fortress-like gun room, individually-named coat pegs and a steady supply of whichever drink you like, it's hard not to fall in love with Linhope. And that's before you've tried the food!
For more features from Shooting Gazette click here