"What I want is to deliver entertainment for my guests, definitely not stiff collar shooting. This ground is quite flat but on some days and given a bit of breeze off the sea, we show the best birds in Hampshire, and there's no skill in throwing birds off hilltops." So says Nick de Rothschild, one of the third generation of the family to occupy the remarkable Exbury estate and our genial host for a day last season in pursuit of pheasant and partridge on the Hampshire coast. Entertaining it certainly was, for a team of seven family and friends, some of whom have been shooting here for 40 years.

Though the ornamental gardens with their stunning arrays of azaleas, camellias, rhododendrons and, most recently, nerines, are spread over 200 of the 2,400 acre estate, their presence is obvious even to shooting guests, who begin their day in the Five Arrows Gallery in the midst of greenhouses and nursery beds. The five arrows represent the five branches of the original de Rothschild family and the gallery hosts art exhibitions and flower shows. On our visit, as the sun rose to burn off the mist, it was coffee, croissants and pegs that took precedence.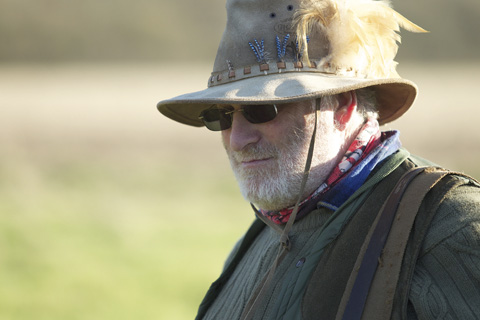 When not tending his world-famous collection of nerines, Nick de Rothschild hosts family days in a relaxed style, born of a lifetime's knowledge of his ground.

SmithsGore manages Exbury and James Reynolds is its current incumbent. Over coffee, he outlined how the estate is set up. "The estate has always been the centre for the local community and provided employment, though the requirements have changed over the years. Having one family in place gives great stability and having the big public throughput for the gardens and steam railway adds a different dimension.

"The estate is run totally commercially and the shoot fits very well into the habitat and environmental management, which includes Higher Level Stewardship schemes. The de Rothschilds have a love of trees and plants, and their continuous improvements to the wetland boundaries and reed management – improving grazing and introducing new scrapes and teal ponds – all go towards returning the traditional landscape, which is very special. This is one of the key elements of land planning here."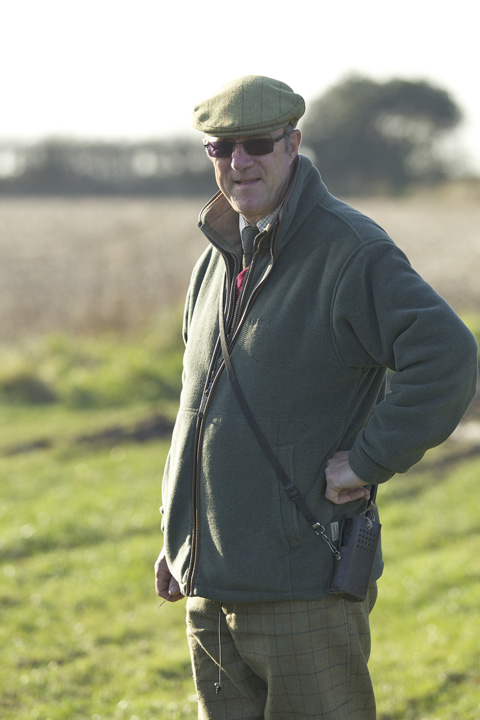 Headkeeper Kevin Callan has been in charge of the shoot for 19 years, helping its improvement with the introduction of American Blue Back pheasants.

The estate is contained within a curve of the Beaulieu River, bordered to the south by the Solent and the east by the Dark Water. As the highest point above sea level is a mere 30 metres, it is the plantations, cover crops, hedgerows and traditional watercourse boundaries that hold and ultimately produce the birds. In Kevin Callan, a bluff Yorkshireman who learned his trade with the Bladons of West Ella and keeper at Exbury for the past 19 years, the estate has a master in the art of delivering such shooting.

A Rothschild shoot day

Our day began on Arboretum. Three guns pegged along a short ride between a tree belt forward and a small copse behind, with two pegs in the copse and one peg in the pastures at either end. After some tempting magpies and jays, those in the ride were presented with rising birds needing brisk snap shooting, the flanks treated to some testing crossers and some that flared out late from the core of the trees, while the back guns mopped up.
Nick quietly mentioned to Andrew Nunnely on No.4 that last time out, his predecessor had taken 34 birds from 38 shots; no pressure, but this did not appear to put him off and a number of well taken pheasant fell.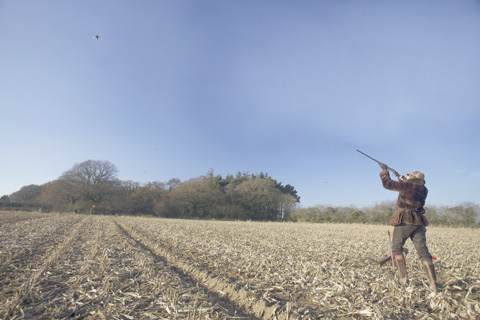 Marie-Louise Agius in action on the maize stubbles at Pophams.

The second drive, Pophams, could not have been more different in its presentation, with guns pegged in an arc at the confluence of three adjoining fields, surrounding but well out from a tongue of old woodland. A steady procession of fat pheasant and fast partridge lifted from the cover.

Enjoying the unseasonable winter sunshine at the break was Nick's niece, Marie-Louise Agius, who had been shooting very tidily all morning, and as Nick pointed out, is one of the next generation of the family to enjoy Exbury. A much sought after landscape designer with an international portfolio, she confided that she is interested in most types of sporting pursuit. A month before, in the space of a week, she had caught a 500lb tiger shark off Bermuda, subsequently tagged and released, and four days later, had been pig sticking in Spain, though the release enjoyed by the pigs was of a more permanent nature.

The break over, the team moved on to Beehives and pegged on old pasture, facing a big hedge with woodland to their backs, but a long way back. As the keeper mentioned, this drive really needed more wind to give of its best. As the beaters brought the birds forward from a copse and flushed them out of the cover crop, some partridge darted forward, followed by pheasant, who made the best of the still conditions. But many birds were quite sensibly ignored by the line.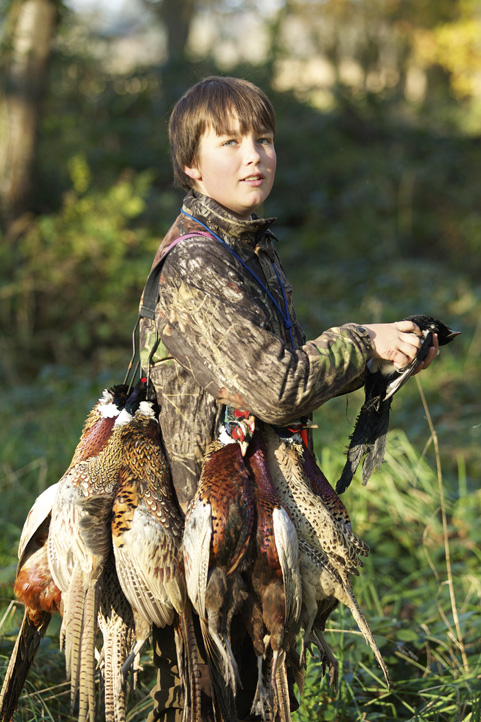 Beating and picking up on Exbury is very much a family affair – many participants have close associations with the estate.

Over lunch back in the Gallery, Nick was able to explain in more detail the topography of the estate and how he and his keeper have developed it in recent years.

"Of the 2,400 acres here, we have about 680 acres of indigenous woodland and a further 250 acres of ornamentals. Conifers are established to the north and east of the ground, while the remainder comprises a mix of mainly oak and some softwoods, with coppiced hazel and bird cherry, all of which were replanted in 1960. We shoot over about 1,600 acres and sow around 50 acres of maize, which gives us our cover. There are two tenant farmers and apart from grazing land, we see wheat, barley, grain maize and rape.

"Our average rainfall of 20-25 inches is quantifiably less than it was in the 1980s and for some perverse reason, we have two inches less than our near neighbour, Beaulieu – a phenomenon we call the 'Exbury Hole', which is engendered by the climatic influence of the Solent and Isle Of Wight. Nonetheless, we live with moisture, being on gravel and clay with a good deal of ground water. This shows itself in a number of ponds and flowing ditches fed by the outfall from natural springs across the estate, with everything draining down towards the Beaulieu River and the mudflats on our foreshore. Exbury used to be called 'the place of springs' and with good reason. We also have a stream valley running across the estate that shows sea trout in season.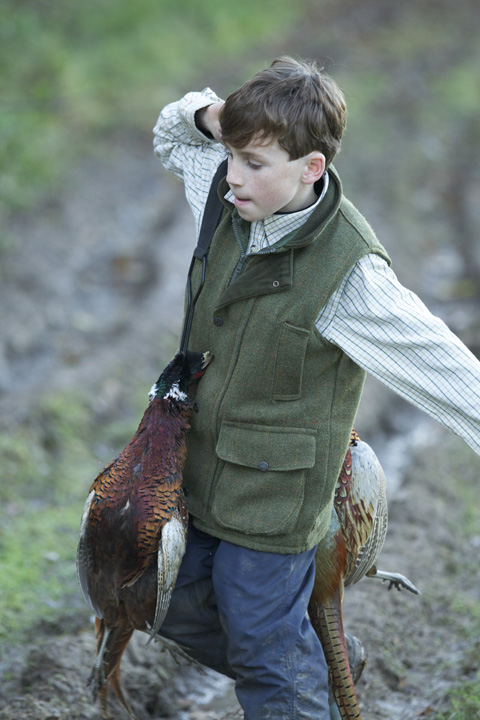 One of Caroline Callan's regular beating team and the littlest picker-up is John Lovell, son of a New Forest Agister.

"We've been extremely fortunate that Kevin Callan has been keepering for us for almost 20 years. He has brought entirely new discipline and revealed unknown depths to our shoot with his knowledge and management. He joined us as underkeeper at a time when the game farm breeding regime was giving us pheasant the size of small turkeys. Within three years he had taken over and at the end of that season we shot every bird on the ground and he started again from scratch, bringing everything in as day-olds. He introduced us to American Blue Back pheasants, 75 per cent pure and 25 per cent first crosses; they show well in our conditions and don't wander too far.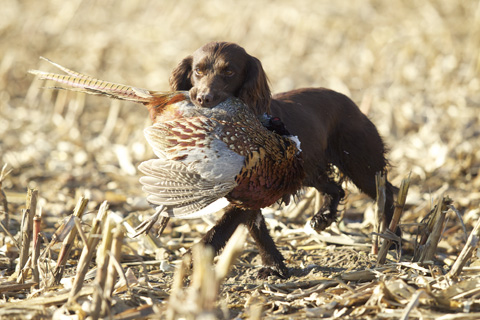 Another hard-won pheasant is added to the bag in the unseasonal winter sunshine.

"We wanted to make more of our partridge so in 2009 we completely refocused and dropped from 40 days per year to 15, as it was just too tiring on people and the ground. Kevin has the balance spot on now with a 50:50 ratio of partridge to pheasant and we get much higher quality birds. Slightly lower returns from the American stock is a small price to pay for the added quality and we have tweaked a few drives to take better advantage."

Fast, furious and fun

By this time the 20 beaters, joined by New Forest Agister's son John Lovell, and including Kevin's wife Caroline– "an indispensable part of the team," confides Nick – together with five pickers-up, all long-time stalwarts of the estate, had decamped to the afternoon drive at Moors.

Here, Marie-Louise on the left flank had some good early shooting before the whole line came into play and, with the shadows lengthening, the gamekeeper turned in a virtuoso performance of putting low ground birds over a gun line at a variety of heights and speeds.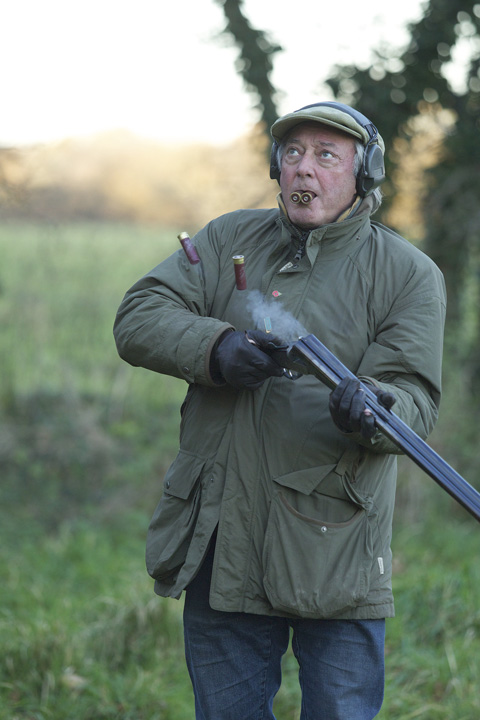 Julian Summer enjoyed a fantastic day on the peg.

The long-term fortunes of the estate are assured in the family's hands and in those of Nick de Rothschild, who loves his shooting and takes a remarkably relaxed approach to his days.

"I know this ground as well as anyone and have shot it for as long as I can remember, but I don't interfere with Kevin's plans or meddle with the days. We have a bit of a reputation for showing days that are fast, furious and fun, and with the house coming into its own and possibly a new shoot lodge, we will be going for high-end catering and a wider clientele for next season.

"We don't profess to be a high-bird shoot but the thing about Exbury is that while our birds may not be the highest, you need to learn where to take them and if the wind blows, well they are something else." I have seen them, and they are.

From the Domesday Book to naval service in the Second World War as HMS Mastadon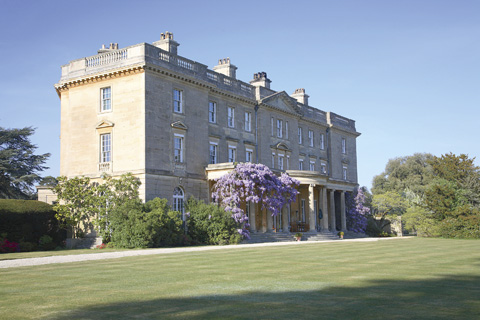 The Grade II listed Exbury House has been completely renovated and reconfigured and will be offering overnight accommodation/dining packages to shooting parties from next season.

Recorded in the Domesday Book of 1086, home to Bolla and Wolfgeat, Exbury was later shaped from heathland, mires, pastures and woodlands, and is one of the five great estates occupying waterfrontage between the Manor of Cadland on Southampton Water to the east, past Beaulieu to Sowley and Pylewell on the Lymington River to the west.

It came to prominence after 1718, when it was acquired by William Mitford, who derived income from sheep, salt and, later, bricks, whose soft yellow colour dominates the architecture of the village he began building.
Two generations on, his grandson, also William, modified some original avenues that had radiated out from the main house. He planted the Ladies Walk to the waterside and the Gentleman's Ride, whose course is now followed by the road into the village and 'at each curve of which, a gentleman on horseback could see a delightful view of the Isle of Wight, framed by trees of distinction.'

It was the Mitfords who originally laid out the woodlands and tree belts and later, Henry Mitford who began to shoot pheasant here. But in 1880 he was appointed Britain's Ambassador to Japan and sold the estate to John (later Lord) Forster, brother-in-law to Lord Montagu of Beaulieu. In 1911, Lionel de Rothschild had acquired the smaller and neighbouring parcel of land surrounding Inchmery House, as much to be close to Lord Montagu, with whom he shared a passion for speed on land and sea, but on Forster's appointment as Ambassador to Australia in 1919, the de Rothschilds became owners of Exbury.

Under the family's auspices, the house has undergone a number of structural and cosmetic improvements since 1922, commensurate with its Grade II listing. But as Nick de Rothschild is happy to point out, though largely derelict since the end of the Second World War when the Navy had requisitioned it as HMS Mastadon, it is now being completely renovated and reconfigured to offer modern accommodation and catering for shooting parties. It will be fully operational in that role in the 2013-14 season. Whilst his home syndicate shoots on 10 days a season, another 15 can be let by the estate and it is hoped the lure of traditional overnight shooting parties, perhaps with back-to-back days on neighbouring estates, will give a new dimension to their offering.

For more information on shooting at Exbury contact the estate office on 02380 897181.

More Shooting Gazette features