Wildfowling: Morning flight.
It was a mad, last-minute dash to fill up with petrol, locate, sort out and load the duck gear in the dark, and ensure everything was fully prepared for an early trip next morning.

A sudden call from my mate Colin meant there was no time to lose.

A bit of wet snow was still falling well into the evening, but with 40 miles to go first thing, hopefully the roads would not be too bad.

Making allowances for the weather, it was an early supper and off to bed! Luckily, the skies looked reasonably clear first thing; a dusting of snow and icy patches on the way made the steering feel light at times, and the back end was giving an occasional flip – good job I'd set out early!

It's always much clearer nearer the coast, but parking up at the marsh gate and tramping across to the flight-pond with the gear, the grass certainly felt crisp underfoot.

Despite insulating banks of low cloud, there was a definite crunchy skin of thin ice that shattered like glass all along the pond edge – it was colder than I thought!

Before the rest of the gear was stowed away, the decoys were anchored out in plenty of time; wigeon 20 yards in front – teal well to the left, and the little 28-bore un-sleeved, loaded with non-toxics and propped up close to hand.

READY AND WAITING
Sitting under what was now a clear, almost velvety blackness, a'twinkle with stars, I could hear small packs of wigeon whistling past, but other than an occasional fleeting shadow, most were distant and unseen.

Little more than a breeze as yet, but the wind was gradually beginning to strengthen as the light came up.

This annual trip is often the highlight of my sporting year.

To be alone in such a wild, windswept place as the dawn comes up, to marvel at the pageant of wild birdlife and to spend time in such surroundings with just a gun for company, is my idea of heaven.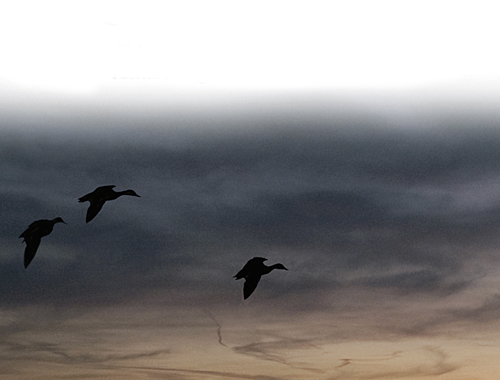 There's no telling what will turn up, and right from the off all senses are concentrated on briefly glimpsed shadows and half-heard sounds – many that can only be guessed at.

This morning – unusually – it was a slow start.

Though sizzling over unseen in the darkness, by the time it was light enough to shoot there was just the odd wigeon and teal flitting around and skimming in over the reeds, having chosen the far end of the pond to touch down well out of range.

With the scouts pitched in short of the decoys, everything hung out just wide of shot.

I kept my head down in the hope that something would eventually take off upwind, or the odd visitor swing round and overshoot the mark, but time and again passing birds simply peeled away after a brief look without any serious attempt to come right in.

FELLOW FOWLER
Right from first light, I'd noticed an occasional distant shot from somewhere way out to the northwest – probably right on the sea wall.

It had now increased to a regular popping, putting the wigeon on their guard as they flighted in towards the marshes.

Each time shots rang out, the wigeon arrived overhead a minute or so later, skittish and wary, and keeping up well out of shot.

Some circled for a cautious look, but invariably flared off, remaining at height and allowing the wind to carry them far away out of sight to the east.

For the moment, my luck was out.



Dabbling duck are drawn to shallow flood water like metal filings to a magnet. All Richard had to do was put out a few decoys…and the trap was set.

Eventually, patience paid off as a nice little bunch, behaving beautifully, breasted the wind and held over the decoys for an easy double.

Shortly afterwards a couple of singles followed them in from downwind, sweeping in straight and confident.

I'd made a start at last!

Calling loudly all the way, several small bunches of Canada's began passing a couple of hundred yards to seaward; keeping nicely low, barely topping the rush-beds and beating rhythmically against the wind.

To my mind they're the best eating of all wild geese, and though I'd already earmarked a plump greylag in the freezer, with Christmas only a week or so away the chance of a fresh bird would be most welcome.

DON'T PANIC MR. MAINWARING
The opportunity finally came. For some reason one lot – eight in all – veered upwind well off the normal line.

Coming head-on and low, they definitely looked on. With any luck! I was certainly in with a chance.

To increase the odds it made sense to swap my 16-gram cartridges for a slightly heavier 20-gram load.

Searching the bag, the geese came on, their clamour deafening and almost causing a panic attack as I fumbled to find the cartridges and reload with frozen fingers, dropping one in the process.

Grabbing another from the bag, I slipped it in.


Another wigeon and a bonus Canada goose are added to the bag.

It was only just in time.

Snapping the gun shut just as they drew level, the first was low and close, instantly followed by a tail-ender sideways on, the brace bouncing to lay behind me on the open grass.

Neither moved.

Christmas dinner was in the bag!

Clambering back in, I knocked my ear-muffs into the sunken hide; retrieving them from six inches of well churned mud and icy water.

I scraped off the worst of the mud, but with a bunch of wigeon tearing in from behind there was no option but to put them on.

The cold was a bit of a shock, leaving mud rings around my ears, but at least there was no one to see and it helped blend me in with the surroundings!

A PAUSE IN PLAY
A few birds later, everything went quiet on the wigeon front. There was still plenty to entertain, as curlews staggered over into the wind, a swifter bunch of godwits fluttered past, and marsh harriers quartered the reed beds, hunting side by side until one suddenly took offence and put in a few playful stoops at a rival.

Both disappeared to continue their skirmish unseen over the phragmite beds.

Besides the rippling black necklaces of distant pinkfeet, what looked like a string of greylags came barrelling back on the wind, too wide for a shot.

They looked strange, and just as they called I noticed the distinctive black-barred bellies and white foreheads – whitefronts! Not often seen over this marsh.

A single carrion approached.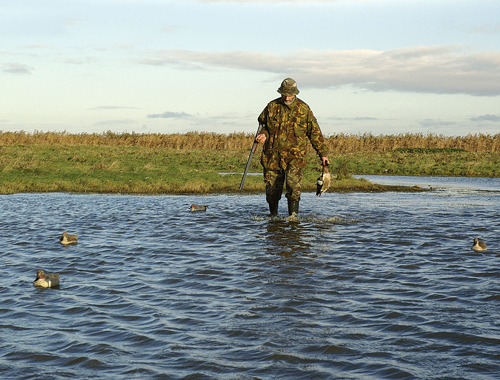 Richard makes the most of a quiet spell during the flight to pick up his prizes.

Crouching low in the tub, the shot suddenly kicked everything off again as the first black specks appeared high up from the west.

Duck – almost certainly wigeon – and a score at least!

Pushed by the wind, they quickly arrived overhead, getting bigger by the second as they sizzled down with amazing speed, circling back to breast the wind.

Braking hard, a brief pause over the decoys before straightening out at the shot, leaving an easy second climbing off fast and sideways.

Two splashes close in, quickly followed by a tail-ender following hot on their heels.

TEAL TIME
Suddenly, a teal piped up close. It was my first real chance, but in that annoying way teal have, the bunch was in and on the water before I could begin to get a shot lined up.

I waited. Sure enough, just after their heads came up, they sprung, leaving behind two beautiful cocks as they climbed skywards directly over the hide.

Once on, the wigeon now continued to turn up at regular intervals, mainly in small groups, powering downwind all the way from the Wash.

Travelling at height, they spotted the decoys from afar, whiffling down fast to come right in.

Now there was a definite pattern to their movements, I shot far better, taking several impressive doubles to help the bag along.

I'd almost reached my self-imposed quota. With the skies turning leaden, misty, and shedding an annoying drizzle, it was time to call it a day.

A late teal zoomed in just as I was tidying up back at the hide.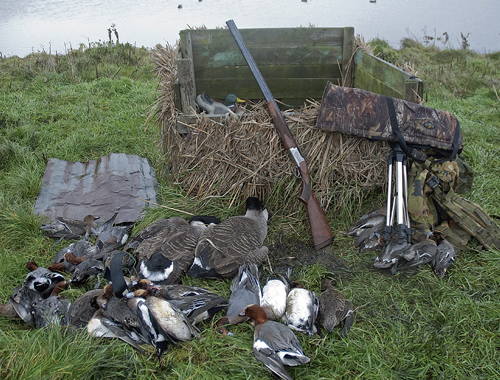 The bulk of the bag consisted of wigeon but a brace of geese and some late arriving teal added some useful variety.

Grabbing the gun, a lucky shot sent it splashing into the shallows, but it was not quite the last shot of the day.

While sacking the decoys, I glanced up to see a carrion approaching.

Slipping a single cartridge into the breech and crouching low behind the hide I raised the gun slowly as it neared.

It was the easiest shot of the day; close, unaware, floating, head-on and absolutely unmissable.

I missed!