A good pair of gaiters is a key piece of kit when you're rough shooting. Here are some of the best.
Gaiters for shooting are essential, particularly if you're walked-up shooting on moorland.
Why you need the best gaiters for shooting
Wear gaiters with your breeks and shooting socks to protect your legs from ticks, as well as mud, scratches from rough heather and brambles. You'll also be able to stride through streams without getting wet feet (and you can't wear wellies when walked-up shooting, as experienced Guns know. Because it's a sure fire way to sprain an ankle walking through uneven terrain).
Gaiters should be worn with comfortable shooting boots to give your ankles and feet good support and grip.
Checklist for gaiters for shooting
Choose hardwearing, breathable and lightweight fabrics. Gaiters need to be able to stand up to daily use throughout the season – reinforced ankle areas are recommended.
Ease of wearing. Look for pairs that are easy to put on and take off – but which stay in place when you need them to.
Sizing. If you're tall you might find some gaiters come up a bit tight. If you're shorter, make sure they don't 'bag' around the ankle. Best to try a few pairs on at a game fair.
A sturdy zip in the front covered by a flap is a good idea, with the flap secured by studs.
They need to 'hug' your boots at the bottom, for maximum waterproofing.
Some are available in men's and ladies' options.
The strap that fits under your boots needs to be sturdy and longlasting.
The hook that clips the gaiters onto your boot's laces needs to be up to the job and not slip off.
Finally, if you're stalking, you need to consider noise. You don't want anything that will rustle in the bushes.
Here are some recommendations for gaiters for shooting from ghillies and contributors to Shooting Times and Sporting Gun, who've road tested a fair few in their time.
Best for price
Colour: Olive green
Fastening: Zip and clip on laces
Adjustable: Shoelace draw cord around calves
Material: Thick wax canvas
Size: Standard
Strap under boot: No
+ Strong
+ Lightweight
-Not silent
Tear-resistant gaiters made from a waterproof waxed material, ideal for moving through heavy foliage.
Best for all-round use
A brand that is being put through its paces, literally, is Outdoor Research. Trainee keeper Fraser has had his a couple of years and definitely rates them.

Best for packing
Colour: Green
Fastening: Centre back zip with Velcro placket covering
Adjustable: Calf
Material: Polyester with check lining and zipped size pockets
Size: Standard
Strap under boot: Under boot wire
+ Elasticated top and bottom
+ Comes with fabric carry pouch
The Chorley gaiter packs away into a fabric carry pouch. It is is elasticated for comfort, features a centre back zip with a Velcro secured placket covering, an adjustable calf, a boot lace hook and an under boot wired strap.
Best for all-round value
Colour: Green
Fastening: Zip, velcro and press stud
Adjustable: Easy adjust buckle and lace cleat
Material: Breatha-tex 100% polyester laminated Oxford fabric
Size: Standard
Strap under boot: Under boot wire
+ Tear resistant
+ Elasticated top and bottom
-Bottom popper can pop open
Waterproof and breathable, these make our best gaiters for shooting list because we think they are excellent value. They're also easy to clean.
Best for gorse and thorns
Colour: Olive
Fastening: Stud
Adjustable: Drawcord
Material: Heavy wax cotton
Size: Medium/Large
Strap under boot: Yes
+ Replaceable webbing underfoot strap and drawcord
+ Waterproof in damp conditions
-Not 100% waterproof
Created from the famous Barbour heavyweight waxed cotton, these knee-length boot gaiters will keep you dryer and more comfortable when it's rainy and muddy. They are good for wading through streams or walking amongst thorny bushes.
Best for heavy rain
Colour: Shaded olive
Fastening: Button with Velcro and zip closure
Adjustable: Yes, elasticated draw cord at top
Material: Waterproof Seetex
Size: Standard
Strap under boot: Yes
+ Strong
+ Lightweight
-One size
Reports come back that these gaiters are tough and hardwearing, with an adjustable under boot strap and are easy to put on. They don't rustle in the undergrowth either.
Best for all weather and terrain
Best for sizing
Colour: Dark olive
Fastening: Zip with draw string and poppers
Adjustable:
Material: G-1000 and G-1000 Heavy Duty
Size: Small-medium, large-extra large
Strap under boot: Yes
+ Robust
+ Water resistant and breathable
-Price
This is a brand we keep hearing good things about. The length of these gaiters can be adjusted to suit the length of the boots being worn with the adjustment strap.  They are easy to put on, well made and don't ride up.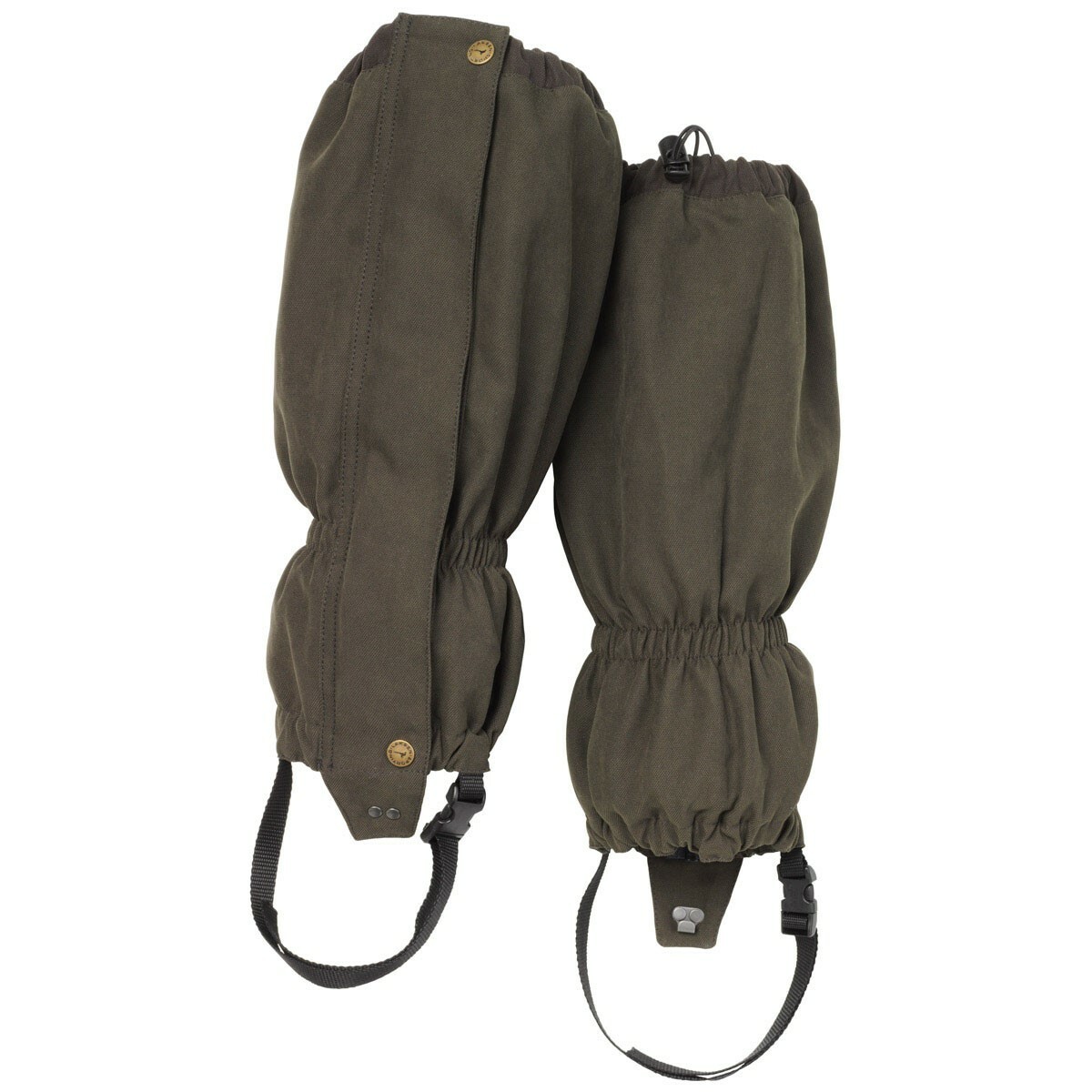 Best for waterproof qualities
Colour: Olive
Fastening: Zip
Adjustable: Yes
Material: Micro polyester
Size: Standard
Strap under boot: Yes
+ Fully waterproof
+ Hardwearing
– Price
Our list of the best gaiters for shooting