A good pair of comfortable and waterproof hunting trousers can seriously improve your day out in the field, says Chris Dalton
The best hunting trousers should be waterproof, as kneeling and crawling over wet grass will feature on most days. (If you're looking for the best shooting smocks read here. )
Primarily, what I want from trousers out in the field is comfort and to achieve this they must fit well. I don't want them to be heavy and they should be breathable, along with having sufficient and sensibly located pockets. They must be silent and made of material strong enough to withstand the brambles and thorns I invariably have to negotiate on most of my deer stalking. They also need to work in conjunction with my shooting boots and shooting jackets. 
Best hunting trousers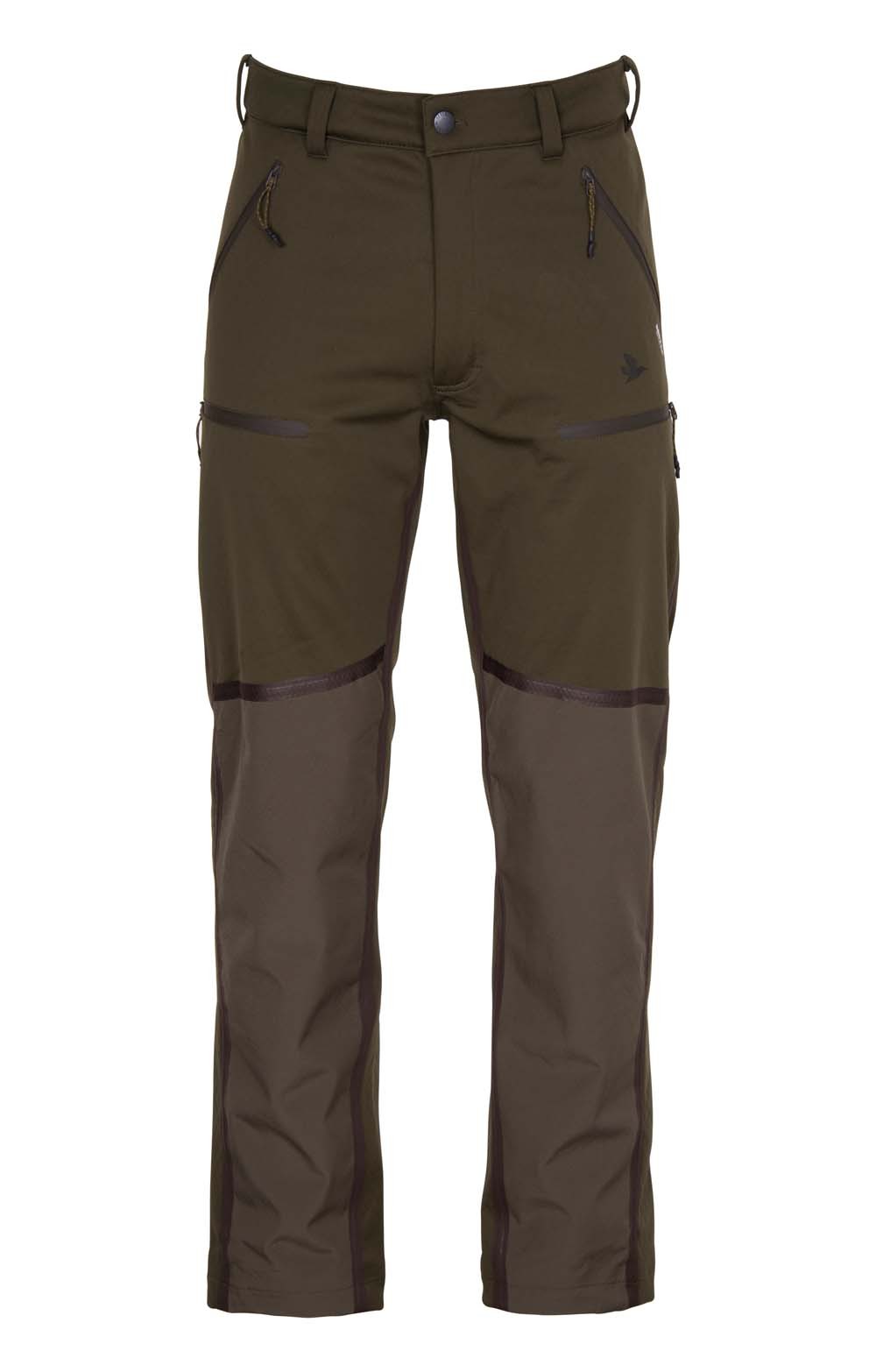 Reviewer's top choice
+ Score 9.5/10
+ Suitable for thorny terrain
– Pockets could get in way when crawling
– Long in leg
Light weight

Durable

Low noise 

Zipped front pockets

Elasticated ankle
The first thing I like about these waterproof hunting trousers is the feel of them — which is a strong start. The material is comfortable to the touch, slightly flexible and so I expect a good fit. They do not disappoint. The waistband is in the right place and the seat doesn't sag. As well as sitting comfortably, the waistband offers ample and robust belt loops, which are ideal as I often carry a bone saw and knife in a leather sheath.
The leg length is slightly longer than my ideal but in some respect this is beneficial, as I tuck trousers into the top of high-leg boots when I stalk and it has no effect when I wear wellies. They have a drawstring inside the bottom of the leg, allowing you to secure them over a shooting boot if you prefer to wear them that way. On both sides of the legs are zips, allowing you to open air vents along the outside of the thigh if needed.
When stalking they are breathable, comfortable and easily withstood the thorn brambles and willow scrub that I frequently encounter in south-west Scotland. I would describe them as medium weight so are ideal for the type of stalking I do. They have no back pockets, which I don't use anyway, but two good-sized front pockets, both fitted with a handy zip.
There are two further pockets, again with zips, but these are positioned below the front pockets and sit on top of the thigh. They are a good size for a mobile phone but the position is not ideal. When lying prone for a shot, or when crawling, I find they are in the way.
Technical spec is described as having a Seetex membrane consisting of three layers: an outer layer designed to repel water, a central membrane with an inner lining, and a third layer intended to allow moisture to wick away from your body. It worked well, as I remained dry after crawling in to take a roebuck in wet grass early one morning.
Overall I was very impressed and I would not hesitate to wear these for most of my stalking activities.  I would also, with the exception of a high-seat session in mid-winter, wear them all year round. I like comfortable and breathable hunting trousers that are not too heavy when I am stalking, irrespective of the temperature, as long as they are waterproof. These certainly ooze quality and are well worth a look.
Best for year-round use
+ Score 9/10
+ Silent
– No zips on front pockets
– Hook fastener at bottom could bunch
Look and feel of suede

Excellent fit

Low noise 

Zipped pockets

Medium weight
The Explore trousers were supplied in an attractive shade of dark green and had the feel and look of suede. Quality is apparent as soon as you open the packaging. The feel is good and the fit is perfect, right down to the leg length. At medium weight, they are silent with a good fit around the waist, secured by a press stud and a good number of strong belt loops. There is some elasticity in the waistband providing for adjustment if required.
There are two front hip pockets, which are a nice size but with no zip. However, two further front lower pockets are the ideal size for a phone. They sit over the thigh and have zip fastenings. Again, I prefer these to be located slightly more to the side as they can hinder when crawling if you have your pockets full. There is an additional single rear pocket with zip on the right and a handy folding knife-sized side pocket on the left side of the leg. Leg length is good and the bottom of the trousers has a strap and hook-and-loop fastener allowing you to secure them over the top of your boots. This does not stop you wearing them inside high-leg boots as I do, but it bunches a bit when you tuck them in.
They are made of a Deer-Tex performance shell, a layered system claimed to provide a breathable, windproof and water-resistant finish. For me, they did just that. On test I was dry while crawling in wet grass and, though we had some chilly mornings in April, I was never cold. These waterproof hunting trousers tick almost all of my boxes and are ideal for most of my stalking activities throughout the year.

Best for breathability
+ Score 8.5/10
+ Pockets well positioned
– Price
Excellent quality and fit

Robust belt loops

Low noise 

Zipped pockets

Medium weight
These trousers were supplied by Kuiu, an American company started in 2011 by a former American footballer who is also an avid hunter. His goal was to produce high-end, lightweight hunting clothing incorporating performance and technical fabrics.
The kit oozes quality as it comes out of the package — a nice feel with a soft, slightly elasticated texture. I would assess them as medium weight and the fit, again, was excellent; nice around the waist and no sagging backside. They have a robust set of belt loops and plenty of them, fastening with a good strong button. The trouser legs fit well and are not baggy and the hem tucks nicely into my high-leg boot as they are slightly longer than my leg, which was fine.
There are two hand pockets and below those a further two ample thigh pockets, which have zips and a flap of material over the top that provides extra wet-weather protection to whatever is inside. They are slightly angled from vertical and perfect for the phone.
I also found them slightly better positioned for me when crawling than some of the other trousers on test. You also have two rear pockets, again of a good size with a zip and the same over-the-top material protection as the thigh pockets.
Technically, the material used is described as 3 DeFX, designed to give active insulation that allows moisture evaporation while engaged in strenuous activity. This is said to be achieved by using continuous insulating fibres, which eliminate the ends that normally poke through the fabric, allowing for a quiet, uncoated fabric that wicks effectively. Do they work? Yes they do, and very well. These Attack pants were probably the most breathable of the medium-weight hunting trousers on test.
The brand has gained much favour among hunters in the US and New Zealand, particularly where the terrain makes for some serious altitude climbing and you need comfort and breathability. A nice touch is a zip-covered opening with an internal mesh liner located on the outside of each leg, allowing you to open this and let air in if you need to cool down — a clever addition.
The material is strong and coped well with our local thorn thickets, as indeed it did with some wet weather. It also dries very quickly. These are ideal trousers for the hill. I was very impressed and overall they are excellent quality.
Best for summer weather
+ Score 7/10
+ Price
– Not suitable for winter
– Not suitable for thorny undergrowth
Light weight

Button fastening with belt loops

Fastening: Button

Zipped thigh pocket

Half elasticated ankle

Quick drying
The men's Stealth trousers supplied to me are described as being in 'dirt camo' but they are also available in olive and made of what is described as polyester/elastic stretch fabric. The fit was good and they are comfortable to wear because the waist is slightly elasticated. The waistline was secured with a single button and the belt loops are strong but I would prefer a few more. As I wear a knife on my belt, if there is a big gap between the belt loops the knife can slide back when sitting or crawling and become uncomfortable.
They come with two fairly deep front pockets, which have zips, and a single thigh pocket ideal for the mobile. This is located to the side of the right leg, again fitted with a good zip for security. The leg length was perfect for me and the bottom hem is slightly elasticated, good for either tucking into high-leg boots or worn on the outside.
They are breathable and quick drying but these are definitely intended for summer or warm-weather stalking. Of all the trousers tested, these were the lightest and ideal for an August foray after rutting roebuck or a warm summer stalk in woodland, but not for crawling through heather or wearing in cooler or wet conditions. I don't think they would cope very well with a blackthorn thicket, but wear them as above and they will be more than enough. Essentially, I want trousers that can cope with any type of weather condition and that I can wear most of the year round.
Conclusion
All of these medium-weight waterproof hunting trousers are excellent. Crucially, all the trousers on test offer what I demand: comfort, a good fit, a high degree of waterproofing, breathable, strength and not too heavy.