This Amy Willcock partridge with leeks and mushrooms recipe serves 4

8 partridge breasts
400g fresh wild mushrooms
50g dried wild morel mushrooms
4 medium sized leeks, washed
Butter
Light olive oil
Salt and pepper
125ml dry sherry
450ml double cream

Method for Amy Willcock partridge recipe

First soak the dried mushrooms in 250ml water to reconstitute.

Leave to plump up for about two hours. When they are plump and ready to use squeeze out as much of the liquor as possible but do not discard.

Then chop up the morels and set aside.

Drain the liquor through a fine sieve to remove any grit. Set the liquor aside to use later.

Cut the leeks into even pieces then bring a pan of water up to the boil and cook for a few minutes, until they are just soft but not falling apart.

Drain and set aside.

The leeks and morels can be prepared in advance.

Heat up two tablespoons of olive oil in a frying pan with a knob of butter.

Season the partridge breasts with salt and pepper then cook them for about two minutes on each side in the foaming oil, until they are cooked through.

Remove to a warm plate.

Then add the fresh wild mushrooms and morels to the frying pan, cook until they are just done.

Add the sherry and cook for a few minutes then add the morel soaking liquor and cream.

Turn up the heat and boil for a minute then turn down the heat and simmer for five minutes or until it thickens.

Taste for seasoning and adjust.

When you are ready to serve, put the partridge breasts and leeks into the pan and heat through for two minutes.

Then serve with crusty bread.

And don't for get Lee Maycock's recipe for chargrilled venison taglietelle & rhubarb salsa

1 venison loin
400g fresh taglietelle
5ml olive oil
5ml lemon oil
10g small diced red onion
10g tomato concasse
5g chopped red chilli
20g diced cooked rhubarb
½ fresh lime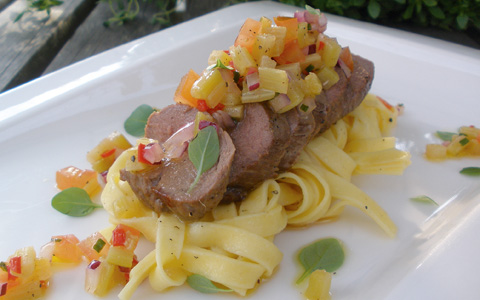 Method

Mix the onion, tomato, chilli, rhubarb, lemon oil, seasoning and lime to make the salsa.

Cook the pasta in boiling salted water, drain well, add the oil and season.

Season the venison and pan fry for two minutes each side, remove and allow to rest for at least five minutes.

Place the pasta on the plate, slice the venison and lay over the pasta.

Spoon the salsa over the venison.


For the Amy Willcock guide to preparing a pheasant click here

For more game recipes from Amy Willcock and Lee Maycock click here