Gun reviews: Caesar Guerini Forum shotgun
Gun reviews: Caesar Guerini Forum shotgun
Gun reviews: Caesar Guerini Forum shotgun
The second largest Italian gunmaker Caesar Guerini has made a significant impact on the consciousness of the UK shooting public since its arrival in 2005.

When it is producing guns of the quality of the Forum it is not difficult to see why.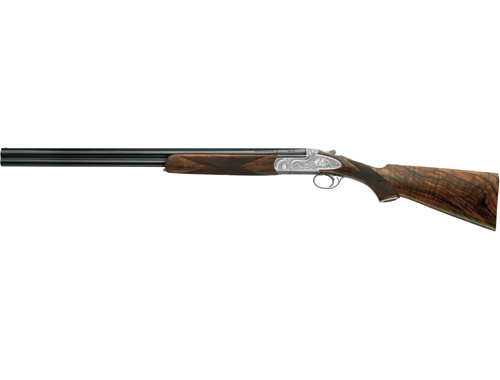 The company was formed in 2002 by brothers Giorgio and Antonio Guerini, having previously worked for their uncle Battista Rizzini.

In just 11 years they have acquired Fabarm and become the second largest gunmaker in Italy behind Beretta, largely thanks to taking the US by storm due to their reputation for superb customer service.

RELIABLE AND STRONG
Caesar Guerini produces a variety of over-under guns, though all are based on its own variation of the Italian Guild action.

A variation on this action is found in virtually all Italian over-unders, and is closely associated with the action found in Rizzini guns.

It is an inertia-based system with two-stage hammers operated by pre-charged rebounding coil springs, meaning the firing pins never protrude from the face of the action after firing.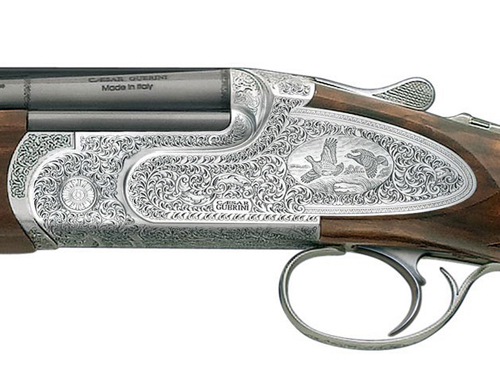 This is an action that has proven itself to be strong, safe and famously reliable – many sportsmen and women swear by the reliability of their mass-produced Italian over-unders.

At just under £7,000, this Forum 20-bore is in direct competition with Beretta's 687 EELL Classic and it does more than hold its own.

STUNNING GUN
The Forum is an exquisite gun to look at, both in form and finish.

The extent and quality of engraving and the beautiful wood immediately stand out, making the Forum look far more expensive than it really is.

Each sideplate plays host to a game scene and virtually no part of the action goes untouched by lovely foliate scroll engraving.

The work is a combination of laser, roll and hand finishing, carried out by world leading mechanical engraver Bottega C. Giovanelli.

Small touches abound throughout that make it very easy on the eye and in the shoulder.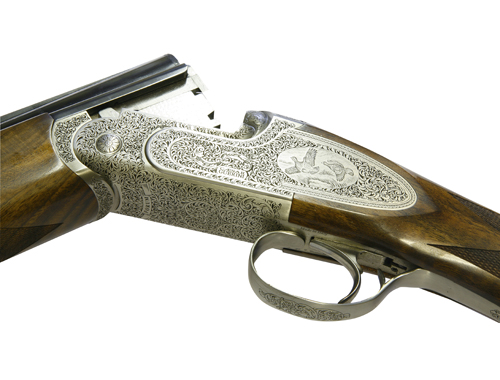 The tang on the bottom of the gun extends from the trigger guard right the way to the capped Prince of Wales-style pistol grip, which is hand carved.

The fences too are carved by hand and swept well back, lending very elegant lines to the gun.

The rounded fore-end is tapered and has an Anson-style push-button release, more commonly seen on far more expensive guns, which is engraved with concentric circles.

The wood used is outstanding, being well figured and generously oiled without looking varnished or synthetic.

Checkering is finished by hand and is very fine, making the gun comfortable to hold and use without gloves, while feeling very secure when shooting.

Finishing all over the Caesar Guerini is superb, including excellent wood-to-metal fit.

The monoblock barrels on the test gun were 28" long and fitted with multichokes: a set of five are provided with the gun.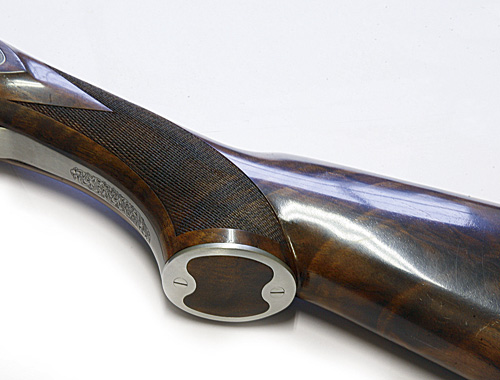 There is a solid middle rib, and on top is a tapered solid file cut rib with brass sight bead.

Official figures put the 20-bore Forum at 2.9kg, but Bill Elderkin's scales weighed the gun closer to 3.1kg.

Indeed, in many ways the Forum feels like a 20-bore built for serious shooting, with the grip filling larger hands nicely and the fore-end being deep enough to keep fingers away from the sight plain when shooting.

The extra weight of the gun also means heavier loads are easily dealt with, keeping felt recoil low, but not being so heavy as to compromise the handling.

The only real concern a buyer may have is over the re-sale value of the gun.

UNKNOWN QUANTITY
Though there should be no problems with the reliability, since it is built on a tried and tested action, the reality is that as yet Caesar Guerini remains something of an unknown quantity in the UK.

Though its reputation is, rightly, growing daily, one suspects many shots will need a compelling reason to drop the EELL of their daydreams for a Forum.

However, I would urge anyone in the market for an over-under to give a Caesar Guerini gun a try, and I would heartily recommend the 20-bore Forum.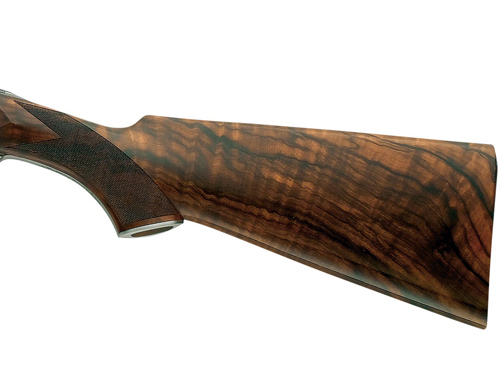 This is a gun that handles and shoots at least as well as it looks at a very reasonable price.

If I owned one the Forum would be the first gun out of the cabinet on shoot day.

IN THE FIELD
The Forum is simply superb to shoot. Its dimensions meant it felt very secure in the hand and when mounted.

Slightly heavier than most 20-bores, that extra bit of weight has no impact on how easy the gun is to move and mount, but allows one to be deliberate and smooth when required, such as on straight driven birds or long crossing targets.

The gun is supremely well balanced, very positive, and deals with recoil extremely well.

I shot 23 gram 7.1/2s and 28 gram 6s and there was little discernible difference between the two.

I am confident the Forum could happily handle heavier loads with few problems.

Trigger pulls were very crisp.

The Caesar Guerini Forum makes just about every other 12-bore gun I've shot with feel clumsy by comparison.

VIEW FROM THE GUN SHOP
Bill Elderkin casts his expert eye over the Caesar Guerini Forum II in 20-bore.
The gun feels bigger in the hand – both the pistol grip and the fore-end – than other 20-bores from the top Italian makers, and it is reasonably heavy for a 20-bore at nearly 7lbs.

As such this feels very much like a man's 20-bore rather than a gun to be used by youths or ladies.

The extra weight means it is more than capable of dealing with heavy cartridge loads while keeping the felt recoil low, and without drastically affecting the swift handling characteristic of all 20-bores.

In many ways the gun is difficult to fault, as it looks great, handles well and is built on a very strong and reliable action.

It is available with 26", 28" or 30" barrels with fixed or multichokes.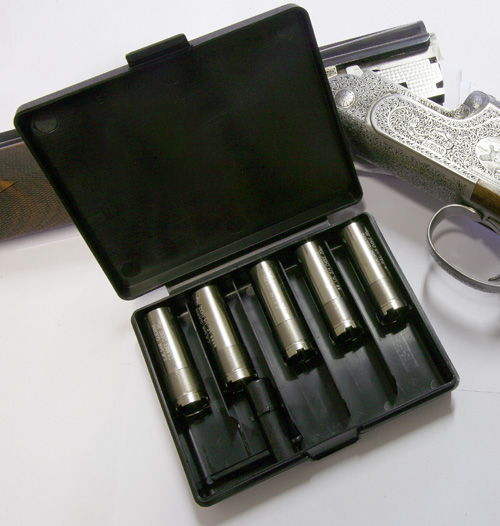 I would say 28" barrels are ideal for this gun – any longer and the balance will be pushed towards the barrel end, affecting the Forum's manoeuvrability and flexibility.

The ejector system does look very solid, though the springs are behind the extractors on the barrels rather than in the fore-end, which I find tends to be more consistent and reliable.

No butt plate is fitted to these guns, though a small cap is visible indicating that such a feature, or a recoil absorbing pad, could easily be fitted.

However, if you need to fit a recoil absorbing pad to a 20-bore I would argue that you are almost certainly shooting unsuitable loads, or your gunfit is very badly wrong.

This Italian gun has few flaws.

Nevertheless, I do feel it is a little expensive.

The over-under most people hanker for – Beretta's 687 EELL Diamond Pigeon – comes in at almost £1,000 cheaper and in the current climate that may well make all the difference to a prospective buyer.

BILL ELDERKIN'S ALTERNATIVE OPTIONS
Beretta 687 EELL, from £5,830
This is consistently one of the most popular over-under shotguns on the market, both new and used.

It is a very fine looking and handling gun, available with 28", 30" or 32" barrels, and is ideal for all forms of shooting.

Berettas are famously reliable, and standards of manufacturing and finishing are good.

The 687 EELL Classic is built and finished in the Beretta custom shop and is still cheaper than the Caesar Guerini Forum at £6,475.

Browning Heritage Hunter, from £5,495
The Heritage is the top of the range of Browning's mass produced over-under shotguns, which it describes as "the heir to the B25".

Based on the 525 action, the Heritage is a sideplated gun that is much more attractive in 20-bore guise thanks to the shallower action that the gauge allows.

Finishing is excellent, and the engraving really stands out with game scenes surrounded by intricate and delicate scroll designs, which are rolled on and then finished by hand.

Barrels come in lengths of 28", 30" or 32", and the wood is good quality, nicely figured and well oiled.

SCORES
Engineering: Designed and built with cutting edge technology, this gun uses the famously strong and reliable Italian Guild action. 9/10

Handling: Well balanced and very positive. A joy to use, even with heavier loads. 10/10

Looks and finishing: Looks far more expensive than it is. Excellent engraving and the wood is stunning. 10/10

Reliability and customer service: US success is built on the back of superb customer service and it's no different in the UK. 8/10

Value: A good price for a very pretty gun, though cheaper iterations may tempt. Re-sale value is not terribly strong. 7/10

Overall: 44/50



Gun reviews: Caesar Guerini Forum shotgun