MAE Shorty fully suppressed rifle review
MAE Shorty fully suppressed rifle review
Gun reviews: MAE Shorty fully suppressed rifle.
The name MAE (formerly PES) has become synonymous with excellent sound moderators, both of the over-the-barrel and muzzle-mounted types.

They span the calibres from .17 and .22 rimfires all the way up to the heavy-hitting centrefire Magnums, with custom items made to order, such as my .14 calibre muzzle can.

Made in New Zealand, they are imported by JMS Arms.

One of the most popular and effective moderator designs is actually a complete shooting system using a base rifle.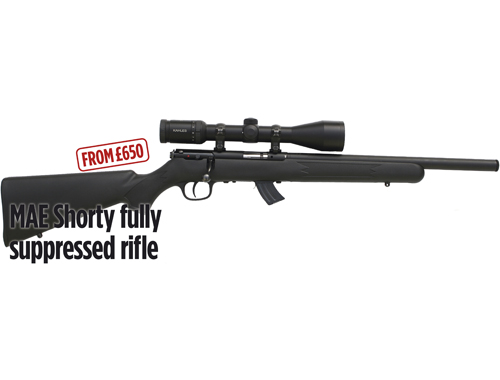 In this case, it is a Savage Model Mark 2 rimfire, but with the whole barrel shortened and then fully suppressed.

This means the barrel is ported to let gas escape at the chamber end.

The gas is partially captured within a sound moderator shroud, which spans the whole barrel's length.

The remaining propulsion gases escape through a series of baffles in front of the muzzle.

This makes for a superbly silent and short vermin rifle ideally suited to any sporting challenge.

THE BARREL AND BAFFLES
The barrel is shortened to just over 12.5in, then re-crowned at the muzzle to maintain precision.

There is a step at the end of its profile, allowing a series of six baffles and one muzzle-cup to be concentrically placed.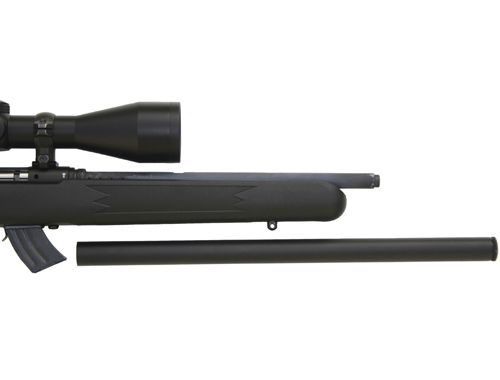 This muzzle-cup sits on the stepped muzzle-end and then each baffle, made from stainless steel for longevity, is placed into this to form a labyrinth of chambers that retard the expanding gases.

A final end-cap also forms a baffle and is threaded so that the sound moderator shroud can be screwed into it.

This shroud of 0.9in diameter fits over all the baffles, the muzzle-cup and right over the barrel back to the receiver, which is also threaded to secure the whole assembly in place.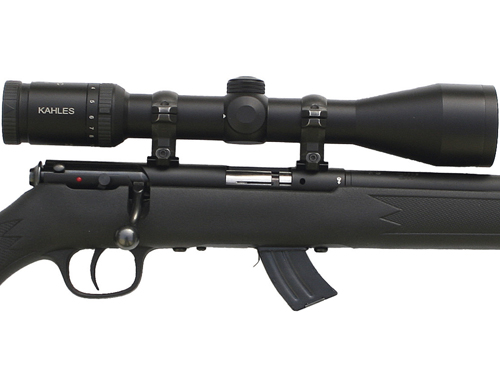 All of this would make for a very quiet rifle, but MAE has gone a step further.

There is a series of ports that penetrate through the barrel and into the bore, so that gases released initially, which have the highest pressure, are pushed into the rear section of the shroud.

Remaining gases vent from the muzzle and through the six baffles that extend 4.25in in front of it.

Muzzle blast is non-existent — this may be the quietest .22 rimfire you will ever shoot.

ACTION, TRIGGER AND MAGAZINE
The Savage's action is typically American in design and is long, at 7in, with a tubular profile.

The action top has two Weaver-style scope bases, so that it can accommodate scope mounting for almost any scope size.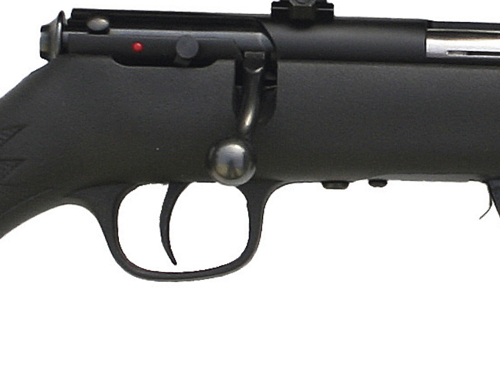 The bolt itself is 6.25in long, with twin extractor claws placed in the bolt face sides at 3 and 9 o'clock.

These do a good job of cartridge manipulation.

The firing pin has a flat chisel design at the 12 o'clock position and, due to the long length of bolt, the lock time is quite slow, so it is important to maintain follow-through after the shot.

A strong force is required to operate the bolt, but the trigger is rather good for a rimfire, mainly because it uses the Accu-Trigger that Savage now fits to most of its rifles.

This trigger gives a light but predictable trigger release.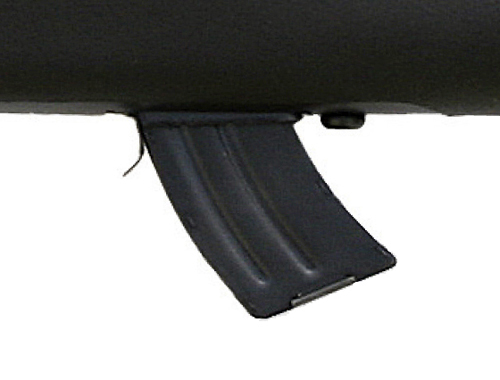 Trigger-pull can be adjusted to between 2.25lb and 6lb, while the factory setting was a sensible 4lb.

It has a skeletonised inner blade within the real trigger that has to be depressed in order to allow the rifle to be shot.

The magazine is a simple pressed steel 10-shot unit, however, the release catch is a bent piece of steel and fiddly to operate.

ACCURACY AND TARGETS
Fully suppressed and ported barrels reduce muzzle velocity, so the velocity of a supersonic load is decreased to that of a subsonic load, for maximum silence. Hence, with subsonic ammunition, the velocity is even lower.




As it is a rimfire there were no reloads.

The ultra-reduced loads (CB Longs and Aquila Calibri) were so quiet that all you heard was the firing pin drop!

They produced 13.6ft/lb and 11.4ft/lb energy respectively, ideal for feral pigeon in barns.

All the subsonic ammunition and low-velocity target-type ammunition shot significantly lower velocities than from an unported barrel.

Typically, an Eley subsonic bullet would be around the 1,050fps mark, but the Shorty reduces this to 765fps for 52ft/lb.

It is remarkably quiet, but the trajectory of the bullet is affected at these speeds, so it is important to try out a few combinations.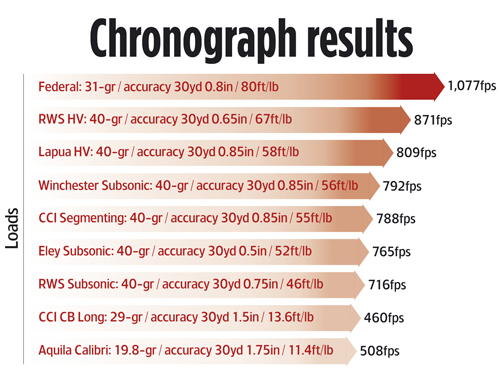 The Eleys were the most accurate at 0.5in at 30 yards while the RWS, CCI Segmenting and Winchester were not far behind at 0.75in for five shots each.

The MAE Shorty worked particularly well with the RWS HV ammunition, producing 871fps for 67ft/lb energy and 0.65in groups.

The lightweight Federal 31-gr bullets also produced a healthy 1,077fps and 0.80in accuracy at 30 yards.

Of the remaining 10 rounds I tested, the old Lapua HV ammunition (now available as SK Jagd ammo) also shot well.

STOCK
The synthetic stock is basic, made from a light plastic material and black in colour, with pressed chequering adorning the fore-end and pistol grip.

It feels hollow, but that does make it very light.

There is no cheekpiece and the comb is quite low, but it's a practical stock for a rifle that will spend most of its time bumping around in a 4×4 or being dragged through the bushes.

The fore-end is recessed so the barrel shroud is free-floating for best accuracy.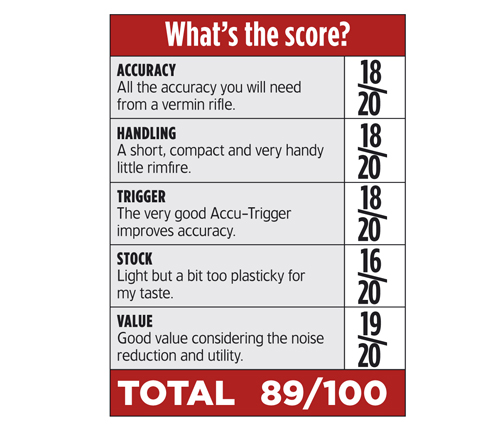 CONCLUSION
This is an incredibly efficient design that allows maximum noise reduction with minimal length of only 34in in a rugged synthetic and stainless steel construction.

The choice of ammunition is important for best results, but this MAE Shorty is not at all fussy, so it's down to you.

It is highly portable and great for stalking in the woods or hedges after rabbits or for lamping.