Eric Clapton: It's always good to hear Steve Thomas's distinctive tones, but when Prescombe's shoot owner called me to ask if I would like to attend the first day of the partridge season down in Dorset, I was even more thrilled to hear his voice.
"Bring your gun," he said. "You might get a shot or two."
Some of us met on the evening before, the last day of August, in the King John Inn at Tollard Royal near Shaftesbury. It's a fine establishment and, after the manager had carried my overnight bag to my room and I had installed the side-by-side in a place of safekeeping, I joined the pre-shoot supper. The party included Steve and his right-hand man Nigel Brown, Jamie Lee, Robbie Constant, Alex Boon, who owns the King John, and my friend Ian Barton. The last to arrive after a four-hour journey from Kent was the famous dead-eye George Digweed.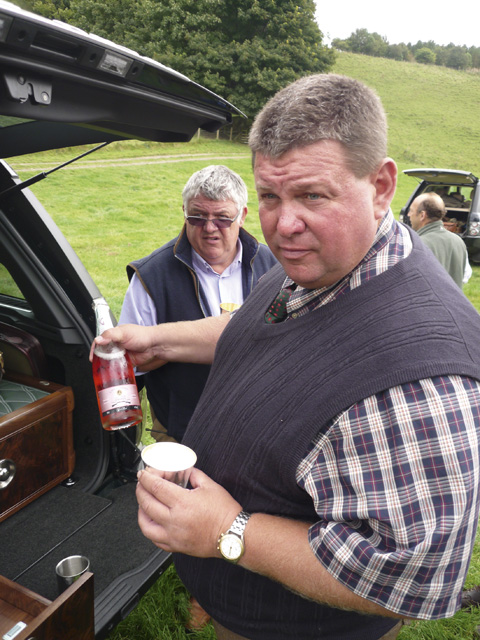 George Digweed prepares to entertain the team on the day.
The supper was a jovial affair with Digweed and Lee taking on the roles of a more robust Morecambe and Wise. There was some more serious discussion too and the general consensus was that if FITASC ever became an Olympic discipline, Digweed would surely have a gold medal to add to his extensive trophy collection.
The stars arrive
The following day was dry, warm and bright with a stiff breeze. The team arrived at Prescombe's shoot lodge, having first paraded through the dusty farmyard and the crowd of eager beaters and pickers-up, some armed with cameras in the anticipation of capturing a shooting star. No one wanted my mug shot but those of Gareth Edwards, Allan Lamb and Eric Clapton would perhaps be worth a snap.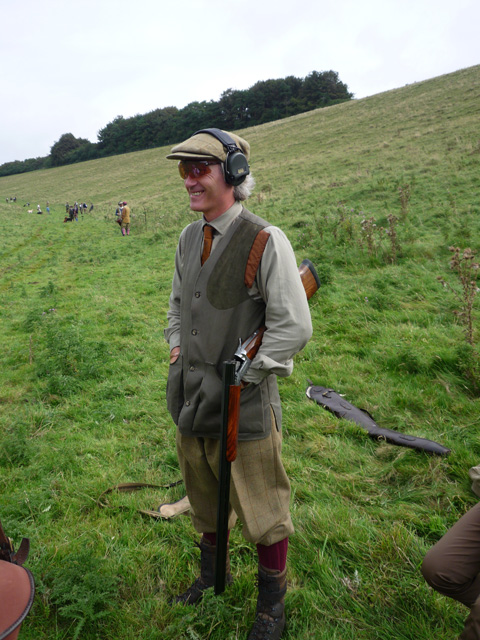 Yorkshire hotshot Simon Ward.
Yorkshire's left-handed shooting genius Simon Ward and his partner, Pru Horsell, were also there and they both brought a touch of style to the day. Simon had shot at Prescombe before, and on that outing had apparently achieved 154 birds for 165 shots. And he wouldn't have been restricting himself to the lower stuff either.
Eric Clapton: Stratocaster specialist solos in the stratosphere
But Eric Clapton has been a hero of mine since 1968 so to share his company on a shooting day was something rather special. He seemed as useful at hitting highs with his shotgun as he was with his guitar. To stand behind my hero and watch him perform to a different beat was a real treat.
Legendary Somerset game shooter Phillip Fussell was a little less firm on his feet but every bit as amusing with his wit and wealth of sporting tales. Meanwhile you'd imagine Allan Lamb would be more at home with a cricket bat than a 12 bore, and his task wasn't made any easier by a barracking George Digweed two pegs away, whose banter seemed to make everything a little harder to hit.
The greatest scrum-half
Gareth Edwards can still apparently run 60 yards in about 10 seconds. And, although he might not be as fast as he was when being chased by a herd of All Blacks, he's still on the ball and, standing next to Simon Ward, I did see him take out one that the Yorkshire top shot had let slip by. Arguably the greatest scrum half of all time can still wipe his neighbour's eye, it seems.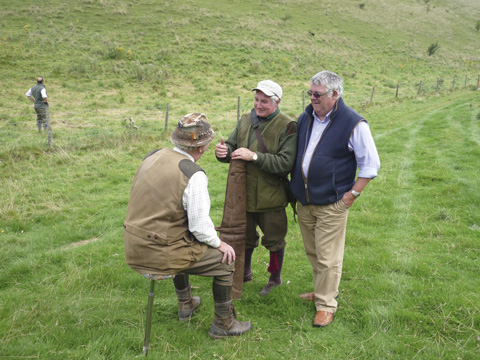 Possibly the greatest scrum-half ever Gareth Edwards chats to a seated Philip Fussell and shoot host Steve Thomas (right).
Jamie Lee didn't miss many but then again, nor should he. He's looking forward to his first season at neighbouring Ashcombe where he's taken over the shoot as an addition to the famous Rushmore estate.
Hot shots feed scraps to hungry back guns
The 10 pegged guns gave a good account of themselves and, as back guns, Ian Barton and I tried not to stand behind George Digweed, Simon Ward or Jamie Lee. Little point really.
We did five drives and the real shooting stars of the day were the Prescombe partridge. They flew over the combes in healthy squadrons. Despite being the first day of the new season it was as if they had been rehearsing; practising where to go and when. For 695 shots the team of 12 guns bagged 324 partridge and one pigeon.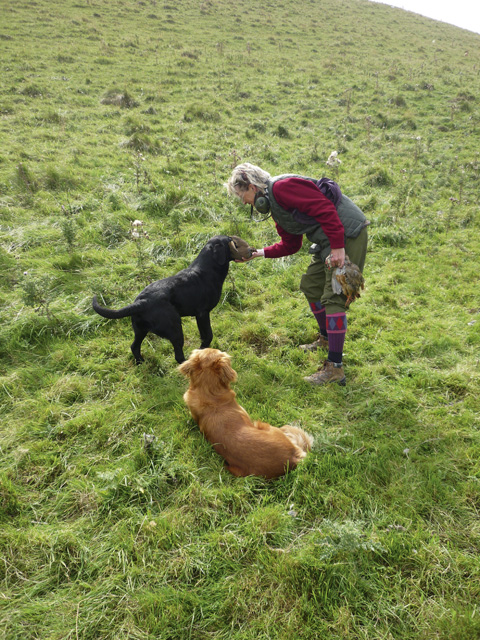 Margaret Allen and her dogs in action.
The beaters organised their stuff beautifully and the pickers-up got their first taste of the season and one of them, writer and dog trainer, Margaret Allen, put her obedient pair of dogs through their paces.
It was a distinctly memorable start to the 2012 partridge season and Prescombe is up there as one of England's finest providers of an exhilarating field sport, no matter if you're a shooting star like Eric Clapton or an ordinary bloke with a gun under your arm.