How to look after your shooting clothing at the end of the season
March is the perfect time to take a look at your shooting clothing and see what needs cleaning, repairing or replacing. Here's our step by step guide.
If you don't want any mouldy surprises when you unpack your shooting kit at the beginning of the next season this is what you need to do. Follow this expert advice for shooting kit maintenance and your shooting clothing will last longer and look better. (You might also like to read our advice on how to service shooting gear once the season is over.)
Keen Gun and Chef Ambassador for British Game Assurance Leon Challis says: "At the end of every season, I think about the start of the next and spend some time on shooting kit maintenance. Taking care of my tweed is key to looking smart for the up and coming. I use a medium to soft horse hair brush over the dried mud on the tweeds and then they head off to the dry cleaners.  My wax jacket is stored in a warm (but not hot) room. My wellies are used all year round."
Mark Heath, Shooting Times contributor and Instructor Manager at West London Shooting School advises: "It's always a good idea at the end of the season to check all your kit, firstly to see if it needs repairing, secondly re-proofing or just cleaning.
"If you have been out in some bad weather and got wet due to the clothing no longer being water proof , we recommend looking to fix this issue asap as it won't go away by next season, in fact it's likely to be worse.  Mud can also destroy water proof capability so we recommend to wash or clean the clothing and make sure it's dry before putting it away. It's best stored somewhere dry rather than hung in a damp shed where it will only deteriorate.
"Good shooting clothing isn't cheap, it will last longer and look after you better if you take a few minutes to keep it in good condition as part of your shooting kit maintenance. With leather boots it's best to clean them and let them dry, I wear leather walking boots for much of the year either teaching, shooting or stalking. I run 4 pairs at a time normally for different uses and so that when a pair gets really wet or dirty, I can switch pairs and let the wet ones dry naturally before I treat them with an appropriate product. I use mink oil which goes on easily and I find that my boots normally wear out rather than fail as a consequence." (Read our list of the best shooting boots.)
Shooting kit maintenance
Washing machines are superbly useful but need to be used with care when it comes to shooting kit maintenance.
Many modern shooting clothes are designed to be machine washable but – you can't just bung everything into the washing machine. Take a look at the washing label and follow the instructions given. Don't wash at a high temperature or tumble dry. You also need to be cautious when using fabric conditioner which can affect the finish. (Read our list of the best shooting jackets)
Today's technology has given us performance fabrics that are waterproof and breathable – but you can damage the garment's performance by tumble drying, spinning the garment or drying it too close to a heat source.
It's also not to use too strong a detergent. Many contain brighteners and scents so that clothes look bright and smell fresh. Of course, this isn't really what you're after when washing stalking kit. Look for unscented and non bio powders or liquids, such as Ecover, without brighteners.
Schöffel, which manufactures machine-washable tweed, says of shooting kit maintenance: "In general, never use biological powder when washing your technical clothing and always follow the indicated temperature. When washing our Schöffel washable tweed, never use fabric conditioner. Dry naturally in a warm room." (Read more on the best tweed shooting coats.)
More on looking after shooting coats
Jack Gregorie, Product Manager at Farlows says: "Being one of the most important pieces of kit you can own, your field coat needs to be stored away at the end of the season with care to ensure it's in tip top condition when it comes out after summer, as we approach the winter game season. The first thing to check before you stow your field coat away is whether it's clean. Check the coat all over for any clumps of mud, muddy paw prints or blood from any shot game. If there are, then use a warm damp cloth to gently clean the areas off. If your fieldcoat is particularly dirty, we wouldn't recommend washing the coat yourself in a washing machine, please take it to a professional and trusted dry cleaner, who have experience working with technical outerwear.
"Next is to check for any damage on the coat. Now would be the best time to have any easily fixed damage repaired, so it doesn't take your coat out of action mid-shooting season. If the coat has suffered any serious damage and the cost to repair is too high, you can start doing your research before the new products land at the start of next season. Store your coat hanging, on a hanger that has bulged/structured shoulder areas. This will protect the shape of your coat and will also ensure the fabric and waterproof liner isn't going to stretch and morph around the shape of the hanger. Finally, it's a very good idea to store your coat in a suit bag, preferably airtight. This will ensure no moths can get in and snack on any cherished tweed during the summer months."
Tidy tweeds
Look after your tweeds and they'll last you through many seasons. Once any mud has dried off them use a good stiff brush to remove it. Good, heavyweight tweed will withstand an eventful day out fishing, hunting, shooting or stalking and once brushed should look as good as new. The colours in a well-made tweed will not fade and should stay as vibrant as they were on the day it came out of the mill.
Hang them up for the summer months – moths love wool so it's worth investing in a mothproof bag to keep any roaming moths away, or use moth deterrent pouches in the pocket.
Cleaning cartridge bags
Clean a leather cartridge bag or gunslip at the end of the season by sponging it off with warm water and saddle soap. An old toothbrush is good for removing caked-on mud. Wipe off and dry at room temperature. You can apply a specialist leather dressing on any areas of hard wear, let it soak in and then wipe remainder with kitchen roll. Then buff the leather to shine it up. (If you're in the market for a new gunslip you can peruse our list of the best gunslips here.)
Cream for leather
Here's a method of making your own leather cream and dressing.
Take a bar of normal glycerine saddle soap and cut it into small pieces. Put this in a pan with half-a-pint of milk, then melt the soap slowly over a low heat. Once completely melted, pour into a plastic container and allow to set. Apply this with a dry cloth, having first removed any mud with a damp sponge.
Best foot forward in clean leather boots
Give the boots a thorough cleaning to ensure there are no residues of corrosive substances such as manure, fertilisers, salt or seawater that could cause long-term damage. Whether you wash them in clean water or use a leather footwear cleaning solution, make sure you avoid over-soaking the leather. Rinse with plenty of clean water, then leave to dry naturally for a minimum of 48 hours. Never stand boots in front of a radiator or open fire as extreme heat can cause the leather to dry out and crack. Once dry, apply a specialist leather footwear conditioner and/or protector to help preserve and soften the boots before storing them away, ideally somewhere cool and dry, away from direct sunlight, heat sources and damp. Use boot trees or stuff them with newspaper to help maintain their shape.
If your boots are beyond redemption, you might like to look at our list of the best boots for shooting.
Don't forget your gaiters
Whilst gaiters will take the brunt of the hills and woods, you can't take the hose to them like wellies. Fortunately, some can be machine washed. Hamish Cromarty of Black Islander says its highly regarded gaiters can be machine washed at a low temperature using non- biological detergent. The MacGaiter company's neoprene gaiters can also be put in the machine and washed at 30° or 40°, with no need for detergent. However, Trailwise says that its popular Canvas Snolock gaiter should never be machine washed, but will clean up nicely if cool handwashed, or given a good brushing down once dry.

Caring for your wellies
Wellies are easy to wash – a good hosing down is usually sufficient. However if you want to extend their lifespan and reduce the risk of the rubber splitting, follow the following routine.
DO
* Clean boots with nothing more than water and a brush.
* Let them dry naturally.
* Use a cleaning spray and polish with a soft, dry cloth.
* Keep boots in a dry and ventilated place, away from direct sunlight and heat sources.
* If the boots get wet, dry the lining thoroughly before using them again. Putting crumpled newspaper inside helps.
DON'TS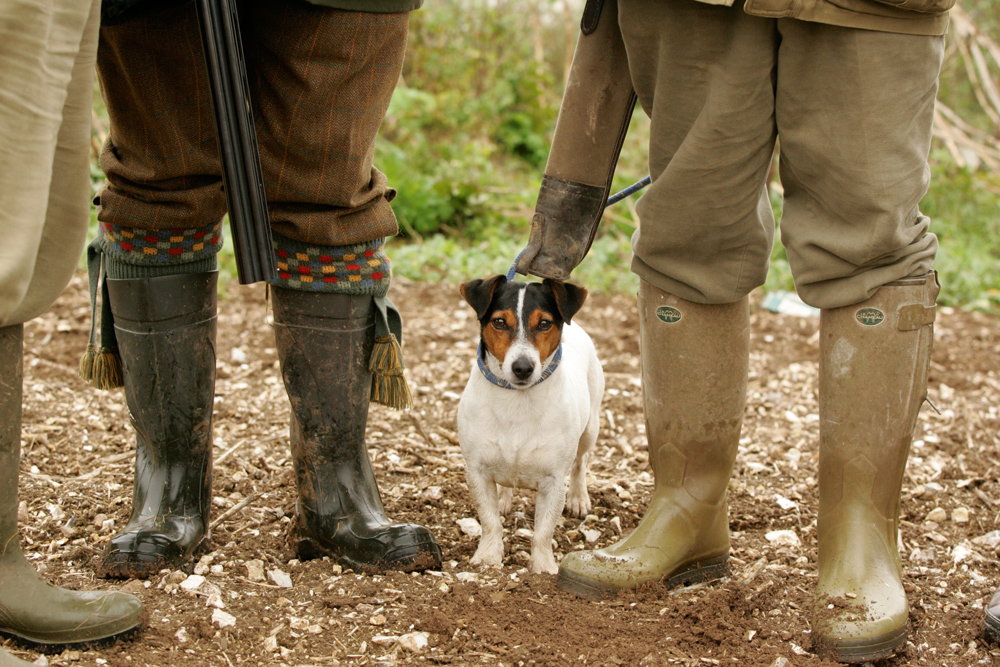 * Don't dry boots in direct contact with a heat source such as a radiator or a fireplace.
* Don't tore boots while damp, folded or creased.
* Don't use aggressive products, such as detergents or solvents, to clean your boots.
Here's our list of the best wellies for shooting.
For boots with zips:
DO
* Use a cleaning spray to lubricate the zip before the first use and after each use.
* Keep the zip clean – dirt will cause wear and significantly reduce its lifespan.
DON'TS
* Don't leave the zip undone when wearing the boots – this will increase the chances of dirt getting into the zip.
* Don't force the zip.
Finally – a note on wildfowling decoys
This is the time to untangle and clean your wildfowling decoys and lines. Otherwise you will be emptying out a bag of knotted nylon, rotting seaweed and mud-caked decoys come the autumn. Painted decoys last much longer if they are washed off and stored properly during the summer, and split rings, swivels and clips are much less likely to succumb to rust. With care you are more likely to pull duck and less likely to see your expensive decoys disappearing on the tide as a critical piece of your rig gives way
This article was first published in 2014 and has been updated.